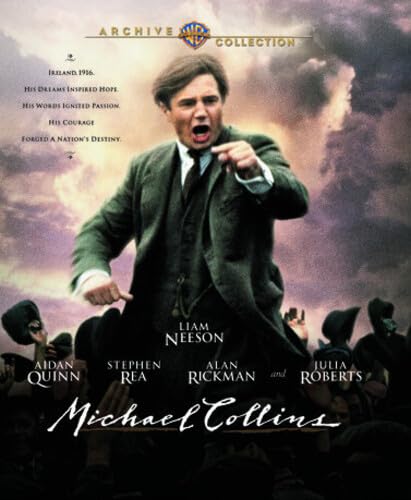 Some things simply go well together, hands down. Things like chocolate and peanut butter, Burt and Loni, and ‒ of course ‒ the fine art of combining totally true stories with complete and utter bullshit. And apart from politics and people on social media who should not be permitted to access the Internet, there is no great force behind blending fact with fiction than Hollywood. And for those of you who can't handle a little truth without a bit of falsehoods being thrown into the fray, these two "true stories" ‒ recently released to Blu-ray from the Warner Archive Collection ‒ are sure to make a wake. In the case of our first selection, Neil Jordan's 1996 biopic Michael Collins, it's more of an Irish wake, with Mr. Liam Neeson cast as the eponymous Irish patriot/politician who changed the whole state of affairs between Ireland and Britain.
One of the 4,015 movies made during the '90s alone (give or take four thousand) that had to do with the IRA, Michael Collins gives us a slightly dramatized account of Collins' rise to glory when he and his countrymen decide they've had enough drunken Irishman jokes at the turn of the 20th Century. Alas, even when you literally go in guns-a-blazin', the world of politics is still a bitch, as our hero soon learns. Aidan Quinn, Stephen Rea (a Neil Jordan regular, having appeared in Angel, The Crying Game, and Interview with the Vampire, the success of which lead to this film being given the greenlight), Alan Rickman, Brendan Gleeson, and Charles Dance all make memorable appearances here, though the most astonishing aspect of this film by and far is the casting of Julia Roberts.
Granted, said astonishment is not of the "Hey, it's Julia Roberts!" variety, but more along the lines of "OK, whose bright idea was it to cast Julia Roberts as an Irish woman?" Nevertheless, Michael Collins makes for entertaining viewing, and the new WAC Blu-ray sports a beautiful 1080p transfer and is accompanied by a DTS-HD MA 5.1 soundtrack as well as several audio options in German, Spanish, and Japanese and a heap of international subtitles. Bonus features start out with a newly-recorded audio commentary with Neil Jordan, who is also on-hand for an interview. Deleted scenes, the original theatrical trailer, and a vintage episode of The South Bank Show that covers the production of Michael Collins (because a film about Michael Collins is a big thing in the UK) are also included.
A newer offering from the WAC ‒ one which also combines fact with fiction ‒ is from a chunk of history which almost predates the death of Michael Collins by about a hundred years, made exactly 25 years before the aforementioned picture. Of course, the plight of Hugh Glass, most recently seen on film (again) in the vastly overrated Alejandro González Iñárritu flick The Revenant, is almost something of a legend when compared to that of Michael Collins. But it is here, in Richard C. Sarafian's 1971 version of the story, Man in the Wilderness that we see something that not only resembles realism, but which doesn't try too hard to be too artsy. And while that may be hard to believe, especially since the movie opens with a large boat attached to a big wooden cart being pulled on the land by a pack of mules.
Richard Harris, in the midst of his revisionist western phase (which all but concluded five years later with The Return of a Man Called Horse), plays our hero, who is called Zach Bass for some reason. After being attacked by a man in a bear suit (the only thing The Revenant had in its favor), Bass' captain ‒ played by the great John Huston, during the phase in which he'd appear in anything ‒ leaves the mostly-dead fellow behind. But Bass is a man of amazing resources, recovering from otherwise mortal injuries and trekking back through unforgiving territory inhabited by murderous Native Americans. Speaking of treks, Man in the Wilderness features a nearly unrecognizable James Doohan of Star Trek fame in a supporting role ‒ just one of many things The Revenant could not top.
Furthermore, Man in the Wilderness isn't eight hours long. In fact, the 105-minute runtime, which contains its own share of dream/flashback sequences, is far easier to consume, and you won't have to watch Leonardo stare directly into the camera and beg for an Oscar, either. The oft-neglected Man in the Wilderness makes its Blu-ray debut from the Warner Archive Collection with a positively gorgeous HD transfer and restored DTS-HD MA 2.0 mono soundtrack, which, naturally, features a lot of Harris' famous whispering before screaming acting trait. In terms of special features, however, this WAC BD has been left out in the open (so to speak), with nothing more than a High-Def trailer under its stitched-together furs. But if it means I won't have to watch The Revenant again, I shan't complain. Not one bit.
Enjoy.