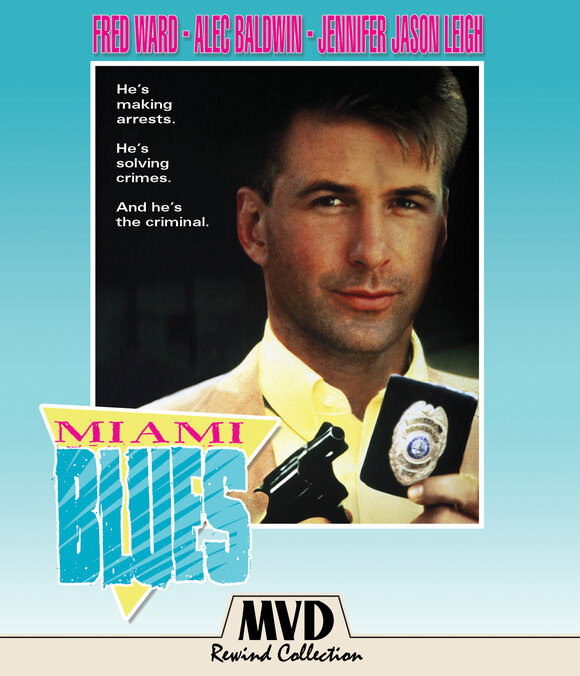 Based on the great Charles Willeford novel, Miami Blues (1990; dir. George Armitage) is a darkly comedic neo-noir. It sports excellent performances and a quirky, offbeat tone, but it's a slight misfire.
Fresh out of San Quentin, Junior Frenger (Alec Baldwin), a small-time crook, lands in Miami. Quickly, he's back to committing crimes. But, after he breaks a Hare Krishna's finger at the airport, the law only starts to get wise to him. Frenger books a pricey hotel room and orders a call girl, Pepper (Jennifer Jason Leigh). She has Southern charm to spare. After Frenger takes to her, she shows herself to be a gullible little pixie — he uses her for her money, but she eventually sees him for the snake he is. Sgt. Hoke Moseley (Fred Ward) smells Frenger for what he is, but Frenger clocks him, stealing his gun, badge, and dentures. In no time, Frenger poses as a cop to get away with even more shit. Down on his luck, Moseley goes after Frenger with renewed vigor.
Miami Blues was a Jonathan Demme production. In the 1970s, both he and Armitage paid their dues under the aegis of Roger Corman, turning out exploitation cheapies. On Miami Blues, though, Demme might have been readier for the director's chair. Armitage hadn't directed in a while — and the picture's tone drifts, never quite settling in as the funny, visceral slice of riffraffery it wants to be. Demme's company, comprising such luminaries as cinematographer Tak Fujimoto and editor Craig McKay, was the crew. His fingerprints are on the film.
But Armitage skates by, delivering a wry, whacky bit of pulp that benefits from the bright Miami locations. He also doesn't flinch from the violence. At one point, Frenger's eyebrow gets sliced. On another occasion, he loses three of his fingertips.
Ward is the most successful of the principals. He sells us on Moseley's witty, semi-hapless oddball. We like him. Baldwin excels in 'curious' side parts (not lead roles), but he's watchable here (and fit as a fiddle). Leigh is fun, too, proving yet again she is among the most talented, underappreciated actors of her generation. While her role verges on feeling one-note, she makes the most of the cornpone Pepper, who's good at making pork chops and vinegar pies. She may seem easy pickings for the sociopathic Frenger, but she's not spineless.
Miami Blues is a so-so effort. I'd seen pieces of it over the years, but nothing about it demanded I pay it more attention. It's an interesting addition to the comedic neo-noir subgenre. Willeford, as with Elmore Leonard, was good at that kind of flavor. But under Armitage's direction, the movie doesn't quite gel. It doesn't bend to cliché, but it doesn't invest us in its characters. Some sequences (especially the more lurid ones) jolt you. The movie is hip and stylish, but it didn't hook me for the length of the picture. Overall, it's a film I'd recommend (to those who enjoyed the novel and have a taste for the subgenre) — but only with the above-stated reservations.
The 1080 transfer of the new MVD Rewind Collection Blu-ray lets the pastel color palette of the sets and costumes pop. Some specking is visible throughout; but if you ask me, this ties into the film's sensibility (its gritty, low-rent charm as a movie made when even cheapies came printed on celluloid). Features include new interviews with Baldwin and Leigh, along with a photo gallery, TV spots, reversible artwork, and the theatrical trailer.