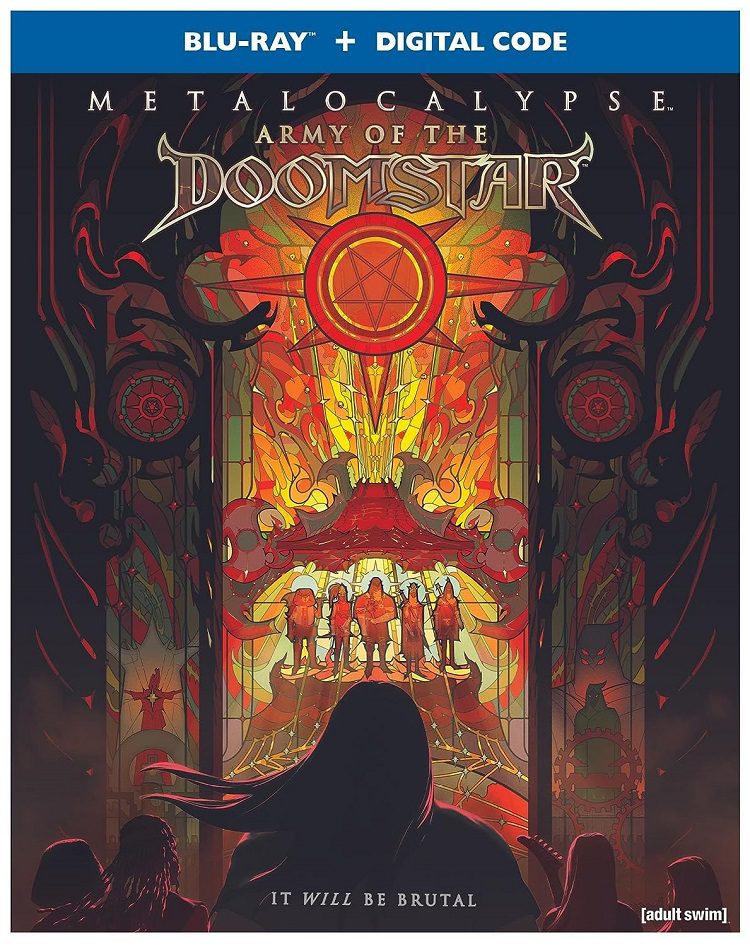 Cinema Sentries has teamed up with Warner Bros. Discovery Home Entertainment to award one lucky reader Metalocalypse: Army of Doomstar on Blu-ray. It is currently available to purchase Digitally and on Blu-ray. For those wanting to learn more, read the press release below:
It doesn't get more metal than this! The long-awaited return of Adult Swim's favorite heavy metal adventure Metalocalypse arrives with an all-new, full-length animated movie. Written and directed by series co-creator Brendon Small, Metalocalypse: Army of the Doomstar brings the heaviest metal band ever created back together again for an action-packed journey.

As a special highlight, fans can also look forward to the release of two full-length albums this year. Fans can now pre-save DETHKLOK's highly anticipated Dethalbum IV which includes all new original DETHKLOK songs, and releases on August 22. The second album release, Metalocalypse: Army of the Doomstar (Original Motion Picture Soundtrack) will include additional songs plus a totally original movie score and will be released August 25.

The film stars Small, Tommy Blacha, Victor Brandt (Metalocalypse), Stephen "Thundercat" Bruner (Grammy Award-winning musician), King Diamond (KING DIAMOND; MERCYFUL FATE), Mark Hamill (Batman: The Animated Series; The Machine), Kirk Hammett (METALLICA), Jon Hamm (Confess, Fletch; Top Gun: Maverick), Scott Ian (ANTHRAX), Amy Lee (EVANESCENCE), Malcolm McDowell (A Clockwork Orange), Juliet Mills (Passions), Laraine Newman (Saturday Night Live), Raya Yarbrough (Metalocalypse: The Doomstar Requiem – a Klok Opera), and Livia Zita (2022 winner – Society of Voice Arts and Sciences Award).

From Adult Swim, Warner Bros. Discovery Home Entertainment and Titmouse, Metalocalypse: Army of the Doomstar was written and directed by Brendon Small (Metalocalypse). Executive producers are Small, Chris Prynoski (The Legend of Vox Machina), Shannon Prynoski (Fairfax), Antonio Canobbio (Arlo the Alligator Boy), and Ben Kalina (Big Mouth).

SYNOPSIS:

After the heroic rescue of Toki Wartooth, DETHKLOK frontman Nathan Explosion finds himself traumatized in a BRUTAL professional and romantic flat-spin all while he is tasked with fulfilling the prophecy and confronting the ultimate songwriting challenge: write the SONG OF SALVATION and save the planet. Can Nathan Explosion look beyond his brutally damaged ego to save his band, stop the Metalocalypse, and finally face the ultimate evil: Salacia?

SPECIAL FEATURES INCLUDE:

Behind the Metal Curtain (Featurette) – Dive deep into the making of Metalocalypse: Army of the Doomstar with interviews with show co-creator Brendon Small and his team of writers, animators, and musicians as they share the inspirations behind turning the hit Adult Swim series into its first feature film.
The contest is only open to residents of the continental U.S. Upon notification, recipients will need to provide their own valid address (within 48 hours of email notification); no P.O. Boxes. Failure to do so will forfeit prize and another winner will be randomly selected. Cinema Sentries does not enter into any contract or guarantee with prize participants or any visitors to our site.
a Rafflecopter giveaway
If you don't want to wait, click on the Amazon link above and help us keep the lights on.