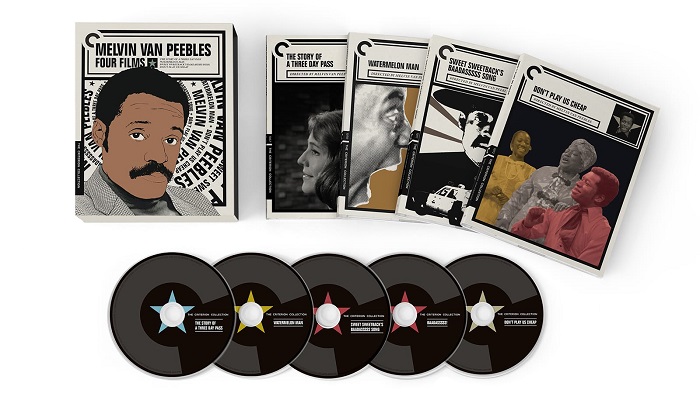 When legendary filmmaker Melvin Van Peebles passed away last week, it understandably caused a ripple in film history, especially in the indie and Black film scene. He was a rebel, uncompromising and provocative; he challenged social norms; and he depicted racism (which was big theme in his work) in a straightforward, matter-of-fact way. He pretty much paved the way for such directors as Spike Lee, Bill Duke, and the late John Singleton. He simply didn't follow the rules; he made his own.
Although he only made a handful of films, he managed to change the face of film history forever and made Black filmmaking a necessary force for others to at least take notice of, even if they still continue to overlook it and sometimes pretend it doesn't exist.
With The Story of a Three Day Pass, his 1967 first feature, he beautifully expressed the topic of interracial relationships. In Watermelon Man (1970), he fearlessly satirized society's hypocrisies toward race and the undermining double standard that comes with it. With his masterpiece, 1971's Sweet Sweetback's Baadasssss Song, he created a new type hero, a blaxplotation one, who seeks liberation and revenge against the forces of sadistic white oppression. And Don't Play Us Cheap, his 1972 adaptation of his own Tony-nominated Broadway musical, celebrates the beauty of Black joy with courage, resilience, and triumph in the face of evil.
Criterion's five-disc set should arguably be the release of the year. It is quite stacked with amazing supplements: old and new. They include Baadasssss!, a 2003 fictional feature film based on Van Peebles's diaries from the making of Sweet Sweetback, directed by and starring his son Mario, with commentary by father and son; new conversations between Mario and film critic Elvis Mitchell; producer Warrington Hudlin and critic and filmmaker Nelson George; and scholars Amy Abugo Ongiri, Gerald R. Butters Jr., and Novotny Lawrence; three short films by Melvin: Sunlight (1957), Three Pickup Men for Herrick (1957), and Les cinq cent balles (1961); French television interview from 1968 with Van Peebles and actors Harry Baird and Nicole Berger on the set of The Story of a Three Day Pass; introductions to all four films by Melvin; trailers, and much more. There is also a book with new essays by film scholars Racquel J. Gates, Allyson Nadia Field, Michael B. Gillespie, and Lisa B. Thompson.
I obviously give this my stamp of approval and 100% recommendation. It's a set that every film buff/collector should add to their collection. Melvin Van Peebles was a singular and true auteur of film. His distinct genius will live on forever.
Other releases:
The Damned (Criterion): Luchino Visconti crafts a disturbing tale of decadence, greed, perversion, and all-consuming hatred surrounding a very wealthy industrialist family during Hitler's rise to power.
A Night at the Opera (Warner Archive): The Marx Brothers create havoc and hilarity during an opera in one their best outings. Also starring frequent co-star and straight woman Margaret Dumont.
The Hunchback of Notre Dame (Kino): The legendary Lon Chaney Sr. portrays the immortal Quasimodo in this epic 1923 adaptation of the classic Victor Hugo novel.
The Sparks Brothers: A music documentary from this year directed by Edgar Wright about Ron and Russell Mael, the creators of pop and rock band Sparks.