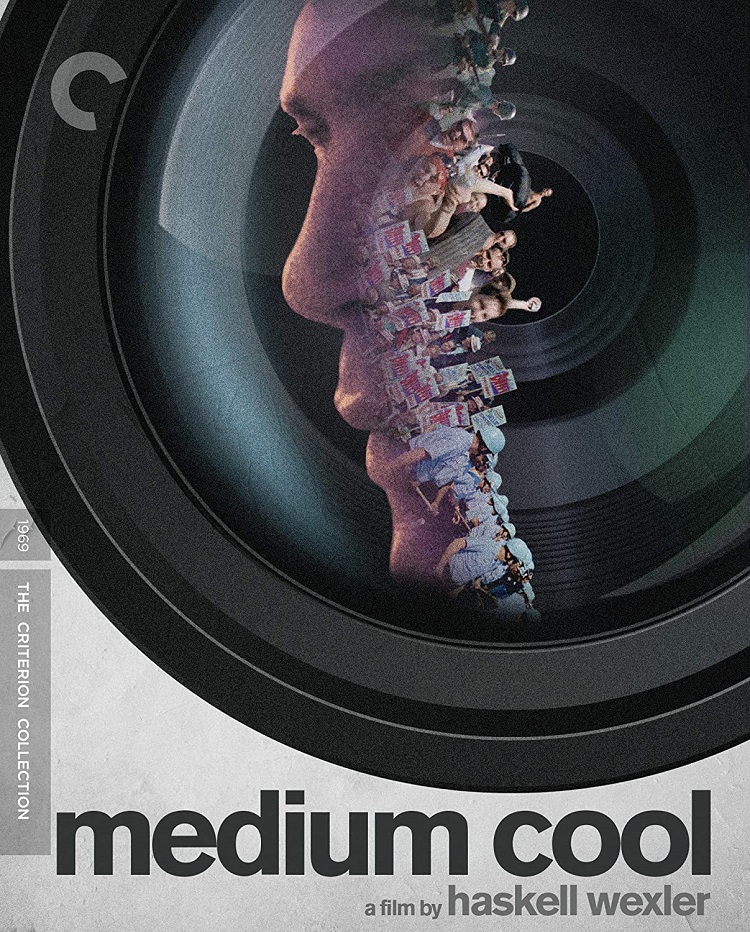 Filmmaker Haskell Wexler's Medium Cool walks the tender line between fiction and non-fiction, using the cinema vérité method to beg questions about the duties of media and the principles of witnessing the world as it is. Indeed, the questions asked in this motion picture are as persuasive today as they were in the milieu of late-'60s disruption; it is remarkable how little has changed.
Medium Cool is now available on Criterion Collection, so now is as good a time as any to visit (or revisit) this gripping and exceptional feature. Wexler's picture, to have film critic Thomas Beard tell it, "explicitly functions as both document and fantasy at once." Set against the backdrop of the actual 1968 Democratic National Convention in Chicago, Medium Cool's fender-bender with the unruly present is bracing.
Robert Forster stars as John, a television news cameraman. He and Gus (Peter Bonerz), his soundman, pilot the current events of late-60s Chicago with cool impartiality. They don't intervene when they come across a car crash, choosing instead to hunger over the perfect shot. As they steer through various aspects of the social environment, they try to remain detached.
Eileen (Verna Bloom) is raising her son (Harold Blankenship) without the help of his father (Charles Geary) and is doing the best she can in a tough economic situation. She meets John and they commence a romance of admittedly clichéd proportions, but the situation really comes to a head when Harold goes missing and Eileen traces through the very real "police riot" at the convention in search of her son.
Scenes of Bloom clad in a yellow dress and moving through packs of police and protesters, complete with clubs and teargas, are unlike anything I've seen on film. Wexler used the Democratic National Convention as a setting because he detected the tension in the air. Medium Cool, in this bold moment, steps well over the narrative mark and into documented truth.
As the film fades out, the audience is reminded once again that "the whole world is watching." This statement really sums up the picture's resolve to distort the lines between mutual society and the inevitable drive of conflict. One customarily spills over into the other, cracking the made-up shelter of the cinema and unravelling the disorder of Chicago's streets.
Of course, the playhouse of our modern times produces uncountable images of current events unfolding before our very eyes. This "new" reality, a camera in every smartphone and a smartphone in every hand, deals in what Beard states as the "theatricalization of social crisis." One need only check Twitter to plug into that terse sense of social surveillance.
Medium Cool swings into this conversation because of its basic questions and its hostile half-answers. "All good people deplore problems," says one character, "but at a distance." This tenor is paved with Wexler's own detachment; the mood-altering randomness is pompous at times, but it prevents even the most "cinematic" of moments from becoming overly personal.
Medium Cool's jabbing over society's observational roles and ethics is vital filmmaking. With a series of clever shots (the "four-and-a-half women for every man" shot is nifty) and mindfulness manifest in every rousing moment, Wexler's creation is a tour de force of political docu-drama. It is perilous movie-making, the polar opposite of benign and refined blockbusters, and it ought to be required viewing for true fans of cinema.
The Criterion Collection DVD release comes on two discs and features two audio commentaries, one with the director, the editorial consultant Paul Golding and actress Marianna Hill. The other commentary features historical Paul Cronin.
The second disc includes a new interview with Wexler as he reveals how the picture, first thought of as something called The Concrete Wilderness, wound up becoming Medium Cool. Another bonus feature includes excerpts from Look Out Haskell, It's Real!, a documentary about the making of Medium Cool, while another feature provides excerpts from Sooner or Later, a documentary about Blankenship.
Drawing it all together is Medium Cool: Revisited, a half-hour piece by Wexler that takes his on-the-ground style to the Occupy movement in Chicago in 2012. The similarities between the content of Medium Cool and the modern protest are hard to miss. Wexler's observations, particularly those about today's media standards and ethics, are insightful as well.