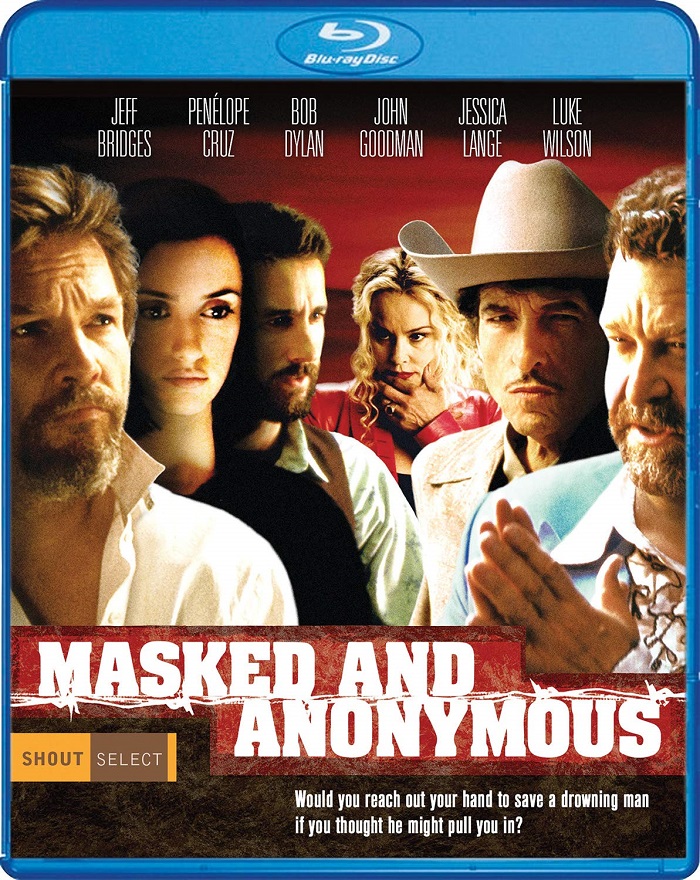 "I stopped trying to figure everything out a long time ago" is the last line of dialogue in Masked and Anonymous. It is said through narration by musician Jack Fate (Bob Dylan, playing a variation of himself or not depending on the scene) while he rides away in a van after being framed for murder, a fate he and folks who witnessed what happened accept rather easily. While that may be sound advice for life, the line is disingenuous as the entire movie, written by Dylan and director Larry Charles (credited as Rene Fontaine and Sergei Petrov) is a collection of ideas to figure out rather than a traditional dramatic or comedic story told.
With its roots in an aborted slapstick-comedy TV series, Masked and Anonymous is set in a fictional war-torn, third-world country with its President's face plastered all over, which covers how ill he is. In desperate need of money, huckster Uncle Sweetheart (John Goodman) and his partner Nina (Jessica Lange) produce a benefit concert for television intended to raise medical relief. The only performer they can get is Jack Fate, who needs to be sprung from jail. Jack is considered past his prime and doesn't thrill the network executives. A newspaper editor (Bruce Dern) gets wind of the concert and sends journalist Tom Friend (Jeff Bridges) to see if it is all legit, but Tom has his own agenda.
The film meanders along, scene to scene, leading to a climax that is underwhelming because the audience has no connection to characters because they are caricatures. They, portrayed by a stellar cast, don't usually talk to one another in a realistic manner. Frequently, they speak passed each other to the audience, telling stories and proclaiming adages, all of which would be better suited for song lyrics than dialogue. The end result is the film comes across like an outline of topics that went straight into production without being fashioned into a well-written story.
The soundtrack is the saving grace. Dylan plays his songs and covers, and has his work covered. Eight songs are performed live in the film by Dylan and what was his touring band: bassist Tony Garnier, guitarists Larry Campbell and Charlie Sexton, and drummer George Recile, collectively known in the film as Simple Twist of Fate.
The video has been given a 1080p/MPEG-4 AVC displayed at an aspect ratio of 1.78:1. Shot on 24p HD video, the colors are strong. Items like Uncle's powder-blue tuxedo, the bits of red on Pagan's (Penelope Cruz) sweater, and the green curtains that line the concert venue pop during scenes. Blacks are inky. The image delivers strong contrast, depth within scenes, and a sharp focus.
The DTS-HD Master Audio 5.1 is most dynamic in the musical performances. For both acoustic and electric sets, the instruments come through with satisfying fidelity and fill the surrounds. Dialogue is clear and understandable as it comes out the front center channel. When Jack and Uncle first talk together, their dialogue sounds distorted on occasion.
The Special Features are Behind the Mask (HD, 30 min) : A new interview with director/co-writer Larry Charles that gives insight into the project and its creation, as least as much as he can or is willing to because Dylan got him to see that it's okay if people misunderstand things.
Features from the previous DVD release include Masked and Anonymous Exposed: The Making of Masked and Anonymous (SD, 16 min) with members of cast, minus Dylan, and crew talking about the film, which some confess they don't understand; a few Deleted Scenes (14 min) of varying degrees of visual quality, and the trailer.
If one enjoys deciphering riddles, as more than a few Dylanogists do, then Masked and Anonymous is worth examining. For those that don't, there might not be enough here to captivate them. Shout's Blu-ray delivers a pleasing HD experience. Hopefully, a record label will release a comprehensive soundtrack.