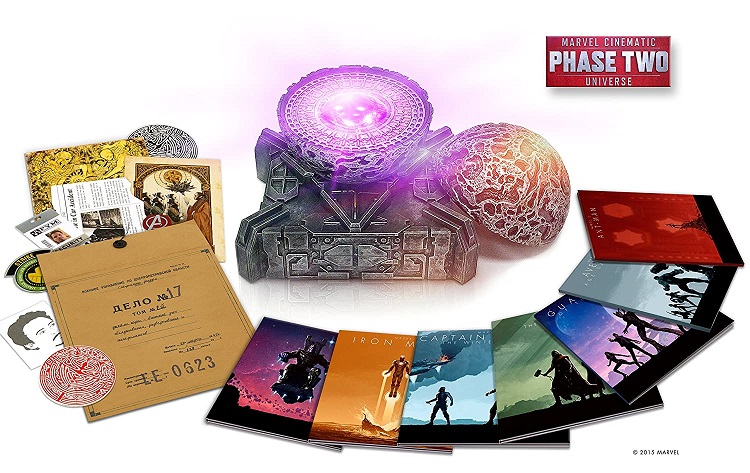 When I picked Phase One of the Marvel Cinematic Universe as my Pick of the Week back in April of 2013, I noted that I wasn't really a comic-book movie fan. That's changed in the interim. I've since read many of the books upon which the films are based, which has given me a much greater understanding of the characters and their motivations. I've also learned to put aside my art-house critic hat and engage in the terrific fun these movies are having. That's the thing about the Marvel Cinematic Universe, they are not always really great films, but they are usually a great deal of fun.
This has happened not just to the Marvel Universe for me, but many other similar entertainments. I've lately been re-watching older comic book movies like X-Men and Spider-Man and have been enjoying them much more than I did the first time. I've even come back around on Star Wars. The prequels kind of turned me off of that series for a very long time to the point where I was even down on the Original Trilogy. (I keep a list of the movies I watch in chronological order with a rating system attached and my rating for The Empire Strikes Back from a few years ago was not very good.)
It helps that my daughter watches these things with me. Her enthusiasm over light-saber battles, web-slinging, and Iron Man flying spills over into my own thoughts. It makes me a kid again. It makes Phase Two of the Marvel Cinematic Universe my Pick of the Week.
The films in this include Iron Man 3, Thor: The Dark World, Captain America: The Winter Soldier, Guardians of the Galaxy, Avengers: Age of Ultron, and Ant-Man. All films come with Blu-ray 3D, Blu-ray and Digital formats. Each film includes all of their previously included extras and this set includes a documentary about all of the Phase 2 films, tag scenes, multiple Marvel One-Shot audio commentaries, deleted scenes, plus collectible patches, tattoos, drawings, and more. It all comes in a collectible Infinity Stone orb.
This sort of thing always comes with the question of whether it's worth the price and worth grabbing this over the individual film releases. I'd say there are enough extras here and collectibles to justify the purchase if you liked all the films and haven't already purchased some of them individually. This is definitely a collector's item as you could easily get each of the films, with plenty of extras cheaper than this set, but you'd miss out on the cool physical objects and won't be nearly as impressive displaying them.
For me and my money this is going on my wish list, but likely I'll wind up buying the films I really like separately – I still haven't even watched Ant-Man or Thor: The Dark World. Speaking of Ant-Man, that film is sharing its release date with the big boxed set, so for those of you not interested in laying down the big bucks for everything you can get the little hero for a little pay-out.
Also out this week that looks interesting:
Minions: Taking secondary characters (who speak gibberish and exist as comic relief) from the Despicable Me franchise and giving them their own feature film was a risky endeavor. Honestly, if I didn't have a kid I'd likely skip this one altogether, but I know sooner or later me and the family will be watching this one.
Hannibal: Season Three: I just made it through the first season of this serial-killer drama loosely based on the Thomas Harris novels. I'm not sure if I'm surprised more that NBC allowed it to last three whole blood-drenched, horror-filled seasons or that something so good actually came from network television. At least I've got two more seasons to look forward to.
Speedy (Criterion Collection): Harold Lloyd comedy gets the Criterion work-up.
Jellyfish Eyes (Criterion Collection): The directorial debut of Japanese artist Takashi Murakami, this film follows a young boy who moves to the country and befriends a flying, animated jellyfish-like sprite. I'd not heard of this before I saw that Criterion released it and looking on Rotten Tomatoes it appears the film was poorly reviewed. It's curious then that Criterion is making a deal of it, except sometimes they release not very good films just because they are made in interesting ways and this film's blend of live action and animation certainly looks interesting.