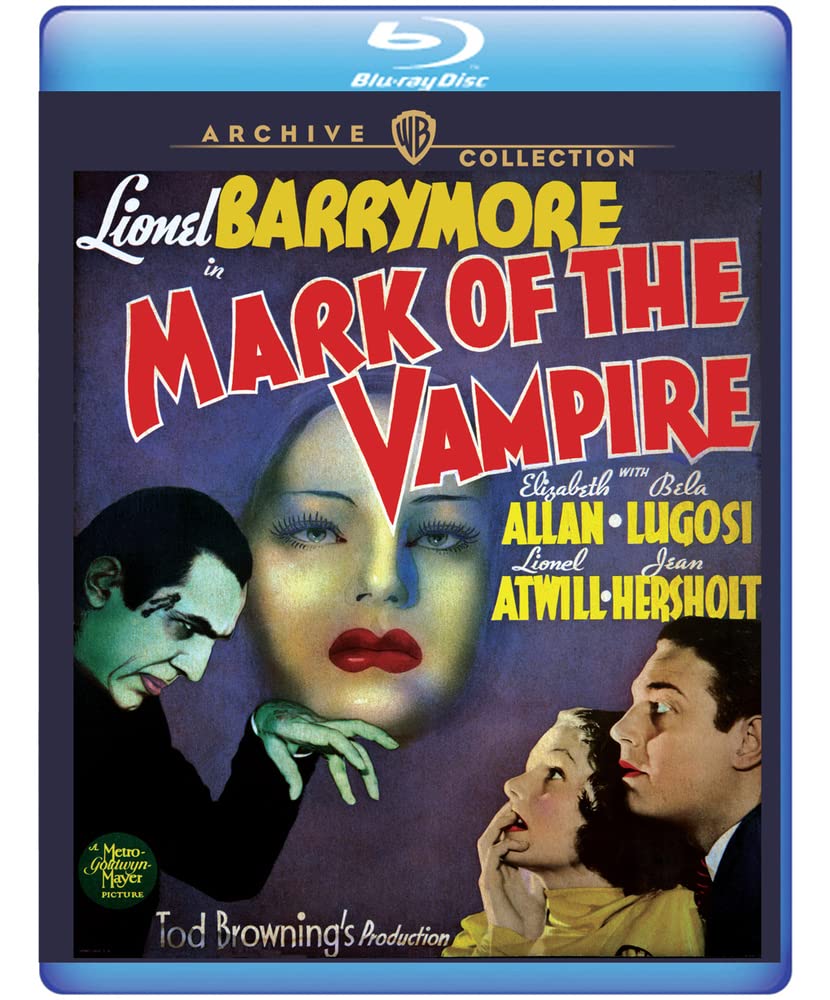 Director Tod Browning's Mark of the Vampire (1935) is a remake of his silent film London After Midnight (1927), which starred Lon Chaney. It's an interesting watch because Mark of the Vampire is a horror film until it isn't, but that plot/genre twist isn't very successful.
In his home, Sir Karell is found murdered with two small pricks on his neck, leading the doctor (Donald Meek) and other locals to believe he was killed by a vampire. Police Inspector Neumann (Lionel Atwill) discounts that theory. Soon after, Sir Karell's daughter Irena (Elizabeth Allan), who is engaged to Fedor, is bitten as well although she survives. Professor Zelen (Lionel Barrymore) is called upon to defeat the vampires, who are believed to be Count Mora (Bela Lugosi) and his daughter, Luna (Carroll Borland), who live in a nearby castle.
There's a big twist to what's really going on in the story. It strains credibility as it's an awfully elaborate scheme to execute, especially in the film's one-hour runtime, which makes it an early version of Mission:Impossible. Some of the directorial choices are intended to trick the audience as opposed to the characters, such as casting of one actor, and there are scenes where only the viewer sees what's happening.
The video has been given a 1080p/MPEG-4 AVC encoded transfer displayed at the original aspect ratio of 1.37:1. Legendary cinematographer James Wong Howe's moody atmospheric work is highlighted on this disc. The image is very clean of dirt and defect with film grain remaining intact. The blacks are rich in their inkiness without crushing. There is noticeable depth with some soft focus appearing on the sides of the frame. The audio is available in DTS-HD 2.0 Master Audio. Dialogue is clear and balanced well. There's a soft hiss throughout. Music is relegated to bookending the film and distorts the track when it comes in.
The extras are a commentary by Kim Newman and Stephen Jones and two MGM shorts from 1935, recreating a night at the movies that year. From the "Crime Does Not Pay" series, No.4 "A Thrill for Thelma" (18 min) starts like a news report as Thelma is brought into the warden's office to tell her story about the bad choices she made that led to her ending up in jail. It's rather heavy-handed and corny. "The Calico Dragon" (8 min) is a Harman/Ising cartoon about a young girl reading a story about a Princess and a Dragon to her toys. When she falls asleep, her toys attempt to rescue the Princess. The animation is good but the story is cliched. There is also a trailer.
For its short runtime, Mark of the Vampire is enjoyable for those in the mood for light horror from the Classic Hollywood era. Ultimately, the writing, London After Midnight was based on a short story by Browning, lets down the other talented folks on this project and tempers my enthusiasm. The high-definition video impresses and the extras add to the disc's value.