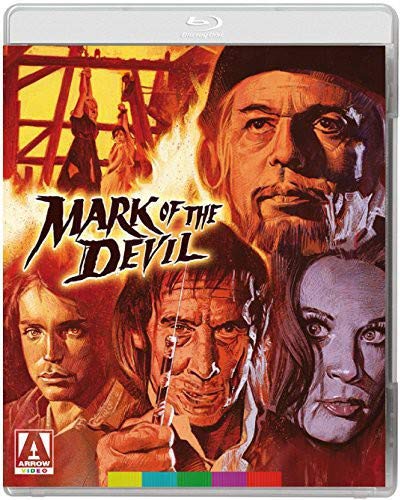 Nothing delights me more than seeing a new cult video label emerge in the USA. After the collapse of the (global) economy nearly a decade ago, a number of niche companies who specialized in movies I grew up only reading about or drooling over the lurid VHS labels of in mom and pop video stores as a kid disappeared. Many of them were on a winning streak at the time, too, which makes it all the more regrettable. Since then, several outfits have surfaced – with some becoming hugely popular, while others were literally the home video equivalent of a one-hit wonder (see: Midnight Legacy). March 2015, however, marks a different kind of new label: one that has already been established and built up a huge fanbase elsewhere.
In the magical mythical realm of Great Britain, where knights still do battle with dragons and the word "discotheque" is uttered without giggling, the label Arrow Video has become an even mightier force to reckon with than Merlin himself. Emerging from the shadow of the highly influential (artsy) Arrow Films label, Arrow Video became a godsend of many when they began to release what most cult movie aficionados consider to be the ultimate versions of numerous video nasties from the '80s. They then began to release other cult classics from all corners of our great big stretched out flat world. And then, just like a group of insects with ridiculous Moe Howard hairstyles and a fairly decent drummer, they set their sights on America.
And the brains behind the newly formed Arrow Video USA (as it's known by, despite being a North American thing, because Americans tend to become confused when someone says "North America") have picked an appropriate film to inaugurate their North American (sorry, U.S.) invasion. In fact, it's one that has most assuredly left its mark on film – even though, ironically, there's nary an American thing about it, North or otherwise. Rather, Mark of the Devil is a 1970 West German production shot in Austria and comprised of a cast and crew that hailed from at least six different European continents (continental Europe, kids, where castles roam in great herds to this day), including a British director.
So what makes it perfect for America? It is because that Mark of the Devil only truly succeeded in making its mark (ha) on the world via an infamous advertising campaign by its rather shady American distributors in 1972. But we'll get to that in a bit, kids. First, let's focus on the film itself. Filmed in the beautiful (castle-laden) countryside of Austria, the film centers on witch hunters and the pain and suffering that went hand-in-bloody-hand with them during the 18th Century. Herbert Lom is the feared witchfinder Lord Cumberland, who comes to take over a local small town torture show, as its present ringleader – the oddly-named Albino, as played by Salem's Lot creepy vampire, the creepy Reggie Nalder – has really started to let his own personal convictions get in the way of serving either Lord.
And while Lord Cumberland is a decidedly much nicer fellow than Albino, his own absolute power has begun to corrupt absolutely. This is most noticeable when Albino accuses busty wench Vanessa (Olivera Katarina) of being in league with Mr. Mephistopheles when she, rightfully, refuses to let the scumbag defile her while she's supposed to be getting some poor customer's ham and bread (and you thought that manager at Denny's was a perv). It is only when he charges the alluring beauty with having used a curse to make the men of the community impotent that Lord Cumberland agrees to try the saintly soul as a witch – for Cumberland's own Benedict Arnold of a Cumberbatch suffers from the same emasculating humiliation Pfizer would thankfully find a cure for someday.
Meanwhile, Cumberland's young apprentice, Count Christian von Meruh (the magnificent Udo Kier, in one of his earliest roles), tries to convince his master that the sultry Vanessa is innocent, as he had previously saved her from Albino's sleazy grip. Also, he's in love with her a bit, and it's that latter bit that confuses him greatly. Is he serving the good God above, his local Lord and mentor, or that devious little devil below his waist? And once the blood really starts to flow – in the form of various torture devices (many of which were the real deal that had been used during the actual witch trials of the Austrian location's bloody past), including a famous tongue ripping-outing, the likes of which had not been seen since Blood Feast – Christian really starts to wonder if he's not in the thick of things.
Herbert Fux is the executioner who doesn't have to be on the clock to perform his duties. Gaby Fuchs is the poor lass whose oral organ is removed. Ingeborg Schöner and Adrian Hoven are the rich nobles who get imprisoned along with their small children (including Herr Hoven's son, Percy) for performing a private puppet show. Originally, producer Adrian Hoven wanted his to be more of a direct cash-in on Michael Reeves' successful Witchfinder General (which is essentially is, though much bloodier). In fact, Reeves was supposed to have directed, but was replaced by fellow Englishman Michael Armstrong (who became writer/director) after Reeves passed away in 1969, and who wanted to make something entirely different. Armstrong and Hoven quarreled over every little thing.
Ultimately, Hoven prevailed, only to have his pet project heavily censored and/or banned throughout the world. Australia and Norway Britain refused to even screen it to the censors. As did Hoven's own countrymen! In fact, Hexen bis aufs Blut gequält (or, Witches Tortured till They Bleed, when translated into English – which is pretty catchy in itself, you must admit) soon became that one movie nobody wanted to touch: it was too controversial and violent for the times, especially with the state of affairs the entire planet was in at the time (there were protests and revolutions the world over, mostly due to the breakup of The Beatles, and something called the Vietnam War). Those who did see it usually saw it in a noticeably eviscerated form, wherein it was hardly worth remembering.
And that brings us back to the American aspect of Mark of the Devil. In 1972, Hallmark Releasing Corp., a crafty film distributor in the United States who specialized in perfectly timed and misleading ad campaigns for films they picked up the rights for at what must have been incredibly cheap prices, came up with the brilliant idea to market Mark of the Devil as "Positively the most horrifying film ever made" and declared it as being "Rated V for Violence" at a time when the newly-formed MPAA rating system was changing its letters regularly. Hallmark even printed up and handed out specially-made motion sickness/distress bags (aka "barf bags") to hand out to its audience to further promote and exploit the film's violent content.
This stroke of genius may have single-handedly managed to allow Mark of the Devil to make its impact within the halls of the motion picture annals. In the years following its original, near-legendary theatrical release in the U.S., the movie went on to be released time and time again on VHS in varying lengths of runtime. It wasn't until Anchor Bay secured the rights to the film in the late '90s that the title showed up on DVD and uncut for the first time, though the video transfer was less than ideal. And if you have ever seen that release, or even the 2004 Blue Underground re-release (which was much better-looking), you'll be in for a massive improvement with Arrow Video USA's debut Blu-ray/DVD Combo release.
Presented in a 1.66:1 aspect ratio, Mark of the Devil is devoid of any such eponymous abnormalities. Taken I think from the same lovely transfer as the Region B limited edition German Blu-ray from 2012, Arrow Video USA's new Region A/B release is so crisp, so pure, that every single low-budget makeup effect employed within the film might not succeed in making viewers with weak constitutions reaching for their specialized sick bags. Even Herbert Lom's nose piece is very noticeable now, but it's all for the best, as the overall transfer is truly gorgeous. Accompanying the feature film are LPCM Mono audio soundtracks for the film's German and hilarious English dubs, with optional English (SDH) subtitles for both aural selections.
Some of the special features included in this release have popped up before on home video, most notably several interviews (or varying quality, as they were all filmed at different times) with several of the movie's cast and crew. Composer Michael Holm and actress Ingeborg Schöner provide their thoughts and memories in English, while Udo Kier, Herbert Fux, and Gaby Fuchs (anyone else feel like cursing all of the sudden?) offer up their experiences in their native German tongues (and yes, Ms. Fuchs still has hers – and is only too happy to show us). Herbert Lom exchanges words via an archival audio interview. Two additional recollections with actors Michael Maien and Percy Hoven were available on the German Blu-ray release (which did not have the Michael Holm interview), but are not included here.
Also ported over from past Digital and High-Def releases are various collections of stills, a look at filming locations then and now, the international/export English-language trailer (it isn't nearly sleazy enough to have been made by Hallmark Releasing Corp.), and several outtakes are included. However, there are two choices for outtakes: one just over three minutes long, the other totalling nearly 40 minutes in length (!). The latter may be selected by pressing right when you have the regular one selected (Easter Egg alert!). A German-language trailer, secondary commentary with cast/crew, and 5.1 audio options in both English and German were also available on the 2012 Region B disc, as were Deutsch untertitel and a music video, to those of you who find such things relevant – though they are of little importance to non-German speakers.
What makes Arrow Video USA's debut title the most titillating, however – apart from the fact that you can now watch the movie in High-Definition without having to shell out for an all region player – is the inclusion of a newly-recorded audio commentary by Michael Armstrong, and two recent, well-made featurettes from Calum Waddell and High Rising Productions. The first, Mark of the Times focuses on the rise of the British new wave of horror movies in the late '60s and '70s, and interviews many contributors to the movement such as Michael Armstrong, Norman J. Warren, and David McGillivray, as well as historians and critics Peter Hutchings and Kim Newman. A second indigenous and delightful ditty, Hallmark of the Devil with author/critic Michael Gingold, focuses on the fascinating short-lived career of the Hallmark Releasing Corp.
Arrow Video USA's Blu-ray/DVD Combo will come complete with newly-commissioned reversible artwork by Graham Humphreys, as well as a collector's booklet which contains a new essay on the feature film itself by Adrian Smith and Anthony Nield. Said liner notes shall also include a re-printed interview with the late Reggie Nalder (who died in 1991) as originally performed by David Del Valle. Lastly, of course, is the DVD part of the combo pack. As I only received a check disc of the Blu-ray, I cannot comment on its contents at present (or the booklet, which was also absent from my screening copy, hence I described it in a future tense), but I won't let that get in the way of recommending this truly spectacular release of a movie that most assuredly left its Mark on the world of film.
Get it. Love it. Ask for more. Who knows, maybe we'll finally get to see Adrian Hoven's very elusive 1974 sequel, Mark of the Devil, Part II in the near future from Arrow Video USA!