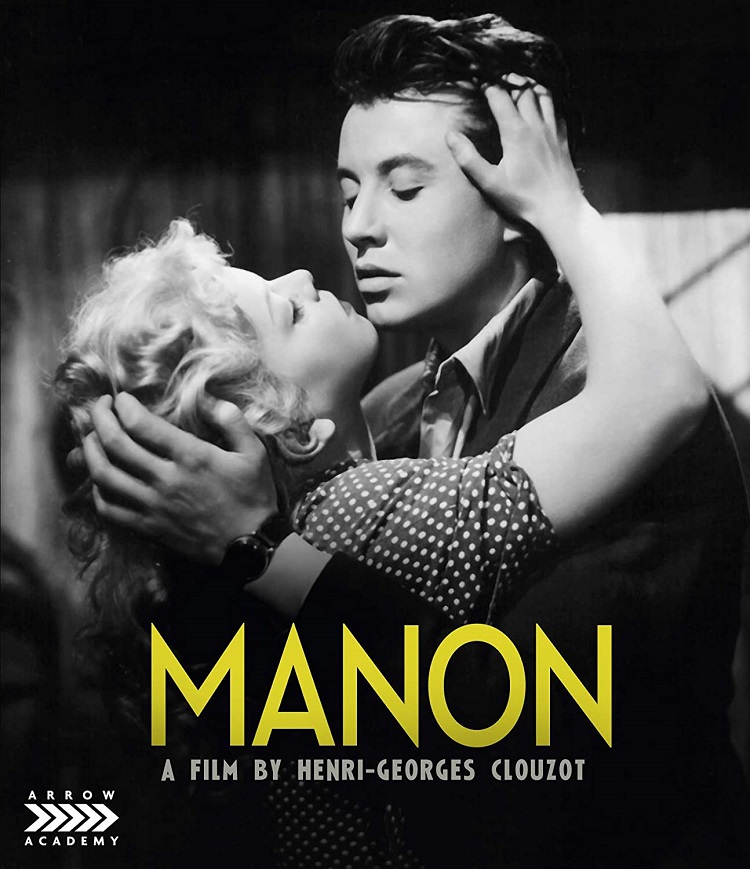 Manon Lescaut is an 18th Century novel by Antoine François Prévost. It was controversial at the time of its release, for it depicted a woman so full of greed she'd resort to low morals (cheating on her husband, turning to prostitution) in order to live the lifestyle she preferred. It was banned for a time in its native France, which of course means it was extremely popular. Twenty years after publication, an acceptable version was printed, toning down the scandalous details and injecting moralizing disclaimers.
It remains a classic, so much so that my wife, ever the lover of French culture, knew of the story when I mentioned I was gonna watch this Blu-ray. It has been adapted into half a dozen ballets and operas, and at least as many films. In 1949, the great Henri-Georges Clouzot adapted it. This was before he became synonymous with the thriller genre or became known as the "French Hitchcock". That is to say it was made after Le Corbeau, but before The Wages of Fear and Diabolique.
Clouzet moved the story from the 18th Century to the tail end of World War II. Robert Dégrieux (Michel Auclair) is a French resistance fighter looking after a French town that has been freed by the Allies. There, he meets Manon Lescaut (Cécile Aubry), a beautiful French woman who is about to have her head shaved by the other villagers for having slept with the Nazis while they were in town. Robert's superior officer rescues her from those women but plans to keep her under watch and send her to trial when the time comes. Robert is told to look after her.
He is easily bewitched by her beauty and charm and soon they are running away together. He finds that while she proclaims her undying love for him, she is more than willing to spend time in the company of other men if they have money and are willing to spend it on her. Robert, being an honest man, finds it difficult to make the money she is accustomed to spending in post-war France. She turns to high-class prostitution and he eventually turns to selling black-market goods. They are happy as long as she's spending money.
Manon's brother, Leon (Serge Reggiani) is a conniving man and happily helps Robert into seedier and seedier business ventures. One thing leads to another and Manon and Robert find themselves on the run. The films begins with them as stowaways aboard a ship taking a group of Jews to Palestine (for a hefty price, of course). Most of the movie is told in flashbacks and the two of them must explain their plight to the ship's captain. It ends unhappily in a desolate desert, under the baking sun.
I can't speak to the original novel nor any other adaptation but Manon is a strange film in Clouzot's hands. She is a strange character and not at all likable. She is strong and treacherous, sensual and manipulative. She cares nothing for Robert except for what gifts she can buy him. He isn't much better. A sap willing to do anything for her – desert his country, cheat, steal, and ultimately kill for her. Yet, this is a romantic story. For at least part of it anyway.
Clouzot films much of the middle section like a noir. Filled with shadows, his camera set at odd angles. Manon is the femme fatale if seen from that point of view and Robert her victim. But the bookends to the film are less noir and more melodrama. Whatever the genre, Clouzot knows how to pull emotion out of his audience be it tension or fear or romance. He was truly a master.
Cécile Aubry is quite good. She is sensual and seductive, innocent when she needs to be, but tough as nails when it's called for. Though she received acclaim for this role and landed a lucrative contract with 20th Century Fox, she made only seven films after this one. She then went on to have a successful career as a writer of children's stories. Michel Auclair isn't nearly as good and often seems unsure of what film he is in. He needs to be both desperately in love (or in lust as it were) with Manon and insanely jealous of her. But we never see these emotions as passionately as the role demands.
In one of the Blu-ray extra,s someone talks about how Clouzot was a very pessimistic person. His view of humanity was quite dim and you can see that in his films. No one in Manon is good or even redeemed. The romance is built on lies and its conclusion depressing. I liked this film quite a lot, as I've liked all the films by Clouzot that I've seen. Its noir-ish middle works best with its beginning and ending feeling more mishmashed. In just four years, he'd make the masterful The Wages of Fear and two years after that he'd direct Diabolique., solidifying his status as a master of his craft. It isn't quite so solid in Manon but you can see those gifts coming together.
Arrow Academy presents Manon with a 1080p transfer with the original 1.0 mono audio. Extras include an archival documentary about the director, a new video presentation by film critic Geoff Andrew, image galleries, and an essay on the film in the booklet.