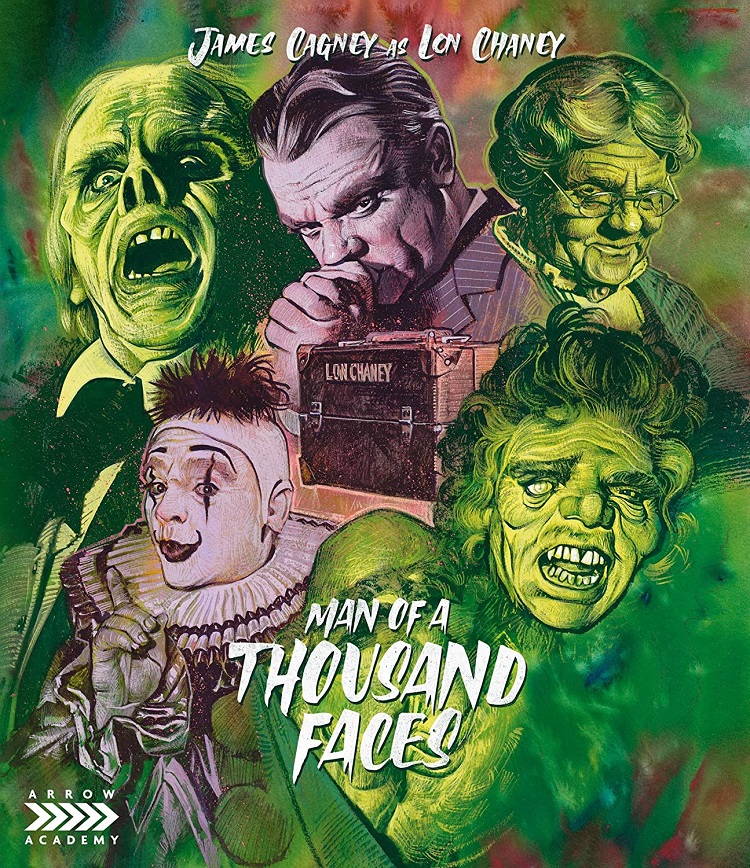 Man of a Thousand Faces (1957) from Universal International tells the tale of silent film star Lon Chaney, from vaudeville clown to Hollywood legend. Starring James Cagney as the master of makeup and rounded out by a supporting cast that includes Dorothy Malone, Jane Greer, Jim Backus, and Robert Evans. There are even a few of the old silent film players portraying themselves.
Growing up with deaf parents, young Lon learns sign language and the art of pantomime. He later chooses a life on stage as a vaudeville dancing clown where his pantomime skills can be best utilized. In vaudeville is where he meets his first wife, Cleva Creighton (Malone), who soon becomes pregnant, and trouble begins after meeting Lon's parents. Cleva, uncomfortable with Ma and Pa Chaney and afraid her baby will be born a "dumb thing," no longer wants to have Lon's child (who will be christened Creighton Chaney, later to be known as Lon Chaney Jr). Lon seems never to forgive Cleva for her words and prejudice towards those born different. 
As his career moves along, Lon struggles to deal with his wife's desire to be her own star and taking care of his son the best he can. As Cleva and Lon grow apart, Hazel Hastings (Jane Greer) moves closer to Lon and his son Creighton. After an onstage scandal with Cleva and at the advice of his press agent Clarence Locan (Jim Backus), Lon leaves Cleva and takes his son with him to Hollywood, California. 
In Hollywood at Universal Pictures, Lon tries to break into moving pictures. Starting as an extra then rising to more prominent roles and with the help of his trusty makeup kit, Lon quickly takes center stage. There he can better utilize his skills to create more depth in the characters he chooses to play. The roles he takes are often those of outsiders and misunderstood outcasts seen as monsters by most. 
As Man of a Thousand Faces rolls on, we see the classic Lon Chaney movies being made, The Miracle Man, The Unholy Three, The Hunchback of Notre Dame, and The Phantom of the Opera. We watch as Lon sketches and develops these roles and brings them to stunning life on screen. We're there as Lon battles raising a son who wants to be in movies against his wishes. Cleva is out of their lives for the most part and Hazel is back, now the second Mrs. Chaney; she'll stay with him until his death just after the sound remake of The Unholy Three. Also upon his death, he hands Creighton his make up kit, adding "Jr." and giving Creighton the nod to carry on his work in movies as Lon Chaney Jr. 
As with most Hollywood biopics, the movie plays a little fast and loose with actual facts, time lines, places, as well as people's true character and ages. All that aside, Man of a Thousand Faces is a good movie that gives us a look at the life, loves, and creations of Lon Chaney. The movie is more focused on Chaney himself rather than the films he made. We do see him as he is making those classic films but we see more of the man behind the makeup and his relationships with his son, wives, and family. If one wants an actual documentary on Chaney's life there's Lon Chaney; A Thousand Faces, I highly recommend it.  
The year 1957 was the perfect time for Man of a Thousand Faces to be made as it would later air on television repeatedly and a whole new generation of horror fans would grow to appreciate Chaney's monsters. Those fans would go on to create their own modern monsters, make up, and special effects. This film's influence was so great that for years merchandise that was supposed to be of Chaney were actually modeled after this movie's recreations. The recreated monsters are still no match for the originals. The monsters here seem more a product of the 1950s rubber mask era and not as good as the originals. 
The feature length audio commentary by Tim Lucas is great. Entertaining and fact filled, Lucas does a wonderful job of separating fact from fiction. He points out just about everything you need or want to know about the cast and crew of Man of Thousand Faces. Facts like despite Cagney being older than Chaney at the time and looking nothing like him, the two men do share many things in common; both men are roughly the same height, both learned sign language at an early age, they could both dance and clown but be tough as nails when needed. The list goes further, so be sure to watch with commentary on at least one time through.  
The Arrow Academy Special Edition Blu-ray contains
Brand new restoration from the original negative by Arrow Films
High Definition Blu-ray (1080p) presentation
Uncompressed Mono 1.0 PCM audio soundtrack
Optional English subtitles for the deaf and hard of hearing
New audio commentary by film scholar Tim Lucas (I told you how good this is,)
The Man Behind a Thousand Faces, a newly filmed look at Lon Chaney and his legacy by the critic Kim Newman (Great short interview.)
Image gallery
Original trailer
Reversible sleeve featuring original and newly commissioned artwork by Graham Humphreys (these are always cool options.) 
FIRST PRESSING ONLY: Fully Illustrated booklet with a newly commissioned essay by Vic Pratt of the BFI (it's a really cool booklet and contains original movie reviews reprinted from 1957.)    
Cagney plays Chaney well, in his own unique way, and Man of a Thousand Faces helped resurrect James Cagney's career. The monsters Lon Chaney brought to frightful life, The Hunchback of Notre Dame, The Phantom of the Opera  and the popped-eyed vampire from the lost London After Midnight live on as classics of early Hollywood horror.