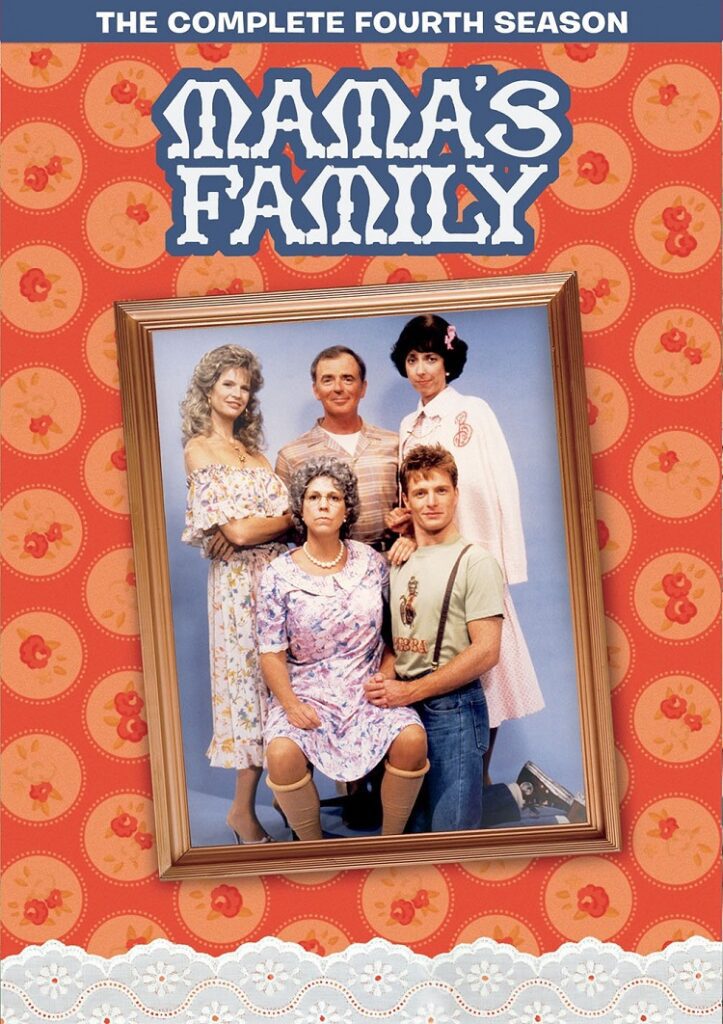 Mama's Family was one of the most popular recurring skits on the old Carol Burnett Show, so it was not a big surprise when it was decided to turn the skit into a fully-fledged series on its own. What was surprising was that after airing on NBC for two seasons, the producers decided to do it as a first-run syndicated program, a form which was in its infancy in the Eighties. The show did pretty well, and ran for a total of five seasons. With the new DVD release of Mama's Family: The Complete Fourth Season on Jun 24, all 25 episodes that aired during the 1987-88 season will be available in a four-DVD package, which also includes some notable bonus features.
You could say that the fourth season was the one in which Mama's Family "jumped the shark," with their trip to Hawaii. No, there was no actual shark-jumping ala Fonzie in Happy Days, but in a three-part story, the gang did actually go to the island paradise. It all begins with "Mama on Jeopardy" with guest star Alex Trebek. Mama (Vicki Lawrence) wins a trip to Hawaii on the show, which is followed by the two-part "Mama Goes Hawaiian."
For the first time, there is an overall arc to the season, which is book-ended by "Educating Mama," and "Pomp and Circumstance." Mama has decided to go back to school, and her student escapades provide plenty of laughs.
The family's money problems are also an ongoing concern, and they come up with some interesting moneymaking schemes. In "Gift Horse," the Harpers decide to have a yard sale to sell off some of the crazed items that Iola (Beverly Archer) had given them. In "Bed and Breakdown," they decide to try and earn some money by renting out a room during the Tri-State Fair. Slapstick has always been an inherent part of the show, and the scene when they overbook the room is something of a tribute to the Marx Brothers. In "Mama Gets the Bird," Mama is bequeathed a talking parrot named Captain Petey. His squawking of clues to a buried treasure has everyone excited, and kicks off a Harper family-treasure hunt.
Mama's adult son Vint (Ken Berry) and wife Naomi (Dorothy Lyman) are always a good source of amusement, and they are having some marital problems in the fourth season. In "Breaking Up Is Hard to Do," Vint decides to make an expensive purchase, without consulting Naomi. She is not amused. Other domestic situations involve the teenage Bubba (Allan Kayser), arriving home drunk in "The Sins of the Mother." This is one of the more unusual episodes of the season as it features daughter Eunice (originally played by Carol Burnett). A younger Eunice (Heather Kerr) is recalled in flashback by Thelma, specifically a night when Eunice was drunk. This being the mid-Eighties, the "Just say 'No'" campaign is in full effect.
This set also includes some intriguing bonus features. There is a featurette titled Mama's Family Tree: The Neighbors (All About Iola) (15:59), and an interview (10:27) with Beverly Archer, the actress who played her. The final piece is Under One Roof: Mama's Family Cast Reunion, May 7, 2013, Los Angeles, CA. (27:43). Finally there is a four-page color booklet with an essay by Andrew Whitenack, who wrote Mama's Family: The Unofficial Episode Viewing Guide.
Mama's Family would go on to one more season in syndication, but they were firing on all cylinders during this, their fourth season. And with this show in full Eighties-mode, the haircuts and fashions are unintentionally hilarious in their own right.