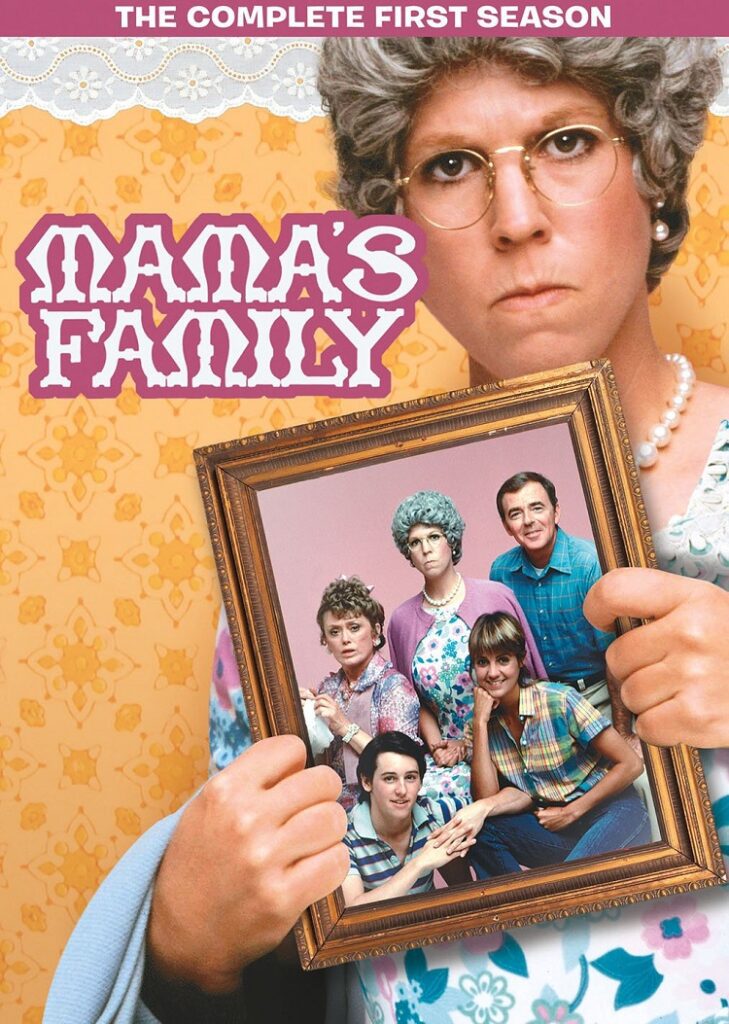 The "Mama" in Mama's Family is Thelma Harper, a character Vicki Lawrence first played on The Carol Burnett Show in a series of sketches called The Family, in which she was the mother of Burnett's character Eunice along with four other children. The characters were so popular a 1982 TV-movie was created, Eunice, and then Mama was spun-off into her own TV series that aired on NBC for its first two seasons before moving to first-run syndication for the remaining four. StarVista Entertainment/Time Life released all 130 episodes in a Collector's Set. This review covers the first two seasons, which were released separately on Sept. 10.
It might be best to start with Eunice, which is an extra on The Complete Second Season, to see how the story of the Harper family progressed and continuity was altered. Ken Berry plays Thelma's son Phillip, replacing Roddy McDowell who played the character three times on The Carol Burnett Show. In Mama's Family, Berry becomes son Vinton and, if I remember right, her other two sons are dropped.
That radical change is nothing when there shouldn't even have been a Mama's Family considering how Thelma ended up by the conclusion of Eunice. As the main character of the series, Thelma's feistiness was understandably toned down from The Family sketches to make her more appealing and fully formed, but she still rises to the occasion with quick wits and insults when she needs to deal with someone.
The series begins with Vinton and his two kids having been evicted and needing a place to stay. Of course, Thelma welcomes them in, though it makes for cramped quarters since her sister Fran (Rue McClanahan) lives there too. The family expands quickly as Vinton marries Naomi (Dorothy Lyman), a neighbor Thelma doesn't get along with and Vinton's old classmate, by the fourth episode.
Throughout the two seasons, Thelma and the family get into familiar sitcom shenanigans, such as Thelma taking on different jobs, learning to drive, and running for mayor. What makes Mama's Family stand out from other sitcoms is the Thelma character and the guest appearances, especially that of Burnett. The episodes that included Eunice were some of the best from these two seasons. The Harpers appearing on Family Feud with Richard Dawson also had a lot of laughs. Unfortunately though recorded before a live audience, there's a lot of canned laughter.
In another continuity alteration, Eunice is reunited with husband Ed (Harvey Korman). Korman left The Carol Burnett Show before its final season so it was written that Ed had left Eunice, but their reconciliation is not dealt with. Korman also appears on occasion as Alistair Quince, a host presenting episodes, spoofing Alistair Cooke and Masterpiece Theater.
The bonus features from the First Season include "Mama's Family Tree: The Branches (All About Eunice and Ellen)" (16 min), which looks at the two characters and "Family History: A Classic Family Sketch (16 min) from Show #1012, which first aired 12/11/76. In it, Eunice and Ellen go through Thelma's attic and Eunice learns what really happened to her rabbit, Fluffy. Aside from Eunice (74 min), the Second Season includes "Mama's Family Tree: The Roots (Mama & Fran)" (20 min), which celebrates McClanahan, and a series of interviews with Vicki Lawrence & Carol Burnett (20 min) and Betty White (13 min), snippets of which appear in other extras, as well as Vicki Lawrence Interviews Mama (4 min).
After a previous attempt to release the series only resulted in syndicated edits of The First Season, fans of Mama's Family can now buy the Complete Series, which includes the original unedited versions. The DVDs warn about flaws in the image and sound quality. The most egregious being skin tones looking red. For those choosing to purchase them individually as they become available, the Third Season is currently scheduled to be released on February 25, 2014.