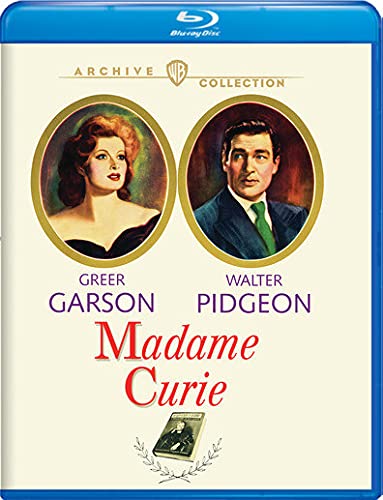 Greer Garson and Walter Pidgeon portray the Curies in this biographical film about the early career of the discoverer of the element radium. The chemistry between the actors is undeniable, especially since they had already teamed together in the six-time Oscar-winning film, Mrs. Miniver. However, their comfort with science isn't quite as believable, causing some credibility issues when the impossibly gorgeous actors try to convince us they're bookish lab rats.
The film opens with Marie arriving from Poland to begin her studies at the Sorbonne in Paris, where she promptly gains a berth in the lab of esteemed scientist Dr. Pierre Curie. She quickly proves to be a welcome presence in the lab of the traditionally icy Curie, with both scientists impressing each other with their single-minded devotion to science. Yes, they're just a couple of pretty nerds totally oblivious to their attraction to each other, until Marie graduates at the top of her class and prepares to return to her native Poland to continue her scientific pursuits. This causes Curie to propose to her, not out of sudden realization of romantic interest, but so that they can continue their work together uninterrupted.
Once married, they eventually stumble far enough into a traditional relationship to end up with two children, although we don't ever really see them becoming lovestruck. Instead, we watch them doggedly pursue their white whale, the curious phenomenon of the previously undiscovered element, radium, that they finally identify and publicize after ten years of work. Since there's not else much going on in the film, it feels bloated at two hours in length, although the winning relationship between Garson and Pidgeon keeps us rooting for them. It's interesting to learn a bit about the life of the famous Madame Curie, even though director Mervyn LeRoy insists on keeping the focus entirely on science, not romance.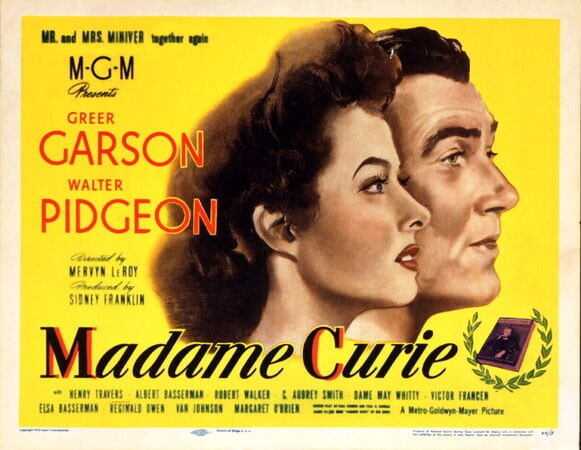 The film has been remastered for this release, and as with most Warner Archive efforts, the results are impeccable. No image defects are noticeable, and the soundtrack is offered in DTS-HD Master Audio 2.0. Regrettably, the bonus features are unusually sparse, with only the trailer and a 10-minute short film from the same era about the discovery of radium. While the short was Oscar nominated, it stars different actors and spends much of its time on the tragedies that befell the early users of the highly radioactive element, ultimately making it more a cautionary tale than a celebration of the Curies.
Madame Curie is available on Blu-ray for the first time on June 29th. For more information including stills from the film, visit the Warner Archive website.