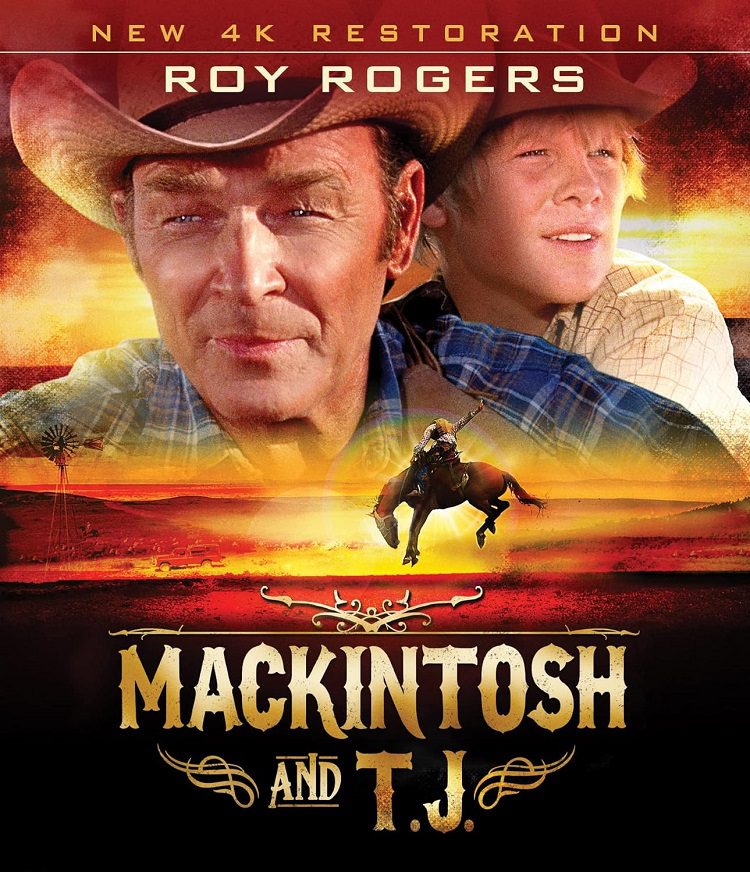 Legendary singing cowboy Roy Rogers makes his final feature film appearance in Mackintosh and T.J. (1975). A good, clean, western with a soundtrack by Waylon Jennings, about an old cowhand who mentors a troubled teen boy. "There's no leading lady, no shooting, some fights but no blood spurting and that's the way I wanted it," says Roy himself. A fitting story for the King of the Cowboys last leading role and it looks great thanks to the new 4K restoration.
Old Mackintosh (Rogers) was a top hand for a big cattle ranch back in the 1950s but the time came for him to move on and he's been a-driftin' ever since. On a stop for gas in a small Texas town, he comes across a young homeless boy named T.J. (Clay O'Brien), fresh from jail and about to head back for stealing an apple. Mackintosh cleverly intervenes before T.J. is caught by the clerk. To avoid further trouble in town, T.J. decides to ride along with Mackintosh down the road a piece.
After Mackintosh's truck breaks down, an impatient T.J. decides to get moving and finds another ride. Later that night, the two reunite when Mackintosh stops at a roadhouse for a meal where he spots his young pal bussing tables. Trouble brews when a drunk accuses T.J. of stealing some money which fell to the floor. The angry drunk confronts T.J. causing Mackintosh to step in. The belligerent drunk pulls a blade but old Mackintosh busts a ketchup bottle over his head, sending him sprawling to the floor. The drunk's lady friend runs up shouting she's found the lost loot but the damage is done and Mackintosh and T.J. move on. 
Morning finds them across the road from the large 6666 (Four Sixes) ranch where they decide to inquire about work. After meeting Webster (Walter Barnes) the owner and some of the cowhands, Mackintosh lands a job busting some broncs. Mack's a top hand in any outfit and he quickly gets an offer to stay on as tracker hunting down rabid coyotes while T.J. makes some loot cleaning out the barn. Things are going well for our heroes until trouble finds them by way of some cowhands who misinterpret Mack and Maggie's (Joan Hackett) friendly chance encounters around town. The hands decide to tell Maggie's husband Luke (Billy Green Bush), another hand on the 6666, and he doesn't take the news very well.
This whole mess comes to a head at Webster's birthday bash as Maggie shows up with a black eye and Luke confronts Mack with a punch to the face. Mack chalks Luke's misstep up to drink but lets it be known that if he tries it again he'll beat him within an inch of his life. After everyone's gone home, Luke catches another ranch hand named Coley (Andrew Robinson) peeping through a window at Maggie. They tussle and Coley smashes Luke in the head with a rock. Maggie calls Webster after finding Luke lifeless on the lawn. The cowboys come running alongside Webster and some of them take the wrong idea too far and go hunting Mack, who is camped by the stream thinking the whole situation over. 
Those angry cowhands find Mack and proceed to swarm him but not before Mack grabs a log and gets in a few good licks. Webster shows up just in time, as the boys get the upper hand and have Mack submerged in the stream. Turns out Coley couldn't live with himself after killing Luke and being a peeping perv, so he hangs himself and leaves a note, clearing Mack. The die is cast though and it's time for our heroes to ride off into the sunset, further down life's highway in search of work and maybe a look at the Pacific Ocean.
Mackintosh and T.J. is contrived at times but that's okay as it pushes the plot along and suits a Roy Rogers movie perfectly. It doesn't get overly sappy or corny as it deals with some dark themes of a peeping pervert and spousal abuse. At its heart, Mackintosh and T.J. is about a widowed older man mentoring a young kid headed down the wrong path. T.J. finds a friend and father figure that encourages him to read, keep himself clean, take it easy, and stick to the straight and narrow as he navigates life's highway. A good life ain't always easy and trouble may find you but it's how you handle it that counts. 
Roy had not been in a feature film since an uncredited role in 1959s Alias Jesse James but he came out of retirement for the chance to be involved with a project he believed in. Roy's at his best playing the no-nonsense, good-hearted cowboy who stands for what he thinks is right. Clay O'Brien is well cast as T.J. and like Roy, this too would be his final major film role. Clay was raised to rope and ride and aspired to be a pro rodeo cowboy. After filming Mackintosh and T.J., he returned to rodeos full time never going back to acting. He would eventually win many championships and earn the respect of his peers in the rodeo world. The supporting cast which includes James Hampton, Dennis Fimple, and Edith Atwater shine bright alongside Roy and Clay, performing well and helping lend an air of authenticity to their roles as average hands doing daily work on a modern working ranch of the time. 
Waylon Jennings and his band the Waylors provide the country music soundtrack that fits the movie well. The song "All Around Cowboy," about a drifting old rodeo champ, opens and closes the movie and is the perfect choice as its lyrics contain lines about a "long lonesome highway in an old pick-up truck" across Texas and recalling "the days of his first rodeo." also included is a studio version of "Bob Wills Is Still the King." This lineup of the Waylors features Ralph Mooney and Johnny Gimble who perform on the tunes "Gardenia Waltz" and "Crazy Arms." The boys in the band also whip up a version of "Back In the Saddle Again." Waylon's outlaw buddy, Willie Nelson, even chimes in with "(Stay All Night) Stay a Little Longer."  
The bonus features provide further insight from cast and crew including Clay O'Brien, Billy Green Bush, and Andrew Robinson as they reminisce via a Zoom call about filming in Texas, other movies they've made, and what it was like meeting and working with Roy Rogers. They all hold Roy in high regard and enjoy watching his films. Not one person they've ever talked to had a negative word to say about him, he was always friendly, courteous and professional, even when speaking with fans or signing autographs. A man who practiced what he preached as he went about his daily life. The Zoom chat does get a bit choppy and glitchy from time to time but that's to be expected when using that format. There's a short vintage featurette that illustrates perfectly how Roy treated his fans and what they all thought of him. 
Bonus Features Include
Lone Pine Cast Reunion with Clay O'Brien, Andrew Robinson and Larry Mahan
Interview with Billy Green Bush
Audio Commentary with Clay O'Brien, Andrew Robinson, and Moderator C. Courtney Joyner.
Original On-Set Footage
Theatrical Trailers
Mackintosh and T.J. is a '70s cowboy movie with a good country soundtrack that doesn't get overly sappy or corny in telling its tale. It's a good way to spend 96 minutes when one needs a break from the blood and violence that tend to dominate the television these days. It does have some dark elements for a Roy Rogers picture, which show that even though he wanted no graphic violence he was capable of handling mature themes in his own way.