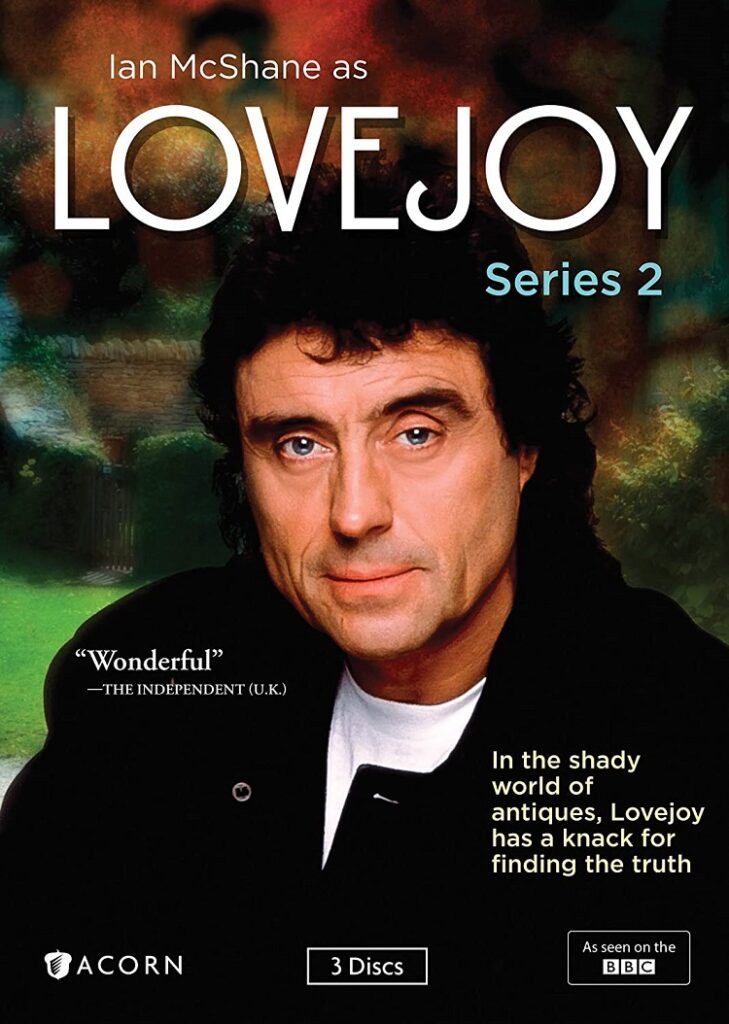 Acorn Media has recently released Lovejoy: Series 2, and it is just as much fun as the first series. Based on the books by Jonathan Gash, Lovejoy stars Ian McShane as an antiques dealer who has an eye for authenticity — in antiques and women. The British series was originally filmed and aired in the late 1980s and early 1990s, with the A&E Network showing the series stateside in the 1990s. Fans of McShane and the series should be very happy that Lovejoy is finally available on DVD.
Lovejoy is a British mystery series, but the accent is more on character and story than whodunnit. Frequently Lovejoy and his friends find themselves involved in so many plots and switcheroos that most of the fun comes from trying to figure out who's on top at the moment. When viewers first met Lovejoy, he was trying to balance his antiques business with his gifts as a "divvie," a person who can suss out whether an object is the genuine article or a fake. He was frequently plagued by a rival antiques dealer, Charles Gimbert, aided and abetted in his schemes by pals Tinker Dill (Dudley Sutton) and Eric Catchpole (Chris Jury), and becoming friends with the lovely lady of the local manor, Lady Jane Felsham (Phyllis Logan).
Gimbert is gone in the second series, Jane and Lovejoy are now business "partners," and Tinker and Eric are still on hand to run interference whenever Lovejoy needs. Lovejoy is still (almost always) broke. In fact, the first episode, "Just Desserts," finds him being released from prison — after being framed — and he is determined to find out who in the antiques trade set him up. His time in jail has echoes throughout the season, with the local constabulary always suspicious of his movements, and Lovejoy frequently seeking revenge for himself, or justice for other innocent parties. There are some familiar faces from British film and television as guests stars this season, and Lovejoy and Jane even let a few sparks fly between them.
The three-disc set features 12 episodes and has a total running time of 650 minutes. The format is full screen, with an aspect ratio of 1.33:1. The picture is a little on the grainy side (as stated in a disclaimer at the start of each disk), but colors are sharp and the sound quality is top notch. There are no extras in the set, but subtitles and scene selection are available. The episodes on the three discs are:
Disc 1: In "Just Desserts" Lovejoy comes home after a stint in jail, with revenge and retribution on his mind. The second episode, "The Italian Venus," has Lovejoy helping an artist retrieve his inheritance, with Celia Imrie and Patrick Malahide as guest stars. In "Bin Diving," Lovejoy is the prime suspect in some local burglaries, and must once again prove his innocence. In "Montezuma's Revenge," the last episode on the disc, is a Mayan statue actually cursed? Eric certainly seems to think so.
Disc 2: In "Who Dares Sings," Lovejoy helps Tinker's army buddy decorate his pub, and learns a lot more about his friend in the process. "One Born Every Minute" finds Lovejoy on the trail of an elusive — and amorous — traveling artist Ashley Wilkes (a very entertaining Tom Wilkinson). In "National Wealth" Tinker is thrilled to meet his screen idol, Madelene Gilbert (Jean Kent), who asks Lovejoy to help value and sell her antiques — right before they are all stolen by a professional gang of thieves. "Sugar and Spice" has Lovejoy helping a young woman sell some erotic art sketches — which he soon finds out have been stolen from the same school his daughter attends.
Disc 3: In "Raise the Hispanic" a death at a wedding is just the first clue in a crime that casts long shadows. In "Lily's Pearls" both Lovejoy and Jane are more than doubtful about Lord Felsham's (Pavel Douglas) new business partner. The last two episodes on the disk and in the season feature Brian Blessed, Mako, and Linda Gray in a fast-paced caper centering around a priceless Russian icon and revenge for a previous deal gone bad in "Riding in Rollers" and "The Black Virgin of Vladimir."
Ian McShane is charming and funny and even a little bit tough when necessary. He is wonderful as Lovejoy, and his show is as charming as its star. As in the first series, he occasionally breaks the fourth wall and speaks to the audience directly, which helps make us all accomplices in his latest exploits. The only downside to watching Lovejoy: Series 2 is having to wait for the next installment, but surely Acorn will have that on its way soon.