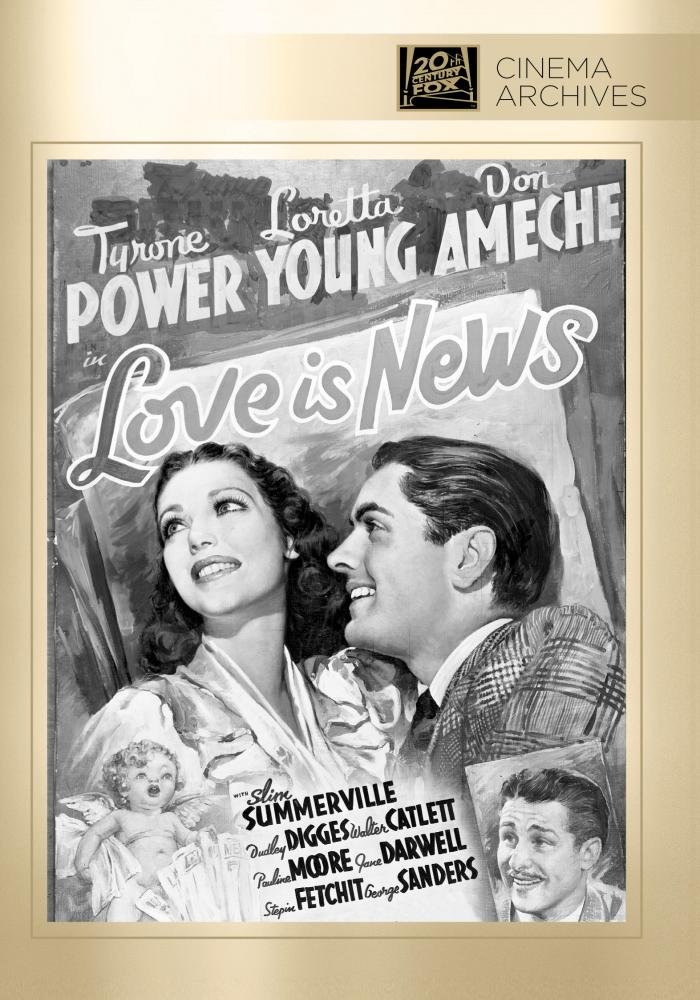 While I'm familiar with the name of leading man Tyrone Power, I realized before watching this film that I'm almost completely unfamiliar with his work. I have a feeling I'm not alone, as in our era he seems to be more noted as a legendary Hollywood star than actually known for any of his films. Thankfully, 20th Century Fox has set out to rectify this courtesy of their Cinema Archives project that manufactures DVD-Rs of niche catalog titles on demand.
In Love is News, Power's fast-talking newspaper reporter character Steve Leyton battles wits with a feisty heiress named Tony Gateson (Loretta Young). He's out to get exclusive stories about her before his competitors from other papers, but she's not at all cooperative. Instead, she devotes all of her energy to outsmarting and confounding him at every turn, feeding an outlandish story to every other reporter about her supposed secret engagement to Leyton. This begins an escalating game of one-upmanship that finds Leyton setting Gateson up for a comical stint in prison, Gateson returning the favor, and Leyton constantly being fired and rehired by his paper depending on the current status of their game. Leyton's high-strung editor is played for maximum laughs by Don Ameche, most recognizable to our generation thanks to his work in the Cocoon films as one of those silly old codgers.
As classic romantic comedies go, this one fully delivers on its promise. Power and Young are believable as both combatants and paramours, and the film's extremely light-hearted nature makes it a pleasant diversion. There's nothing all that memorable about it, and its plot is barely a trifle, but the sight of the two equally matched leads playing off each other is a delight. The film screams commerce rather than art, even more so than similar contemporaries, and the unfamiliar writers and director enforce its second-tier stature, and yet I was completely charmed by the film and the leads. Power in particular proves to be much more than a handsome matinee idol, contributing a winning comedic turn.
This being a custom release, there's nothing in the way of bonus features on the disc, not even subtitles. The disc doesn't even have true chapter stops, just breaks at 10 minute intervals for track-skipping purposes. However, the unrestored image quality is surprisingly great, with barely any image defects and consistent contrast levels throughout. The film is well worth adding to your cinema archive while it's available.