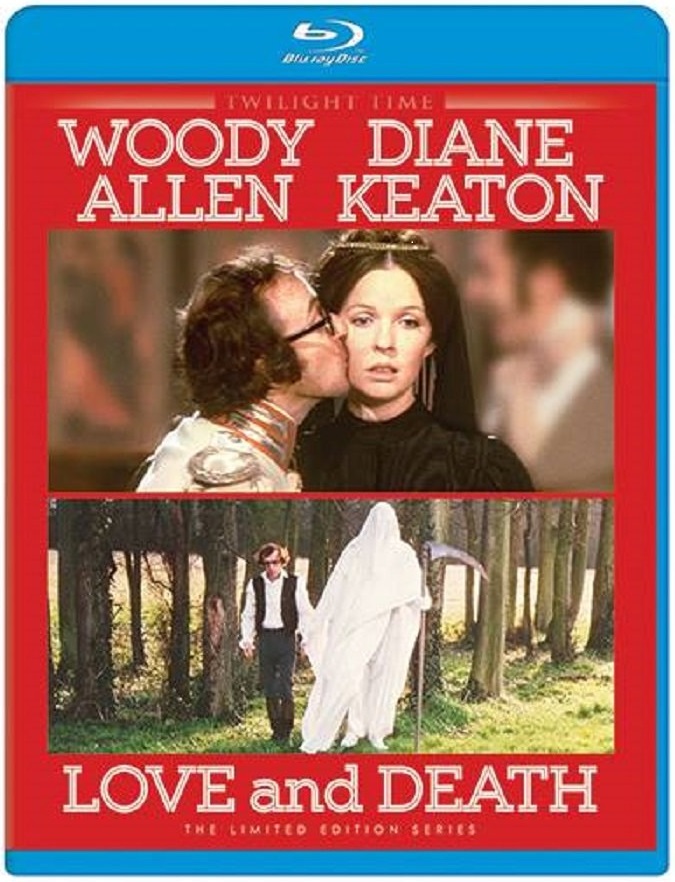 Though some people out there would just assume never hear his name ever again, there is ultimately no denying the contributions Woody Allen has made to the worlds of both comedy and cinema alike since he first starting writing gags for television in the late 1950s. Since then, he has directed 50 (count 'em, fifty) projects in addition to writing, producing, and/or starring in several dozen others. Heck, some of the classic comedians who would become the filmmaker's inspirations growing up did not have such a filmic output (even when combined in some instances). But it wasn't just the witty words of men with mouths that helped to mold the manic mind of Allen. There were also the wise words of men with minds being utilized, as well.
And there is no greater proof of that that in Allen's 1975 masterpiece, Love and Death, wherein Woody makes one of cinema's rare "thinking man's" satires. Based on the classic works of Russian literary heroes Fyodor Dostoevsky and Leo Tolstoy and combined with not only the visualizations and esoteric ramblings of Ingmar Bergman, but the near-patented humor of men like the Marx Brothers (yes, even Zeppo) and Bob Hope, Love and Death is indeed a one-of-a-kind film. I had seen it first back in high school when I was beginning to expand my horizons from the numerous cheesy old B-grade horror movies my friends and family only grew to loathe hearing about from me. It was a truly mesmerizing experience.
In fact, when I popped the Twilight Time Blu-ray into my player, my teenaged daughter, (who is roughly the same age as I was the first time I saw the movie), who usually has little interest in most of the movies her father likes (see the last bit of that second-to-last sentence in my previous paragraph), actually sat and watched the whole thing. She too was mesmerized by the bizarre, yet blindingly beautiful combination of mixed, frantic comical stylings set in a story that should, by all rights, have no humor whatsoever. And that goes back to the whole "thinking man's" thing; there aren't too terribly many individuals out there who can get away with spoofing War and Peace or The Seventh Seal – because most readers/filmgoers don't dive into such heavy material.
Here, Allen writes and directs himself as Boris Grushenko, a Russian of dubious origin, whose ideal existence would be waxing philosophy with beautiful women both before and after having sex with them. Alas, he lacks everything but the brains to pursue the latter, even with his cousin Sonja (Diane Keaton), who is about the only person in the world he can have a decent conversation with. Well, apart from Death, perhaps. And Boris sees Death quite often, as people are being escorted off to the River Styx on a regular basis. Thankfully, an accidental act of heroism during his country's war with Napoleon escalates his rank in the Russian Army, which allows him to finally wear enough medals to be perceived as a sex symbol for some. Well, two.
Eventually, Boris and Sonja marry, only to have their abject poverty and matrimonial misery interrupted when Napoleon strikes once more. For the determined Sonja, the only solution is to whack that wacky emperor – which leads to a memorably ill-conceived assassination plot that is not only on par with, but even uncomfortably funnier than the Bay of Pigs Invasion, Meg Whitman campaign, and booking of Elvis Presto as a Super Bowl Halftime show combined. Allen's casting of James Tolkan – the character actor best known for portraying the high school principal in Back to the Future and the humorless commander in Top Gun – as the famous French military icon is just as weirdly perfect as it sounds. (Mr. Tolkan even gets to play both Napoleon and his classless double, adding to the fun.)
The first (and for a long while, only) motion picture Woody Allen shot outside of the US (a practice he has since become more accustomed after American audiences all-but blacklisted him in the '90s), Love and Death sports a number of co-stars from several corners of the world. Harold Gould is featured as the protective protagonist, ready to duel Allen to the death over the bountiful bounty that is Olga Georges-Picot (and who could blame him?), Zvee Scooler is Allen's batty father, Jessica Harper has a small bit towards the end, as does European B movie legend Howard Vernon (again, see the last bit of that second-to-last sentence in the second paragraph), who seems like he was holding his own against Allen's madlibbing quite well (well done, Mr. Vernon, well done).
Upon its initial premiere, the United Artists release quickly rose through the ranks to become the 18th highest grossing picture of 1975. Even now, 40 years later, Love and Death still has the power to captivate and charm its viewers. And even though it's a pity the Woody Allen titles MGM is handing over to Twilight Time are completely devoid of adequate bonus materials (more on that in a minute), it's still wonderful to see a movie like Love and Death receive the Blu-ray treatment. The presentation of the feature film is gorgeous, blowing all previous home video issues out of the water (as a good Blu-ray should), and the accompanying 1.0 DTS-HD Master Audio soundtrack delivers the goods admirably. English (SDH) subtitles are also included, just in case the gags fly by too fast for you.
Bonus wise, we get an isolated music/score track and theatrical trailer, which is great except for the fact that it's missing the Woody Allen narration. This faux pas on MGM's part can be traced back to the early days of DVD, when the company regularly forgot to re-add things such as subtitles, title cards, and narration on many movies and trailers after they had remastered them. More than a decade and a half later, they still haven't fixed the problem, but I'll take what I can get – much like Boris settles for his cousin twice removed. Fortunately, I have the wonderful liner notes of Julie Kirgo to make up for MGM's old oversight, which wrap up this limited edition (3,000 copies) Twilight Time release.
Highly recommended.