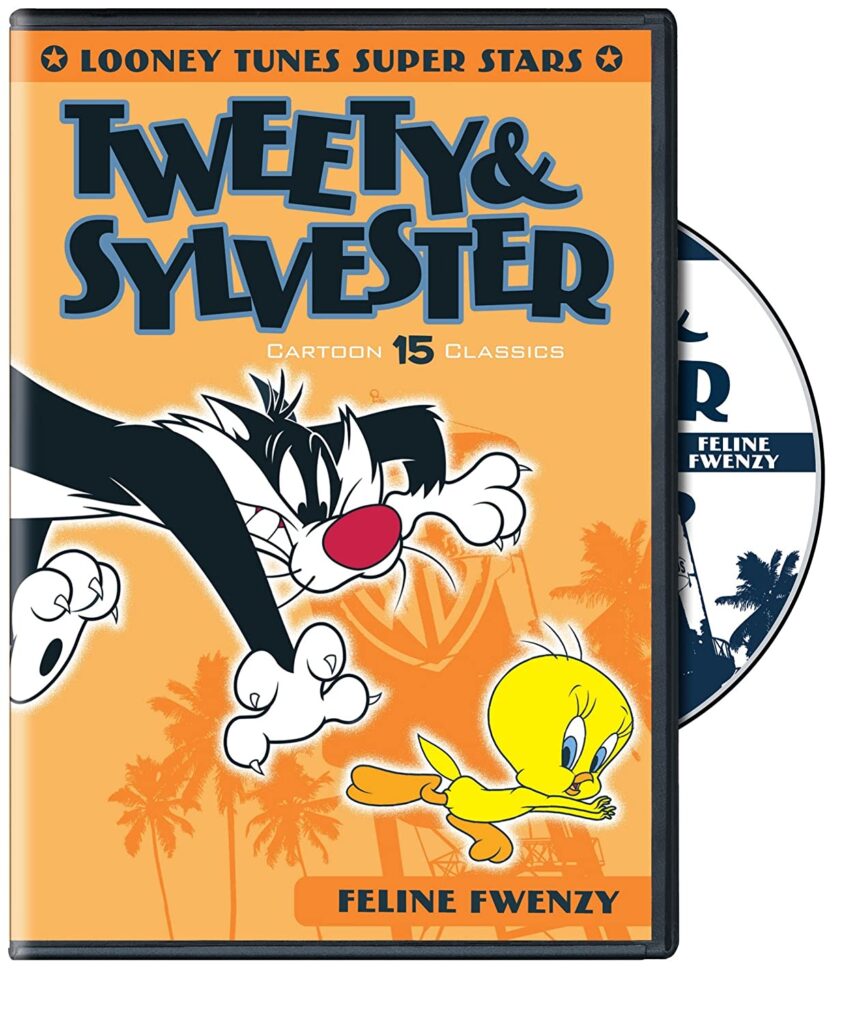 Feline Fwenzy contains 15 cartoons featuring the famous duo, all directed by the legendary Friz Freling. They date from 1947 to 1961, a period often referred to as the Golden Age Of Animation. The DVD is part of the Looney Tunes Super Stars series, which spotlights classic Warner Bros. animated characters. These two are right up there with Bugs and Daffy, in my book.
The DVD kicks off with "Tweety Pie," (1947). This was actually Tweety's fourth appearance in a short, although it was Freling's directorial debut with the famous bird. The character was created by Robert Clampett in 1942, in his "A Tale Of Two Kitties." When he left the studio, Freling took over and revamped the little birdie, adding yellow feathers and making the head much larger than before.
"Tweetie Pie" is credited solely to Tweety, in fact Sylvester is referred to as Thomas by Granny. This set the template for the many greats that would follow, with the cat's insatiable appetite leading to more and more elaborate schemes to get Tweety. "Tweetie Pie" also holds the distinction of winning Warner Bros. its very first Academy Award for Best Short Subject (Cartoons). Not a bad way to start out.
"Bad Old Putty Tat" (1948) is next, and in it we find Freling and company refining the pair's antics, with Tweety always coming out on top. To be frank, I watched these cartoons endlessly on TV as a kid, and was never much of a fan of the high-pitched "good-guy" Tweety. Watching them as an adult, there are all kinds of funny moments when he "gets" Sylvester. In "Bad Old Putty Tat" we find Tweety on top of a pole ringed with barbed wire. Sylvester's various schemes to get the bird, include using a trampoline, none of which ever work.
Although the date range of the shorts collected here date from 1947 – 1961, only three were produced after 1954. The year 1951 is represented by four outstanding episodes: "Putty Tat Trouble," "Room And Bird," "Tweety's SOS," and "Tweet Tweet Tweetie." For this terminal adolescent, there is a throwaway gag in "Room And Bird," that I found to be the funniest moment of the entire collection.
In "Room And Bird" we find Granny living in an apartment building with Tweety, and Sylvester is trying to get to him through various machinations. The laugh out loud moment for me came when they show the sign with the name of the building on it. The sign gives the name of the building: Spinsters Arms. Underneath is the kicker: "Baby it's cold inside."
"Satan's Waitin" (1954) is another great, in which we find the horned-one patiently waiting for Sylvester to go through his nine lives. Tweety helps the process along of course.
"Birds Anonymous" (1957) is a scream. For one thing, this 50-plus year old short is so politically incorrect, you just have to love it. It is a total Alcoholics Anonymous parody, with Sylvester attending meetings of Birds Anonymous to try and kick his addiction to eating birds. It is the characterizations of pretentious former bird-addicts that make the whole thing so amusing. The ending finds the pompous leader of the group relapsing most spectacularly. There is no way a short like this would be made today, which is one reason I like it so much. The other is that it is simply hilarious all the way through.
"The Last Hungry Cat" (1961) is chronologically the latest entry, and is another fine piece of animation. Warner Bros. cartoons were made specifically to be watched in theatres back then, before various first-run films. It is no surprise that one of the studio's specialties was in satirizing stars and popular films of the day. With "The Last Hungry Cat," Tweety and Sylvester (mainly Sylvester) take on the great Alfred Hitchcock. There are so many wonderful cultural references in this one, it is just fun to try and pick them all out. And like all 15 of these shorts, the story itself is very creative and enjoyable to watch as well.
Feline Fwenzy is a single DVD, with 15 classic Tweety & Sylvester cartoons. There are no extras included. It runs 107 minutes, and according to the back-cover disclaimer "Is presented in a format preserving the aspect ratio of their original theatrical exhibition."
Like other classic Looney Tunes of the Golden Age, these 15 shorts retain all the whimsy, fun, and off the wall references they had when originally shown in the theatres. This set is definitely a keeper.