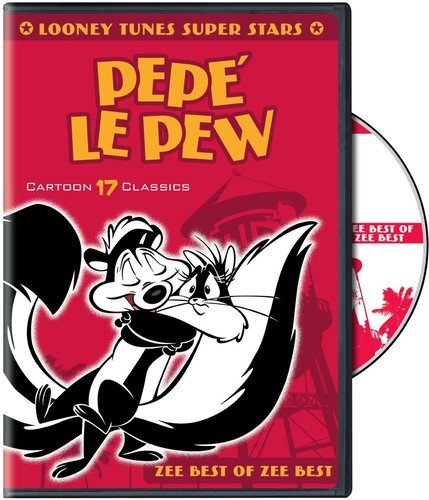 As some of us sit and wonder if we'll ever see one über-definitive ginormous anthology that delivers every Looney Tunes short ever made, we have little choice but to settle for individually themed titles, such as the Looney Tunes Super Stars series. While Warner Brothers have released several dozen different Looney Tunes packages on DVD over the last ten years, it would appear that the character of Pepé Le Pew had always been placed on the back burner for said sets — only making an appearance here and there, but never receiving his own collection. Fortunately, that blunder has been rectified.
Personally, Pepé Le Pew has always been a favorite of mine — mainly because we share a few similarities. Not only am I delusional as to my status with the ladies and able to clear a room just like he does (particularly if prime rib had been served earlier in the evening), but — as a lad who started going grey at the age of 14, I once had a noteworthy streak in my hair that resulted in many a Pepé Le Pew jest being aimed in my direction. As such, the single-disc Looney Tunes Super Stars: Pepé Le Pew (also referred to as the Looney Tunes Pepé Le Pew Collection) appeals to me.
Looney Tunes Super Stars: Pepé Le Pew brings us all 16 classic shorts starring (and one more featuring) the iconic love struck French skunk with a strong passion for passion and, as Charlie Chan once put it, the "assassination of French language." Anyone who has seen a Pepé Le Pew short knows how the typical story goes here: a female black cat somehow winds up with her back and tail painted white, and Monsieur Le Pew soon pursues her like an obsessed stalker.
Interestingly enough, in his first appearance — "Odor-able Kitty" — Pepé unwittingly (or perhaps deliberately?) chases a male cat, and is revealed in the finale to be an American skunk with a family. Things changed, of course, and Pepé soon became 100% French, giving voice actor extraordinaire Mel Blanc many an opportunity to crank his outrageous accent up to 11 — and writers such as Michael Maltese the chance to pen in one hilarious malapropism, eggcorn, and spoonerism after another.
Most of the shorts here were directed by Chuck Jones, and live up to the orthodox "bleuprint" (or Le Pew-print, sil vous plais), with Pepé in pursuit of a poor kitty who would later be known as Penelope Pussycat. There are a few variants, such as a Sylvester & Tweety cartoon ("Dog Pounded") wherein our titular skunk makes a cameo (which is more of a bonus short than anything, but it's nice that it has been included here), and "Odor of the Day," which features a mostly-mute skunk who wages war with a stray dog as they compete to inhabit a warm cabin on a cold winter day. It's nice to see the more "malicious" side of the character, and the short is one of three helmed by a director other than Jones; in this case, Arthur Davis directs — no, not the guy who made Brutes and Savages!
With the exception of a lot of grain in some of the older shorts, the cartoons presented in Warner Brothers' Looney Tunes Super Stars: Pepé Le Pew look as bright and a clean as can be. The disc presents all 17 shorts in chronological order and back-to-back, and viewers can select between viewing them all in their original unmatted 1.33:1 aspect ratios as they were meant to be seen, or can view a few of them in cropped 16×9 widescreen presentations — a choice that prompts me to say "sacré liege!" in a silly French accent. All shorts are presented in English, and there are mind-numbing Thai dubs included (as well as optional subtitles in English and French).
The only special features found here are two trailers for non-Looney Tunes titles (Willy Wonka and the Chocolate Factory? Really?), and a promo for the recent Looney Tunes Platinum Collection on Blu-ray (which has a funny disclaimer at the end announcing that not all of the shorts featured in the preview are included in the set!).
All in all, this barebones Looney Tunes Super Stars: Pepé Le Pew (or Looney Tunes Pepé Le Pew Collection, or whatever else you want to call it) release is a good one, and definitely delivers some pristine-looking shorts coupled with timeless laughs.