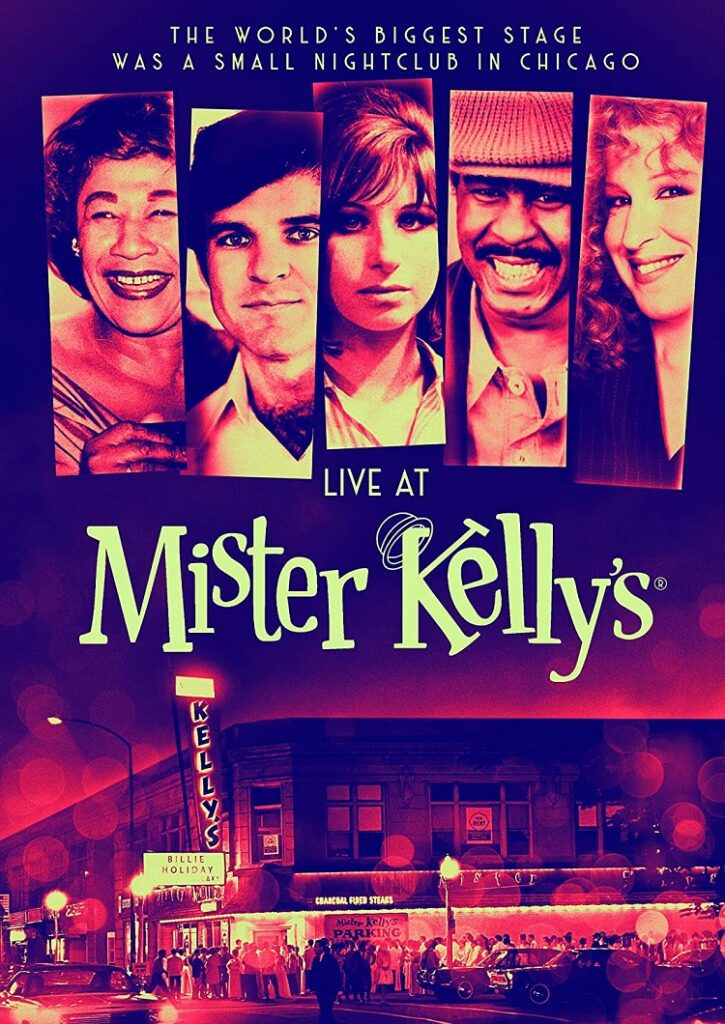 Director Theodore Bogosian's Live at Mister Kelly's tells the story of Mister Kelly's, a famous Chicago nightclub, which existed on Rush St. from 1953 to 1975, owned by brothers Oscar and George Marienthal. Bogosian uses archival film clips, photos, and audio along with interviews of many who performed there to provide an insider's view of the club, and in doing so provides a history of the Windy City as well.
Narrated by Bill Curtis, the documentary presents a who's-who of stars giving their remembrances of the brothers and of their clubs. Viewers get to hear from Barbra Streisand, Lily Tomlin, Robert Klein, David Steinberg, Bob Newhart, Dick Cavett, Shecky Greene, Dick Smothers, Lainie Kazan, and Diane Ladd. Fred Willard explained the show business hierarchy that a successful Ed Sullivan appearance led to playing Mr. Kelly's.
The Marienthal brothers first opened the London House, a well-known jazz supper club. Later in the documentary, that club is focused on because of the jazz greats who played there, such as Oscar Petersen, and Ramsey Lewis and Herbie Hancock, who are both interviewed. After making a success of London House, they opened Mister Kelly's. A fire closed the place in 1955 and they reopened with a new sound system, which made it conducive to recording live albums by jazz and blues artists, such as Ella Fitzgerald, Sarah Vaughn, and Muddy Waters.
The brothers were open to the changing guard of comedy, bringing on the likes of Mort Sahl and Lenny Bruce. Sahl's The Next President (1960)was the first of many comedy albums recorded there. Also in '60, the brothers opened the Happy Medium, which presented comedy revues and live music, and in the basement was The Pussycat for rock 'n' roll.
At times, Mr. Kelly's was a sanctuary. Dick Gregory and others talk about the club not being restricted. Other times, there was no keeping the real world out. Richard Pryor was on stage the day Martin Luther King, Jr. was shot and was understandably affected. Lily Tomlin led a strike because the club and others were following a law that said unaccompanied women could not be at the bar.
Live at Mister Kelly's is an enjoyable discovery for those new to it and a marvelous scrapbook for those that remember it. The DVD comes with no extras aside from trailers. A brunette Steve Martin graces the DVD Cover. Surely a stand-up comic of his stature played there, but I don't remember seeing him in the documentary.