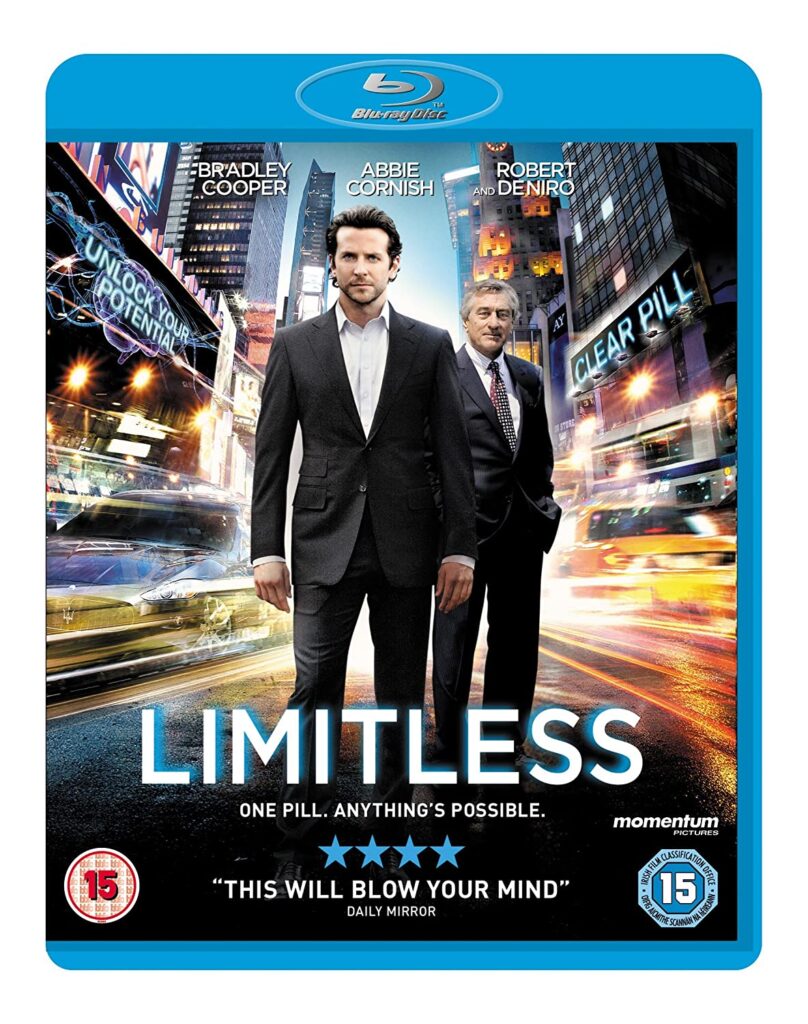 What would it be like to utilize 100% of your brain? This is the question posed in the film Limitless based on the novel The Dark Fields by Alan Glynn. I was expecting a fun thrill ride but was pleasantly surprised by the performances and depth of story.
Eddie Morra (Bradley Cooper) is a struggling writer. He is broke, about to get kicked out of his apartment, and has lost his girlfriend when he runs into Vernon (Johnny Whitworth), an ex brother-in-law. Vernon recognized instantly that Eddie is down on his luck and offers him a solution, a new drug called NZT that allows the user to access 100% brain capacity. The transformation is immediate; Eddie sees the whole world differently. He is able to write his book, woo beautiful women, impress important people, and make large sums of money. Things appear perfect, but most things that seem too good to be true come with large costs and consequences. Eddie's life starts to spiral out of control as he tries to maintain his new idyllic life.
This film is successful on many levels. First and foremost is Cooper's performance. I was curious if he could carry a thriller on his own, and Cooper is fantastic. He is completely believable as the loser trying to figure out his life. Once he takes the drug, he is equally believable as a rich and powerful businessman who has charm, intelligence, and wit. Cooper's good looks are downplayed in the beginning and are later utilized brilliantly to help draw the viewer in. It is easy to understand why the other characters in the film react to him in the way that they do when he is on NZT.
The other aspect of the film that really works is the visual enhancements to illustrate the transformation that happens to Eddie. New York is turned from being dark and dreary to bright and beautiful. There are other visual effects that aid in telling the story. Instead of taking the viewer out of the story, it helps to bring you in even further. Blending these visuals into the story is masterfully accomplished.
Lastly, the film is successful due to the interesting story. I am wishing I would have read the book first since I am sure there is so much more going on that had to be cut. The film explores human potential, the consequences of having everything you want and what people are willing to do to have it all.
The supporting characters are adequate. They don't detract from the film but don't really add anything either. Robert De Niro's role could have been played by anyone, but I am sure the producers and rest of the cast were thrilled to have him on board. My only complaints are that it is a little bit long at over two hours and there is one scene that is ridiculously over the top. Neither of these reasons should hinder anyone who is interested in seeing the film, it is worth watching.
The Blu-ray includes both the theatrical version and an unrated extended version of the film along with a second disc containing a digital copy. The video is given a 1080p/MPEG-4 AVC encoded transfer displayed at 2.40:1. The colors are vibrant and look impressive. Fine details come through well throughout. The audio comes in DTS-HD Master Audio 5.1 and delivers an immersive experience. Dialogue is clear and the elements balance well together. "A Man Without Limits" and "Taking it to the Limit" are behind the scenes featurettes. In my mind, these are not usually especially interesting but in this case they provide interesting background and insights that help to analyze the film further. There is also an audio commentary with the director and the exclusive alternate ending touting "a surprising, all-new conclusion that changes everything". This is so far from the truth it is funny. The original ending is much better and the alternate in anti-climatic at best.
If you are a fan of intelligent thrillers and think that Bradley Cooper is hot, this film is for you. I encourage any interested potential viewer to watch it on Blu-ray since the visuals play such an important part in the storytelling and I really wish I had seen it on the big screen.