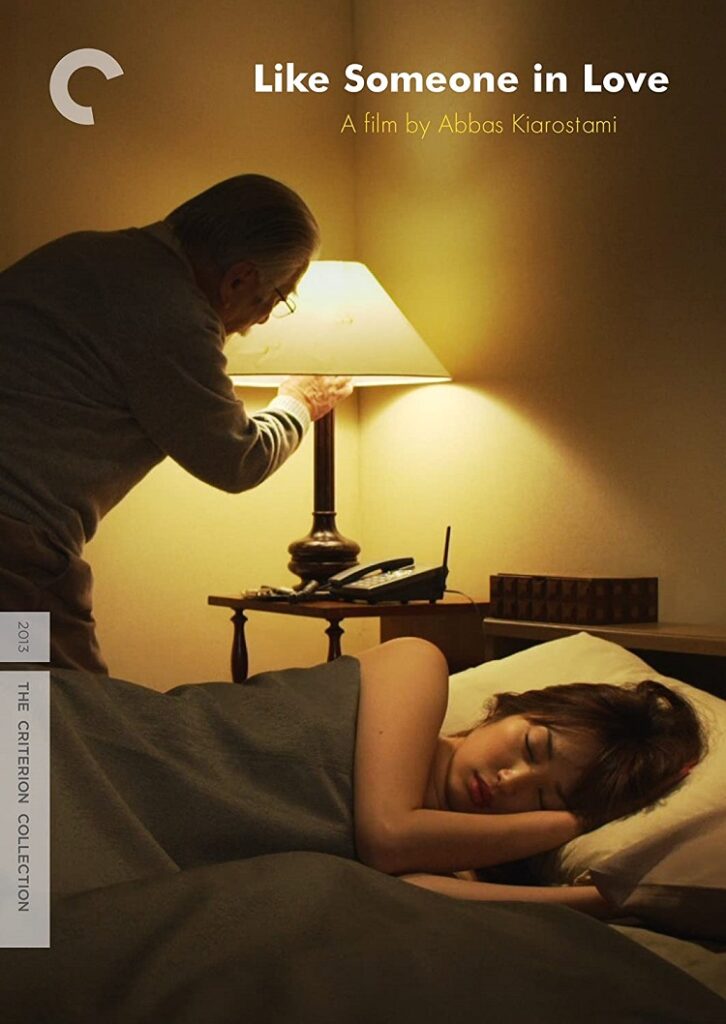 Written by S. Edward Sousa
Iranian filmmaker Abbas Kariostami has spent a lifetime constructing films meant to blur the line between creator and audience. Emerging in the 1960s during the first new wave in Iranian cinema, Kariostami received international acclaim following the Iranian Revolution with a series of films more reflective of life under the newly imposed Islamic rule, including The Koker Trilogy and its depiction of life in the Middle Eastern countryside. Over the past decade he has abandoned traditional filmmaking techniques in favor of suppler, more compassionate approaches evident in 2012's Like Someone in Love. Set in Japan—one of only two movies Kariostami has made outside his homeland—the film tells the story of an elderly man who becomes entangled in the lives of a young couple over the course of twenty-four hours. Recently released on Blu-ray/DVD by The Criterion Collection, this sweet and intimate film lures the audience in only to stun them with a vague and violent ending doing as essayist Nico Baumbach suggests, "Making the spectator the author of the film."
Like Someone in Love opens on a Tokyo wine bar as Akiko (Rin Takanashi), a twenty-something call girl, lies to Noriaki (Ryo Kase), her over-bearing fiancé, about her whereabouts. Soon, she takes a cab ride to Tokyo suburb where her "john" for the evening, retired professor Takashi Watanabe (Tadashi Okuno), a man well into his eighties, is more interested in kind conversation over dinner and wine. From the moment Akiko arrives at his apartment, the two have different ideas about how the evening will unfold. Their time together is gentle and easy, with an almost natural paternal dynamic. Even after she strips naked, crawls into his bed, and falls asleep, the modest Takashi covers her with a blanket, shuts off the light, and prepares dinner for himself, alone. Their relationship continues the next morning as he escorts the young women back to Tokyo for an early morning exam only to be confronted by Noriaki outside the lecture hall.
Noriaki's physical entrance signals a shift in the film veering away from a tender narrative of intimacy toward a tale of emotionally instability. Noriaki, filled with a volatile grief, teeters on abusive during his conflict with Akiko. The audience gets the full scope of her deception and his frustration as Noriaki later confides in Takashi, a witness to the hostility from the comfort of his curbside car. The young man, a mechanic of simple means, has conflated his love for Akiko with his sense of self. Takashi, speaking with the wisdom of age, insists the young man will not find the power he seeks through marriage. He reminds Noriaki truth is subjective; if you are not interested in being lied to. do not ask questions to which lies are the only answers. Takashi sends the couple on their separate ways only to be drawn back in after Noriaki assaults Akiko, an assault we encounter through wounds and not as witnesses. Takashi comforts the young women until a visibly anguished Noriaki appears on his doorstep building toward a tense and violent final few moments. For a subtle film that unfolds without pretension and with a fondness for its characters, despite their flaws or choices, the unexpected conclusion is both vicious and jarring.
Shot on RED One MX digital, Kirostami finds a vivid companion in cinematographer Katsumi Yanagishima best known for his work with Takeshi Kitano and on Battle Royale. Together, the men create an insular world of muted vibrancy. The entire film is told within the confines of spaces, whether the opening scene in a Tokyo bar or the middle third occurring within the parameters of Takashi's Volvo. Even in scenes shot outdoors, Kirostami limits characters with their surroundings. Noriaki's confrontation with Akiko on a University walkway is shot from Takashi's driver's seat point of view. Akiko's interaction with Takashi's neighbor finds Akiko huddled on a doorway stoop as the old neighbor appears only as a face in a tiny window. The borders become Kirostami's metaphor for the limits of relationships; interaction between the characters is restricted by the boundaries of communication and self-definition. Akiko's relationship to her pimp is one of restrained bullying; Noriaki's love is defined by what affection and truth Akiko presents. Even Takashi, who is at all times an omnipresent parental figure, is defined by the implication of a tumultuous past.
Kirostami relies on Yanagishima's autumnal pallet to create a distinction between the confined spaces characters occupy and the outside world. Across the windows of moving cars, the neon reflection of Tokyo at night does little to illuminate Akiko or her cab driver. Instead, they are shadowed beneath the metropolis. The rich presence of fall in the daytime does little to coax Noriaki from a self-imposed darkness. Even in the ghost-like impressions of characters posed on windows and in mirrors, Kirostami creates a clear distinction between personal space and exterior life. This narrows the viewer's perception of context. The audience is left to sort through a series of opaque events without the layers of personal histories, at best hinted at throughout the film. The feat is managing not to frustrate the viewer. Instead, the audience engages with sympathetic characters in need of warmth and honesty. The character's ambiguous pasts allow the audience to define the emotional tone of the film especially in those final moments, where the outcome is as unclear as it is immediate.
"Sometimes the things I do astound me, mostly whenever you're around me," sings Ella Fitzgerald over the closing credits. Named for this jazz standard, Like Someone in Love is a beautiful and simple film of characters in transit whose understated beauty is magnified on Blu-ray. The Criterion Collection once again does justice in their preservation and presentation of film—Nico Baumbach's essay is delicious food for thought while the "making of" documentary provides insight and motivation without definite meaning. Kirostami, who has positioned the audience as fleeting spectators, leaves viewers shaken, but satisfied.