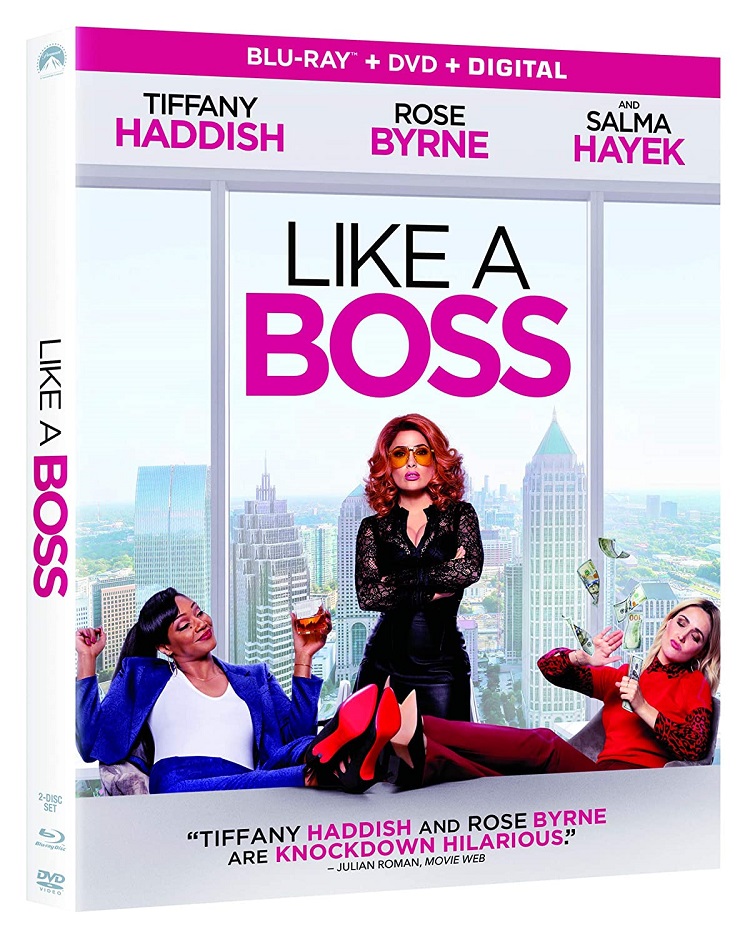 Like A Boss has the ingredients of a really good girl power comedy: a great cast with lots of chemistry (led by Tiffany Haddish and Rose Byrne) and a fun premise – two small business women vs. a powerful and glamorous comic villain (Salma Hayek). But somehow it just doesn't all come together. The pacing is sluggish and some dopey physical comedy is simply out of place and falls flat (kudos to Tiffany Haddish for always giving it her all).
Mia (Haddish) and Mel (Byrne) have been friends since middle school. They are besties and roomies who bond at karaoke nights and now business partners who have opened a small cosmetic shop that caters to locals and high school makeovers. They even have two employees: make-up artist Sydney (the criminally under-used Jennifer Coolidge) and Barrett (the always fabulous Billy Porter). But business hasn't been so great lately – enter tangerine-haired Clair (Hayek) to save their company and who clearly has a strategy to benefit herself. The besties, not so much. Claire immediately goes to work on using the pals' different styles to drive a wedge between them and their employees.
The film pads out its brief 83 minutes with a gaggle of girl friends who talk about babies and seem to be from another movie. It's unclear why, when you have comedic talents like Coolidge and Porter in supporting roles, the filmmakers didn't stick to the business story and added all the out-of-the-office nonsense. Like a Boss was directed by Miguel Arteta, who also directed The Good Girl, Cedar Rapids, and Beatriz at Dinner, where he previosly worked with Hayek.
Like A Boss is set in Atlanta, Georgia, but the film seems to squander the opportunity to truly showcase the city. It's just one of those movies that could have been a lot of fun, but unfortnately missed the mark.
The Paramount Pictures release includes Blu-ray + DVD + Digital Download. The film is rated R for language, crude sexual material, and drug use. Running time is 83 minutes.
Technical specs:
Blu-ray Feature Film: 1080pHigh Definition (Original aspect ratio: 2.39:1), English 7.1 Dolby TrueHD, French 5.1 Dolby Digital/Portuguese 5.1 Dolby Digital/Spanish 5.1 Dolby Digital, English Audio Description, Subtitles: English, Englsh SDH, French, Portuguese, Spanish
DVD Feature Film: Widescreen version enhanced for 16:9 TVs, English 5.1 Dolby Digital/French 5.1 Dolby Digital/Portuguese 5.1 Dolby Digital/Spanish 5.1 Dolby Digital, English Audio Description, Subtitles: English, French, Portuguese, Spanish, Closed captioning
Extras include:
Deleted scenes
"Get Some" with Ron and Greg (Jimmy O. Yang and Ryan Hansen, who play rival cosmetic entrepreneurs)
"With Co-workers Like These, Who Needs Friends?" – backstage interviews with the cast and crew