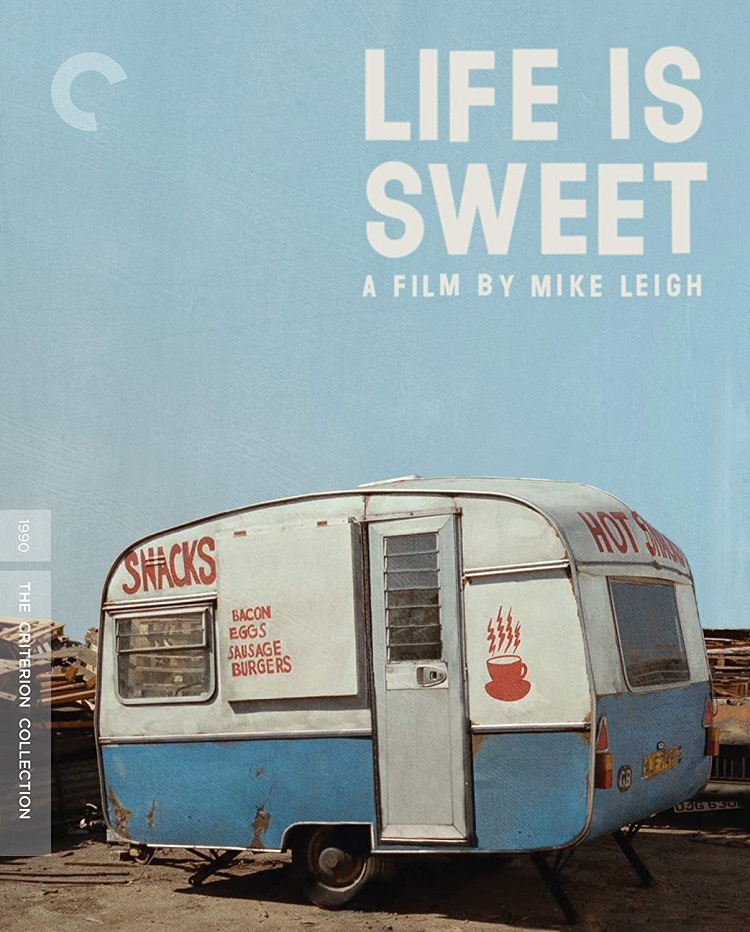 Mike Leigh's wonderful Life Is Sweet is less a film about something and more a film about the thrust of life itself. It focuses on a family of four in North London as they try to eke their way through various curveballs and ongoing struggles. The performances are pitch-perfect, the dialogue crackles with realism, the comedy is at turns bleak and hysterical, and the movie winds up being life-affirming and intelligent.
Leigh's 1990 picture, available now thanks to Criterion Collection, was the British filmmaker's international breakthrough. He had crafted a series of plays and films prior to its release, of course, but Life is Sweet won acclaim across Europe and the United States. It certainly sets his humanistic vision in cement, establishing Leigh's voice against the enduring milieu of daily struggle.
Andy (Jim Broadbent) and Wendy (Alison Steadman) are working class Londoners living day-by-day with twin 22-year-old daughters named Natalie (Claire Skinner) and Nicola (Jane Horrocks). Andy is a senior chef at a commercial cooking facility and is talked into buying a food truck by a slippery family friend named Patsy (Stephen Rea).
Wendy, meanwhile, is a resilient woman who supervises a playgroup and sells baby clothes. She also pitches in when another peculiar family friend named Aubrey (Timothy Spall) opens a restaurant. Natalie is an abstruse plumber and "the responsible daughter," while Nicola is a smash-up of tics and bulimia who calls on her beau (David Thewlis) to have kinky, chocolate-related sex with her.
The characters are captivating and they form what Life Is Sweet is all about. There is no predominant plot, but the circumstances provide more than enough insight into the world of this family. They struggle and they fight, sometimes even viciously, but they are also obstinately aspiring and firm on continuing to edge up the mountainside.
Wendy seems to dot every sentence with a shot of the giggles. She bootlaces her language with suggestion and is cheery even in defeat, although her distress and frustration is tangible when challenged by a drunken Audrey. Steadman is remarkable in the role and she squeezes everything out of the character, reaching a near-boiling point when confronting Nicola toward the end of the picture.
Of course, Horrocks' Nicola is a marvel. She is a warren of problems, sneering and smoking persistently. She hides beneath a mop of sprawling hair and occasionally seems related to Gollum with her shambling, pitiable existence. Nicola is clearly in pain; she keeps a treasure chest of junk food under her bed and binges before forcing herself to vomit.
Nicola and Wendy are perhaps the two harshest influences in this character study and Leigh spends the majority of time with them, but they are nothing without other members of the band. Andy seems not only disaster-prone but hell-bent on getting ripped off by Patsy, while Natalie appears to be the only one to have it together – and she's planning on vacationing in America.
Through it all, the family remains together unified in the struggle. Whether through Nicola's barks of "fascist!" or "capitalist!" or through Andy's uneasy and cartoonish voices to counterweight his internal tension, this unit remains a unit out of instinct. Nothing is easy in Life Is Sweet and life is at times anything but sweet, but persistence in Thatcher's England is a must.
The DVD release includes new audio commentary from the director as well as the audio of a 1991 interview from the National Film Theatre in London. There are also five short films presented as part of the proposed television series Five-Minute Films and an impressive booklet that includes an essay by film critic David Sterritt.