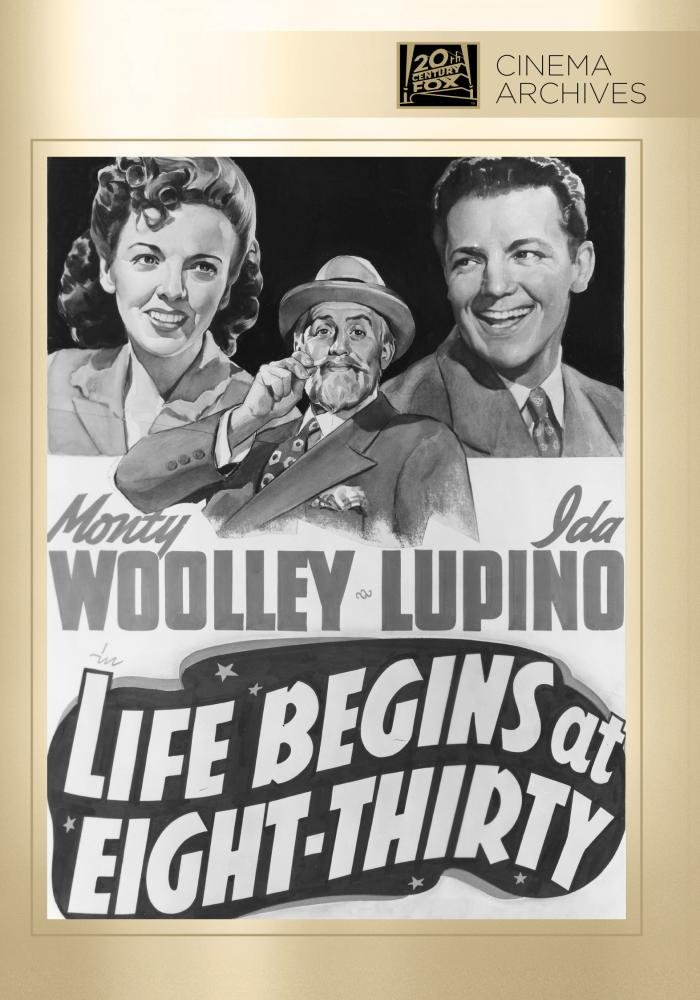 In Life Begins at Eight-Thirty, which references the time the curtain goes up on Broadway, Ida Lupino plays Kathy, a young woman who lives in a small apartment with her formerly celebrated actor/now down-on-his-luck alcoholic father (Monty Woolley). Though hardly noticeable through much of the film, Kathy was injured at a young age and has a brace on her leg. Kathy strives to help her father get back on her feet, at the expense of her own life.
When Kathy meets Robert (Cornel Wilde), a composer who lives in the same building, and her father is offered a lead role in a production certain to breathe life back into his career, everything seems to be looking up for Kathy.
Yes, this film may combine elements of many stories we've experienced since 1942 including tales of alcoholic actors whose careers have deteriorated into a bottle, and tales of daughters who take care of alcoholic fathers at the expense of their own lives, yet, the story telling and performances here possess the energy necessary to engage an audience familiar with scripts such as this.
Lupino, Woolley, and Wilde portray characters that jump off the screen with an energy rarely seen in the overproduced and effect-filled theatrical thunder of our day. Lupino gives us both innocence and intelligence with a determined performance that is only let down by the dialog with which she was provided. Perhaps more common in 1942, her reactions to certain situations, especially the proposal of Robert, seem unnatural today, as if director Irving Pichel was attempting to create emotional arcs that simply did not belong. Nonetheless, the story and characters are endearing and thoroughly enjoyable.
Available as part of Twentieth Century Fox's Cinema Archives MOD program, this 84-minute outing looks and sounds great, but contains no bonus material. Look close and spot a young William Demarest (Uncle Charley from My Three Sons) as a police officer.
Recommendation: It was a much simpler time in filmmaking and in the story being told. Both are reflected well here, and make this both an entertaining and educational way to spend an hour and a half. The performances reflect those of true stars who knew how to commit to a role and allow their characters to escape the confinement of the screen. Life Begins at Eight-Thirty is a wonderful example of why less is more.