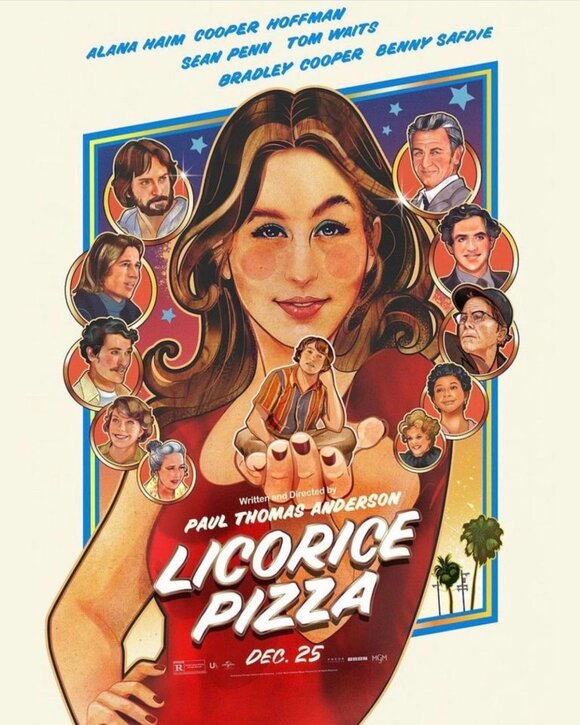 Director Paul Thomas Anderson's latest film, Licorice Pizza, is a warm screwball comedy, and his second unqualified success in a row (after Phantom Thread; The Master and Inherent Vice are interesting failures).
Set in 1973 in the San Fernando Valley, and inspired by the life of TV producer Gary Goetzman, Licorice Pizza uses the goofy romance between 15-year-old Gary Valentine (Cooper Hoffman, son of the late great Philip Seymour Hoffman) and 25-year-old Alana Kane (Alana Haim, one-third of the musical sister trio, Haim) to glue together a random series of episodes. We visit a teen business expo (John C. Reilly does an amusing cameo as Herman Munster). We also visit the Tail o' the Cock, an Encino dive where a William Holden-like relic of the silver screen (Sean Penn) holds court. The movie also gives us weird brushes with cops and politicians (Benny Safdie plays Joel Wachs, a closeted mayoral candidate). Licorice Pizza drifts, but these moments total something greater than the sum of their parts. The movie evinces a strange air of whimsy.
And it works mainly because Anderson cast Haim and Hoffman, both in their acting debut.
Much of their chemistry is in full flower at the start when Gary hits on Alana at a high-school yearbook photo shoot. Alana's there as an assistant to the photographer. Infatuated, Gary uses a cocksure innocence to convince her to go on a date with him. The skeptical glint in her eye suggests he's no match for her, but that he's also slipped past her defenses. This push 'n' pull boosts the film.
Things between them deepen and furl when Gary convinces his mom to let Alana chaperone him to a cast reunion for a family film that stars an actor modeled after Lucille Ball (Christine Ebersole). Alana gets sweet on his costar, Lance (Skyler Gisondo), which makes Gary jealous. But he's not one to give up; and since he has (decidedly thin) connections to Hollywood, and she spies opportunities to work with him on a string of faddish schemes (from selling waterbeds to opening a pinball arcade), she keeps finding reasons to stay in his orbit. Especially when he nabs her an interview with a bizarre casting agent (the hilarious Harriet Sansom Harris).
Hustling for an edge, to make some scratch and a name for himself, Gary has gumption. And he's never gross with Alana. In contrast to the other dudes to whom she gravitates, he's without an angle. To him, she's not just a trophy. He simply wants to be her man. It's his fresh-faced lack of experience that wins him to her (and to us). In much of what he tries, Gary's out of his depth—he's too old to pass auditions for kid parts, and (despite his confidence) he can't pass for a sophisticated adult. He's enterprising, but at the nightclub he's stuck ordering cokes for himself. When petty jealousies come between him and Alana, his passive-aggressive outbursts (like hers) show him for the sweet, sensitive naïf he is.
Hoffman excels. We root for Gary to make a vast pile of dough and sweep Alana off her feet. But it's Haim who runs off with the picture.
Trying to act her age—dealing with the stoic disappointment of her family, navigating a valley full of silly dicks for whom she's just a convenience—Alana's chance connection with Gary brings out her protective side. Their meet-cute inspires her to be herself, but she's not sure it's becoming to do that. Like Gary, the movie is smitten with her. It's plain to see why. She takes crap from no-one, yet she's got charm to spare. She's fully realized, a child (like Gary) who playacts at being an adult but learns that sometimes even the grownups are worse than babies. As they grope through this stage in their lives, neither of them knows what they're doing or how to comport themselves in every madcap scene through which they pinball. But Anderson finds a way for them to fumble into recognizing that it's ok. The imposter syndrome is normal.
Licorice Pizza feels like a loose but focused and good-natured home movie that knows what it wants to say. Anderson's directed music videos for Haim (her immediate family plays itself here); and he's known Hoffman all his life, having had a close working relationship with the boy's dad since Anderson first started making movies. As director of some of the most noteworthy films of the last 30 years, he's come to this project with a head full of sun-dappled memories, knowing that he has nothing left to prove. He just wants to shine a light on these kids. On what it was like to come of age at a certain time in a specific place—when rock star David Bowie glammed out; when so many kids could run around town unsupervised, trying and sometimes failing to do something cool, significant, or profitable. He's not so eager to impress; he doesn't strike me as intent on making Licorice Pizza a Masterpiece.
The entire cast bring their A-game. Penn is more likable and believable than he's been in years. As a caricature of a Japanese restaurant owner, John Michael Higgins is perfectly cringe-inducing (many in the Twitter-verse think his character's demeaning conduct endorses racist behavior. All I can say is—this guy is a buffoon, self-evidently gross). But as movie producer Jon Peters, Bradley Cooper stands out among the supporting cast. Radiating an aggro, coked-out energy, he's note-perfect. His performance is key to a nail-biter of a sequence in which Gary and Alana deliver a waterbed to the Peters mansion.
I dug Licorice Pizza. I'm timid about my enthusiasm for it. But, as an evocation of a time and place (I grew up on the edges of L.A. and the movie industry, so it hits home)—as a fun, tender-hearted look back at an odd romance and the heady emotions one can go through on that bridge to being an adult—it's a small classic. It's not a statement so much as a vibe, and it stays grounded on account of its leads and the sharp-eyed compassion granted them.
As for the title itself (the name of a long-defunct, Southern California chain of record stores), it calls up the era, and it distills the mismatched chemistry between Gary and Alana. They don't mix, not really; but there's something special about them together. It's awkward, but it's right. Never learn to grow up, Licorice Pizza seems to say. That's the key to life.
That's where the magic is.
Crowned the best film of 2021 by the National Board of Review, Licorice Pizza is up for three Academy Awards and four Golden Globes.