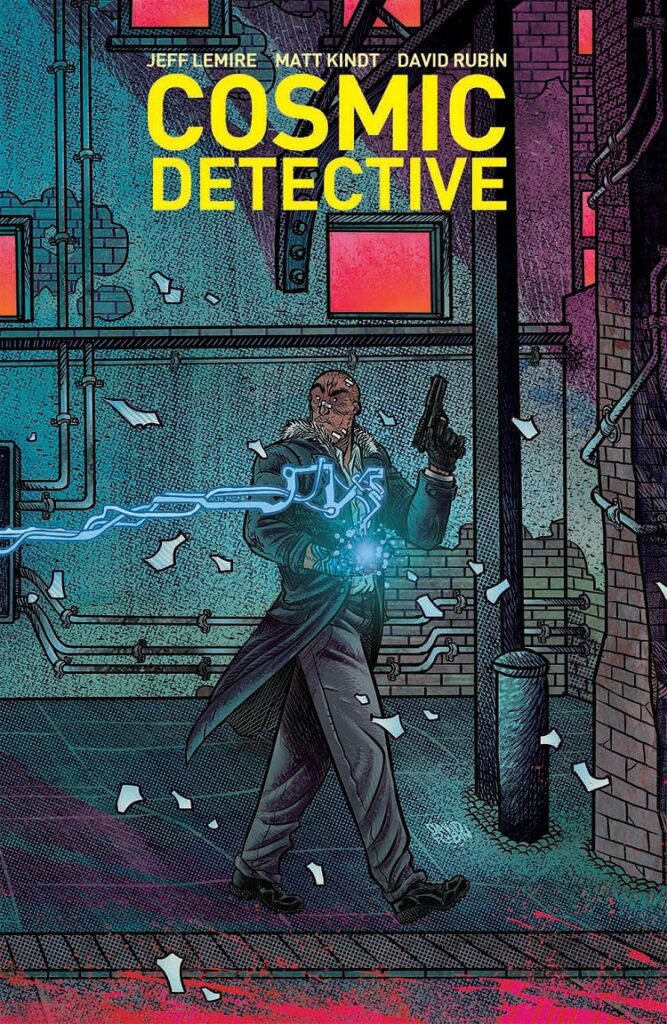 New York Times bestselling writers Jeff Lemire (Gideon Falls, Descender), Matt Kindt (BANG!, MIND MGMT), and internationally acclaimed artist David Rubín (Ether, Beowulf) team for the upcoming graphic novel, Cosmic Detective. This exciting paperback edition of the Kickstarter hit will land on shelves this September from Image Comics.
"Matt Kindt has been one of my closest friends since I've been in comics and we've collaborated before but never on a creator owned project where we could just go crazy and push each other in the most fun ways we could imagine," said Lemire. "And there was only one artist who could somehow translate all our cosmic craziness, David Rubín. Cosmic Detective was a blast from start to finish and David made it one of the best looking books I've ever been a part of."
Cosmic Detective is an epic science fiction mystery that asks: when a God is murdered, who solves the crime? Enter our Detective. The murder of a god threatens to tear apart the very fabric of our reality. Only our detective stands in the way of utter destruction. But will the mystery he uncovers be worse than the disaster he's trying to avert? And will his mind crack under the revelations he's about to uncover before he can do anything about it?
Kindt added: "Jeff and I had a blast cooking up this story but there was a point in the process while working with David that it was clear that David was possessed by an other-worldly energy and we just got out of his way and tried not to get melted by his cast-off cosmic radiation."
"Working on Cosmic Detective was a real gift as an artist; that pages are full of surprises and energy," said Rubín. "I hope that all that energy and love that we put into that book arrives at the hearth of the readers—this is a love letter to them, to the people who love comics, and for Jack Kirby too."