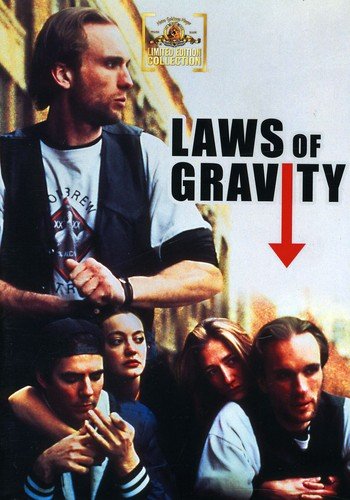 Nick Gomez' Laws of Gravity was his debut as a feature film writer and director and it is now part of the made-on-demand MGM Limited Edition Collection. The film is very reminiscent of Martin Scorsese's Mean Streets from two decades earlier, but because Gomez does nothing new or memorable with the material, it suffers as a result from the similarities.
Jimmy (Peter Greene) and Jon (Adam Trese) are two losers living in Brooklyn. They are partners in crime, and they aren't very good at that. Jimmy lives with his girlfriend Denise (Edie Falco). She has a legitimate job and it's hard to understand why she is with an ex-con like Jimmy. Jon lives with Celia (Arabella Field) and they have a volatile relationship because he is controlling and abusive. As the film opens, Jon reveals himself to be stupid as he skipped out on a court proceeding because he didn't want to go to jail. Jimmy and Jon don't do much other than drink, get into fights, and look to hustle a buck. Frankie (Paul Schulze), an old friend of Jimmy's from the neighborhood returns from Florida with a collection of guns he is looking to sell and that sets the story's main conflict in motion.
The problem is these characters aren't very engaging, so there's no concern about their fates. The actors inhabit their roles well, but the performances feel too much like improv as they ramble through the dialogue of most scenes as the camera moves around documentary style.
Muscle-bound Sal (Saul Stein) is the most interesting character of the group. He is dynamic and commands attention in every scene, but Gomez doesn't use him to his full potential. He's the character I would have preferred a film about. Unfortunately, he too brings to mind Mean Streets because Jimmy owes him money like DeNiro's Johnny Boy owes Michael (Richard Romanus) money, and like Johnny Boy, Jimmy doesn't plan to pay his debt.
Laws of Gravity comes across little better than a student film as it deals with subject matter other films have been more successful with. One of those, including a certain aforementioned film, would be a wiser use of your entertainment time.
One last thing, the cover of the DVD case is odd. The image on the front is a modified version of the theatrical poster, condensed in size and with the gun from Jimmy's hand inexplicably removed. On the back, the synopsis almost gives away the whole movie.