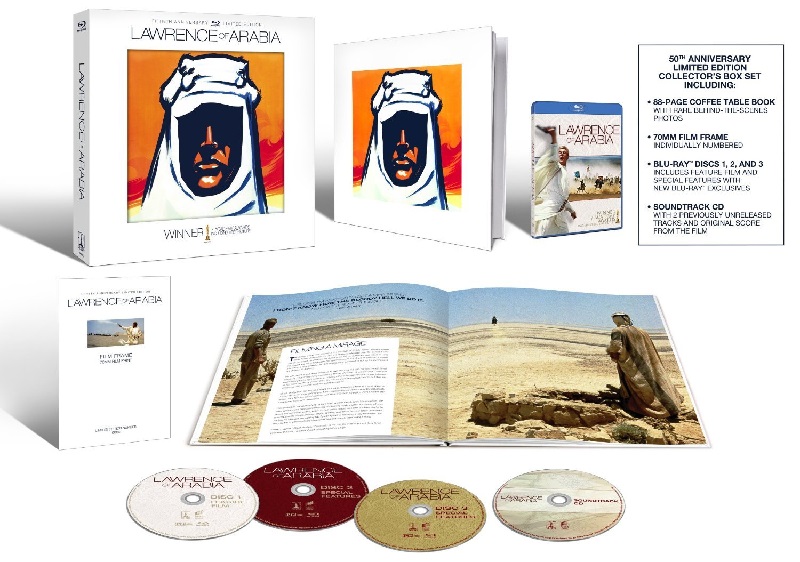 The phrase "They don't make them like they used to" is trite, banal, and way over-used, yet sometimes, it's also perfectly true. This is the case with David Lean's 1962 masterpiece Lawrence of Arabia. To use another cliche – it is epic, in every sense of that word. I only recently watched it and I was blown away by its scope, beauty, cinematography, drama, action, and sense of wonder. Upon its release, it won seven Academy Awards and four BAFTAs. It continually makes its way onto lists of the best films ever released including reaching #5 on the AFI Top 100 movies list. In a word, it is awesome.
For the film's 50th anniversary, Sony is releasing an incredibly impressive 4-disc Blu-ray set. The movie is so good, it would get my Pick of the Week on its own, but with this special box there are simply no other contenders. Features of the set include a new, fully restored version of the film, a soundtrack CD, a hard-bound coffee table book, picture in graphic "Secrets of Arabia," a full length documentary that revisits the film locations, over a dozen featurettes on various aspects of the film and a numbered, mounted 70mm film cell.
None of that could possibly be as glorious as seeing it on the big screen, but that's about as close as you can get, and well worthy of such a magnificent film.
Also out this week that looks interesting:
Brave (Blu-ray 3-D/Blu-ray/DVD/Digital Copy): I've missed the last two Pixar films on the big screen – Cars 2 because I'd heard it wasn't very good, and Brave because, well … for no real good reason really. It looks good, and got favorable reviews, and I almost never miss their films in the theater, but making it to the movies with my wife anymore just rarely happens. But I'm very much looking forward to this Scottish adventure story and am sure to watch it soon.
Doctor Who – Series Seven, Part One: I was slightly disappointed with this first half of its seventh season, but not overly so. It had its moments, but none of the episodes was overly brilliant. The best, and final episode of the lot also saw the end of the Doctor's latest companions, Amelia and Rory, which made it bittersweet. I always hate to see great characters go on the show, but I love seeing the new ones come in and surprise me. I can't wait for the second half of this season.
Savages: Often great, sometimes overwrought, but rarely boring Oliver Stone has proved himself to be one of the most interesting directors of his generation. This one didn't do so well in the review department so I put it off from the theater but now that it's out for rental I'll likely catch it at one point or another.
The Watch: This one kind of looks stupid, and I'm not really much for Ben Stiller or Vince Vaughn's brand of broad humor, but its got the IT Crowd's Richard Aoyade in it which kind of makes me want to give it a chance.
Trilogy of Life (The Decameron, The Canterbury Tales, Arabian Nights) (Criterion Blu-ray): Three classics by Pasolini brought to you in high definition by Criterion. Where can you go wrong in getting this?
The Otto Preminger Collection (Hurry Sundown, Skiddo, Such Good Friends): I know nothing about these films but Preminger directed the excellent Anatomy of a Murder, which puts this collection on my list.
Kino Classics' The Selznick Collection (Nothing Sacred, A Farewell to Arms, A Star is Born, Bird of Paradise, Little Lord Fauntleroy): I also haven't seen any of these, but Selznick was an early master and at least two of these are certified classics, so again this goes on my list.