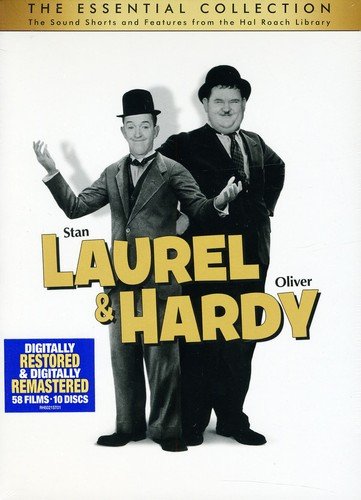 I'm not entirely sure I've ever seen a Laurel and Hardy film. In fact, the only Laurel and Hardy anything I'm quite certain I've seen is that Scooby-Doo episode that featured the comedy duo and that was actually voiced by other actors. It's possible I've seen a short film here or there, but I cannot actually recall them. Why then am I so anxious to see the new boxed set, Laurel & Hardy: The Essential Collection, that I am making it my Pick of the Week? Reputation, my dear friends, reputation.
Laurel & Hardy have one of the best-respected, well-acclaimed reputations in comedy history. They were hugely popular in their heyday and have influenced generations of comedians over the decades. I'm also very much a fan of the old style of comedy from their era – Buster Keaton, Charlie Chaplain, etc. So this boxed set seems like a great place to start.
This 10-disk set features the bulk of the shorts and feature length films the duo did in their post-silent film era. The films have been remastered from their original 35mm prints which means they should look and sound better than any other edition since the films first came out. There are roughly 50 films in the set plus an additional disk of features and documentaries. Sounds like an excellent way to immerse oneself in these comedy legends to me.
Also coming out this week of note:
Captain America: The First Avenger (Three Disk Combo Blu-ray/DVD/Digital Copy): I mentioned last week that I've grown tired of superhero films and that feeling has stayed the same.
Jurassic Park Ultimate Trilogy (Blu-ray/Digital Copy): From what I can find this is essentially just the three films combined into one set with some fun packaging but no special extras that can't be found elsewhere. But at $50 bucks the price isn't bad and as I don't own the films in any form this seems like a nice way to go.
Winnie the Pooh (Blu-ray/DVD/Digital Copy): I heard a lot of really good things about this film when it came out. Apparently it has none of the bright flashing things or loud obnoxious noises that are so common in kid flicks these days but is just a simple story done well. That sounds pretty good to me.
The Bridge School Concerts 25th Anniversary Edition: Neil Young has been putting together acoustic concerts by some of the biggest names in rock 'n' roll for the last quarter of a century. The annual event benefits the Bridge School which was founded by Neil and his wife to help children with severe physical and communication impairments. The three-disk DVD collection features 25 songs from as many artists plus a disk of documentaries about the school and the concerts. Honestly I rather dislike watching concerts on video so I'll probably just pick up the CD version and stick to the bootlegs, but its a nice set for those who like watching performances as well as listen.
Pearl Jam Twenty: Director Cameron Crowe created a documentary from 1,200 hours of rarely seen and unseen footage of these seminal grungers. It comes in a barebones DVD, a deluxe version DVD with four hours of extra footage and a Blu-ray version. I'm not a diehard fan of Pearl Jam now but they were "The Band" of my teenage years and they've put out enough interesting music in the last two decades and have shown enough integrity to make me interested in watching this doc sooner or later.
A Serbian Film: A deeply disturbing film that contains some of the most horrible scenes to exist in a horror film (or any genre for that matter) but also lays claim to be an allegorical tale about recent Serbian history. Definitely not for everybody (or just about anybody, really) but there are convincing arguments as to why this is more than just grotesque for the sake of grossness.

Zombie (2 Disk Ultimate Edition, Blu-ray): As a horror and zombie fan I'm ashamed to say I've never seen this Lucio Fulci directed "unofficial sequel" to Dawn of the Dead. Its a classic amongst zombie films but for some reason I've never managed to watch it. This cleaned-up disk loaded with special features appears to be the perfect way to remedy that.