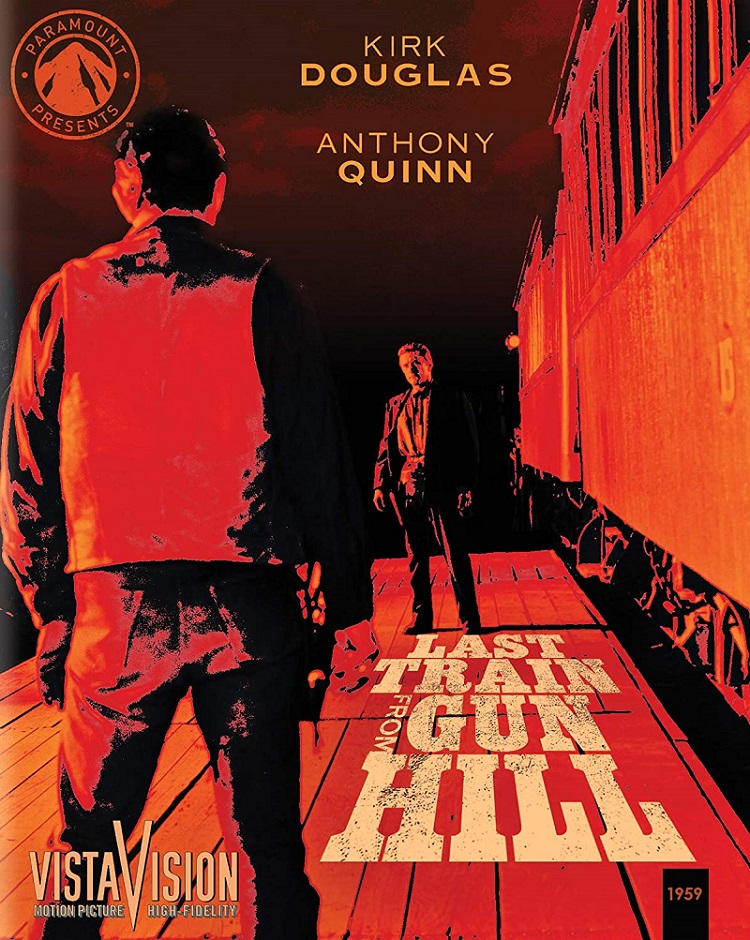 Kirk Douglas and Anthony Quinn star are as former friends who become formidable foes over family in director John Sturges's Last Train from Gun Hill. The story of a man doing what's right in the face of overwhelming odds covers familiar territory, especially within the western genre in films such as High Noon and 3:10 to Yuma.
Two drunk cowboys chase after an Indian woman and her son. Rick (Earl Holliman) rapes and kills the woman, but not after she cut his face with a whip. Her son escapes, stealing Rick's horse. He goes to his father, Matt Morgan, (Kirk Douglas), the local Marshal. Matt recognizes the saddle belonging to Craig Belden (Anthony Quinn), an old friend, who once saved his life and is now a cattle baron. Matt travels to Gun Hill, needing to be back at the station by 9 pm to catch the last train home with a prisoner.
The old friends reunite and they both realize Craig's son Rick committed the crimes. Matt means to take Rick to stand trial, even though he would like to kill him. Craig owns the town, including its lawman, and plans to stop Matt while understanding his position. After Matt captures Rick, they hold up in a hotel room. Craig comes to town with 20 men.
Linda (Carolyn Jones) is a woman that Matt meets on the train to Gun Hill. He doesn't find out until later, but she is involved with Craig, who beat her so bad because of things Rick made up about her he put her in the hospital. She respects Matt and is the only one in town who wants to help him.
Although a man seeking justice against a mob is a common plot, James Poe's screenplay based on Les Crutchfield's story "Showdown" goes in directions that keep the viewer engaged. The men at the center of the conflict are strong characters with believable motivations driving them. It also helps to have two talented actors such as Douglas and Quinn in the roles. Linda's motivations to stand against Craig and Rick are also believable. The climax has a good twist to surprise the audience.
Remastered from a 6K film transfer of the original VistaVision negative, the 1080p/MPEG-4 AVC encoded transfer is displayed at an aspect ratio of 1.78:1. The video looks gorgeous right from the opening scenes with strong natural hues seen in the rich greens and browns of the landscape. Blacks are rich and inky. Very fine texture detail highlight the costumes, props, and settings. The focus is sharp and some long shots exhibit a great deal of depth. Film grain is apparent and the image is free of signs of age and damage.
The audio is available in Dolby TrueHD 2.0 Mono. Dialogue is clear. Dimitri Tiomkin's orchestral score comes through with solid fidelity and showcases his talents as a composer. Effects, like gun shots, sound accurate for the period without any overemphasis. I didn't hear any hiss or other defects.
The Special Features are Filmmaker Focus: Leonard Maltin on Last Train from Gun Hill (HD, 7 min) with the historian talking different aspects of the film. Original Theatrical Trailers (SD): Last Train from Gun Hill (3 min), Gunfight at the O.K. Corral (2 min), The Furies (2 min), and The Black Orchid (2 min).
Fans of Classic Hollywood, especially westerns, should catch the Last Train from Gun Hill. This latest entry (318) under the Paramount Presents label looks exquisite on Blu-ray.