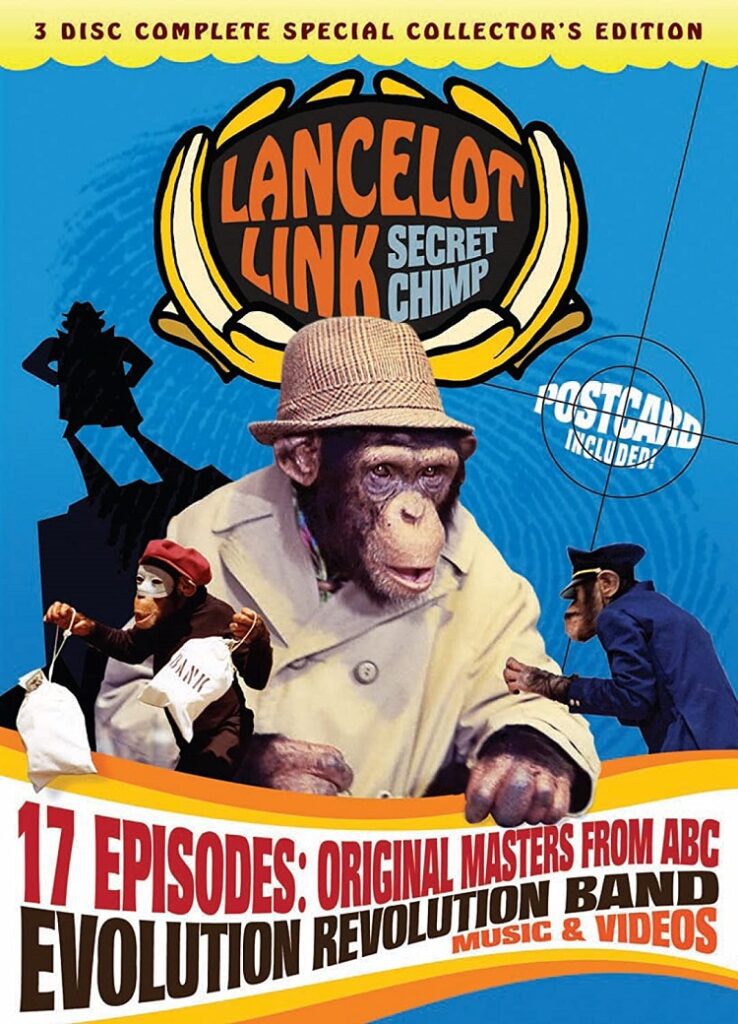 Written by Greg Barbrick
For those of us of a certain age, Lancelot Link: Secret Chimp is fondly remembered. The Saturday morning live-action show aired 17 episodes during its 1970-1972 run. I must say that with the advent of DVD and Blu-ray, I am constantly impressed with the variety of releases of so many long-forgotten programs. The new three-DVD set from Film Chest contains all 17 shows on two DVDs, the third is devoted entirely to bonus features.
Watching Lancelot Link again for the first time in 40 years was a real surprise for me. So much time has passed that I wondered if it would hold my interest as an adult. The show is actually better than I remember it, very funny stuff indeed.
For those who may be unfamiliar with the basics, Lancelot Link is a secret-agent chimpanzee, whose faithful female companion is the "beautiful" Mata Hairi. I guess you could call this sort of a simian Get Smart for the kids. There are no humans in this world, which is just as well, as they would only get in the way. Lance and Mata belong to A.P.E., which stands for the Agency to Prevent Evil. The evil-doers are led by Baron Von Butcher, who heads up CHUMP. Other "baddies" in CHUMP include Creto, Wang Fu, the Dragon Lady, Ali Assa Seen, and (my favorite), Dr. Strangemind.
For myself, the initial appeal of the collection was nostalgic, but I found it to be highly enjoyable even all these years later. Outside of some outdated topical references, the show stands up surprising well. For one thing, the "ape-wrangling" that went into the shooting is mighty impressive. Of course as a youngster, I never considered this aspect. But as an adult, I must say that everyone involved did an amazing job of getting the chimps to "act." It was quite a feat, and this element of the series is explored in the extras.
One of the more memorable features were the songs by Lancelot Link and the Evolution Revolution. These musical vignettes are introduced by (who else?) Ed Simian. Back then, just about all of the kid-shows featured "bands." A few of these include The Banana Splits and Josie and the Pussycats, and in prime time, we had The Partridge Family and even The Brady Bunch. The Evolution Revolution segments are pretty short, a couple of minutes or so, but they are a hoot.
As a matter of fact, there is plenty of fun to be had in every one of these programs. Once you get past the inherent nostalgia, there are elements of Lancelot Link: Secret Chimp that remain impressive. As mentioned previously, just getting the simians to "act" convincingly was quite a achievement in itself. Then there are the sets. While I had never considered this way back when, all of the sets were custom built to "chimp scale," making their world appear normal.
Believe it or not, Lance is still alive and well. He is in "retirement" at the Los Angeles Wildlife Waystation these days. According to the back cover, "Proceeds from the set will go to benefit the Waystation." So besides 17 episodes of this most enjoyable series, plus some highly informative extra material, the set has a noble cause as well. Donating the proceeds to the Los Angeles Wildlife Waystation is a nice touch, and makes the set all the more desirable.
If you are unfamiliar with Lance Link and his cohorts, do yourself a favor and pick this one up. It is definitely fun for the whole family.