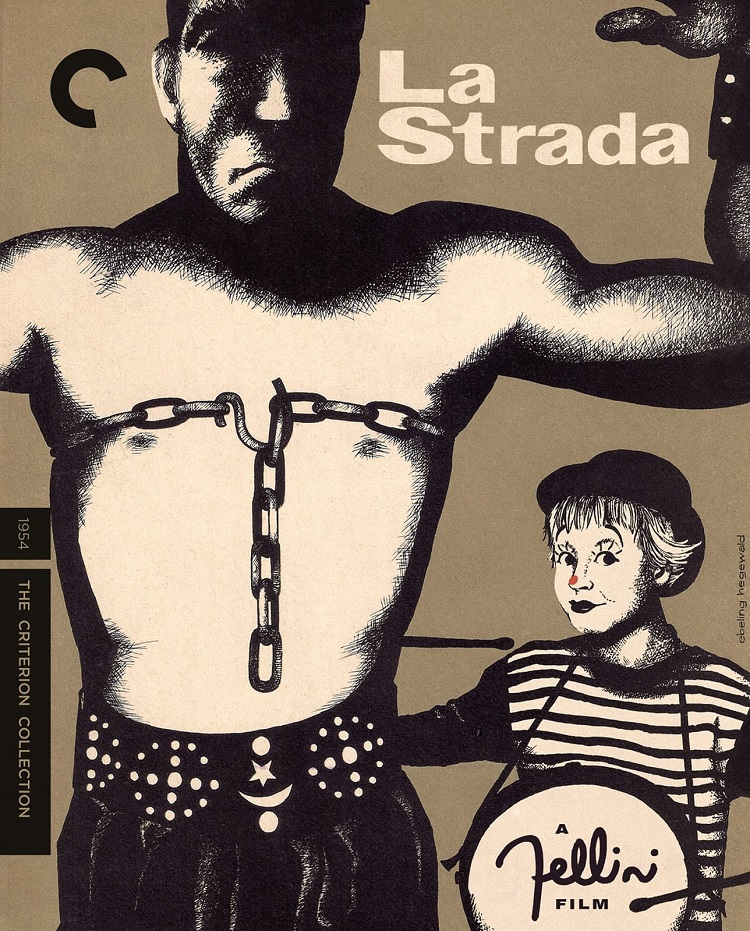 Italian neorealism was an influential but rather short new wave of cinema. The movement held a mirror up to portray the struggles of people trying to survive during the aftermath of WWII. Although legendary filmmaker Federico Fellini was not exactly at the forefront of this like Roberto Rossellini or Vittorio De Sica, and while he would later delve into eccentric territory in the '60s and '70s, his first few films would fully realize his approach to humanity and the cruelties of life.
His 1954 all-timer, the beautiful but incredibly gritty La strada (The Road), is inarguably one of the most important of them, along with his other masterpiece in the same decade, 1957's Nights of Cabiria. La strada stars Fellini's wife and leading lady, the great Giulietta Masina, as Gelosmina, a naïve young woman who is sold by her mother to brute strongman Zampano (Anthony Quinn) to be his wife and assistant. She willingly subjects herself to his emotional and sometimes physical abuse while on the road. When he encounters an old rival, the Fool (Richard Basehart), Zampano's unexpected jealously and conflicted feelings for Gelosmina reach a boiling point, which leads to some really dire consequences for all three of them.
If you're a respectable and dedicated lover of cinema, then I don't have to tell you that La strada continues to a remarkable achievement in the history of the medium. Its mixture of humor and poetic sadness has forever influenced many filmmakers, especially Martin Scorsese. It also showcases the power of Masina, who became a star of her own after this, and rightly so. Her performance (along with Cabiria) are two of the greatest performances in screen history. Every time she's on screen, your heart instantly melts. Her face is hypnotic and unforgettable. She is unforgettable. Quinn is also wonderful as the brash Zampano. And Basehart captivates with his role as the Fool as well.
After being released on DVD years ago and being apart of the recent Essential Fellini box set, Criterion has re-issued the film, this time on its own stand-alone Blu-ray edition, and many film collectors are sure to be very excited because of it. The supplements (albeit older) still sound viable, and they include an alternate English-dubbed soundtrack, featuring the voices of Quinn and Basehart; 2003 commentary by Peter Bondanella, author of The Cinema of Federico Fellini; 2003 introduction by Scorsese; 2004 documentary Giulietta Masina: The Power of a Smile; Federico Fellini's Autobiography, a 2000 documentary originally shown on Italian television; and trailer. There's also a great essay by film critic Christina Newland.
Obviously, I completely recommend adding this masterpiece to your collection. It's not just a testament to Fellini's filmmaking gifts, but also one of the greatest films of all-time.
Other releases:
The Guns of Navarone (4K): Gregory Peck, David Niven, and Anthony Quinn star in this 1961 epic about a commando team sent to a Greek island to eliminate the giant guns of Nazi Germany, which are controlling a channel in the Aegean Sea.
Pig: Nicolas Cage is a truffle hunter alone in the Oregonian wilderness who must confront his past while searching for his beloved pig after she gets kidnapped.
The Beast Must Die (Flicker Alley): A new restoration of a 1952 thriller about a mystery writer (Narciso Ibáñez Menta) who seeks revenge for the death of his nine-year-old son. He meets an abused woman whose husband may be connected to the death.
Nine Days: A recluse (Winston Duke) conducts a series of interviews with human souls for a chance to be born.