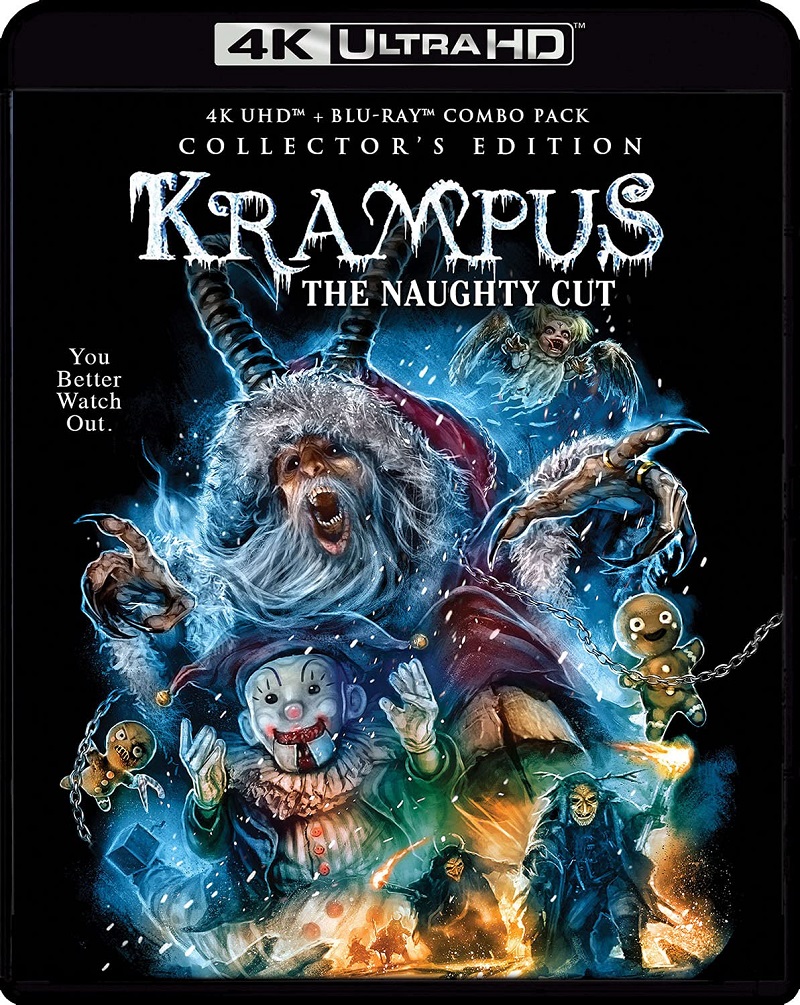 As a person who has somewhat gotten over the holidays, I prefer my Christmas movies to be bleak, mean-spirited, and nihilist. These types of films do not play nice, and they are actually a welcome sight against the many overly and disgustingly sweet ones that usually play on a loop on TV. Director Michael Dougherty's 2015 modern classic Krampus, definitely fits the bill quite nicely. It's a wicked and subversive take on Christmas that puts most films of its ilk to shame.
Young Max Engel (Emjay Anthony) still believes in Santa and the holidays as a whole, but when his highly dysfunctional family becomes too much, he loses the spirit of Christmas. This causes the arrival of Krampus, a terrifying beast that punishes naughty children. When Krampus and other horrible creatures (including a man-eating clown) take over the Engel home, Max, his mom Sarah (Toni Collette), dad Tom (Adam Scott), and older sister Beth (Stefania LaVie Owen), as well as Uncle Howard (David Koechner), Aunt Linda (Allison Tolman), granny Omi (Krista Stadler), and his cousins have to band together and put their many differences aside, to save each other from this frightening invasion.
There is so many facets to why the film works. There are the performances from the entire cast, where everyone gets a chance to develop. The special effects (those killer gingerbread men are a hoot!), the sense of claustrophobia, and the attention to detail that Dougherty gives the film. He obviously has a genuine love for horror, Joe Dante, and B-movies that really shows here. All of this makes Krampus a standout of non-traditional horror fare.
Making its 4K debut, the unrated "naughty cut" contains additional scenes and extra language that were shortened to obtain a PG-13 rating. The big flaw of this release is that the original theatrical version is sadly missing, so that may be a major dealbreaker for many film collectors. However, for those who are willing to overlook that, there are tons of special features, including audio commentary (on both 4K and Blu-ray discs) with Dougherty, and co-writers Todd Casey and Zach Shields; new interviews with Dougherty, visual effects artist Richard Taylor, and actors Tollman, Koechner, and Anthony, and more; alternate ending; deleted/extended scenes; gag reel; still gallery; trailer, and much more!
Just in time for the holidays, this new 4K/Blu combo should make a solid must have for those who like a little more edge to their Christmas. Just try to be good this year, or else Krampus will come for you. [Read Kent Conrad's review]
Other notable releases:
One Night in Miami (Criterion): Regina King's acclaimed fictionalization of the legendary meeting between boxer Muhammad Ali, footballer Jim Brown, singer-songwriter Sam Cooke, and civil rights activist Malcolm X as they try to change history in the segregated South.
Who Framed Roger Rabbit (4K): A new collector's edition of the innovative 1988 classic starring the late, great Bob Hoskins as a detective who reluctantly helps the fictional animated rabbit (voiced by Charles Fleischer) framed for murder.
Harold and Maude (Paramount Presents): A new Blu-ray edition of the beloved 1971 cult classic starring Ruth Gordon and Bud Cort as a lively septuagenarian and a rich, death-obsessed youth embarking on a forbidden romance. [Read Jack Cormack's review]
Angels with Dirty Faces (Warner Archive): A 1938 gangster classic starring James Cagney and Pat O'Brien as childhood friends on opposite sides of the law fighting each other over the fate of a street gang. [Read Davy's review]
The Long Goodbye (Kino): Robert Altman's moody and unusually sleek 1973 Raymond Chandler adaptation starring Elliot Gould as the wisecracking, boozy detective trying to help a friend accused of killing his wife.