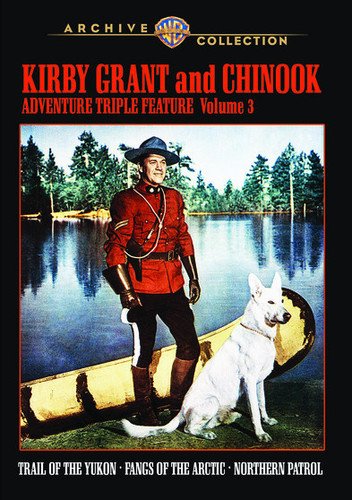 Latch your pistol to a lanyard and put your best boot forward, boys and girls, because Corporal Rod Webb is back for more adventure in the Great White North. Well, most of the time, it's Rod Webb. At first, he's named Bob McDonald, but that doesn't change the fact that he is still portrayed by Kirby Grant and is accompanied in his dangerous missions by the one and only Chinook, the Wonder Dog. As to why Grant's character was randomly changed like that is anyone's guess. But then, these were films made by the now legendary Poverty Row studio, Monogram Pictures, who will never be remembered for their continuity.
What Monogram is remembered for, however, is their consistency. The studio produced hundreds (if not thousands) of films over their tenure as King of the B Studios, including the whole of the iconic Bowery Boys series, as well as many Charlie Chan outings once Fox grew weary of manufacturing tales of intrigue for the fictional Chinese sleuth. And speaking of Asian-American detectives, Monogram was the first studio to not only cast the part of an Asian-American detective with an Asian-American actor (Keye Luke), but even gave him top billing to boot – while creating one of the first prequels (Phantom of Chinatown) in the process!
Like last year's release of Kirby Grant and Chinook Adventure Triple Feature, Volume 2, this new-to-home-video trio of quickies features three random titles from the series. But it is unique in as it actually features the very first film of the series, 1949's Trail of the Yukon – wherein lead human actor Kirby Grant is given the name Bob McDonald. This tale finds the good Mr. Grant – as well as the studio he was under contract to – feeling their way around with the formula here. It was a one-off experiment on Monogram's part which was successful enough to create a miniature legacy over the next couple of years.
While it is here that we see perhaps the biggest budget being put to use by prolific B movie director William Beaudine (who directed at least 75 low-budget movies in the 1940s alone!), who helms the film under the alias William X. Crowley (I guess there was some in-joke about everyone using different names for this picture). Ironically, while there was probably more money put into the making of this film, its story was still built around existing stock footage. That said, the sight of actual real snow around Big Bear Lake (where most of the entire series was shot) is enough to make any fan of Monogram Pictures drop their jaw in amazement.
The latter two films in this offering, Fangs of the Arctic and Northern Patrol, were both released in 1953, and are two of the last three titles made for the ten-picture B movie "franchise" inspired by the writings of American writer and conservationist James Oliver Curwood. In these flicks, Grant's character goes by his more familiar handle of Rod Webb. During all three films, Grant and Chinook (the budget Lassie) tackle murderers, poachers, and all the various, nefarious dirty tricks each variety of bad fellows use to their advantage. Some often surprising faces appear on-screen in these photoplays, including Suzanne Dalbert, Dan Seymour, Jay "Tonto" Silverheels, Leonard Penn, Gloria Talbott, and William Phipps.
The Warner Archive Collection presents all three titles of Kirby Grant and Chinook Adventure Triple Feature, Volume 3 on one DVD (each film is barely over an hour long; the standard Monogram quickie runtime) with no special features whatsoever. Each title is presented in its original 1.37:1 Academy aspect ratio with original mono soundtrack, and neither of the two ever let me down. Just like the films themselves never let me down. And since this is the final round of Kirby Grant and Chinook films from the Warner Archive (the rights to the last film in the series, Yukon Vengeance, are owned by another party), that just makes it all the more worth enjoying.
Good cheap fun.