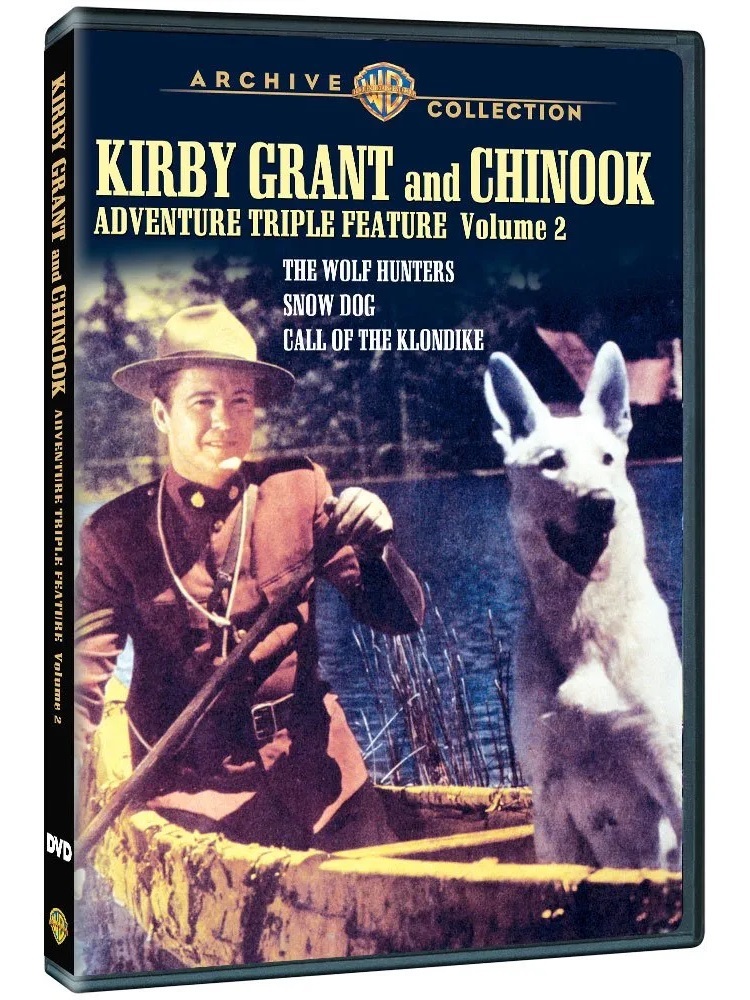 When the name Kirby Grant is mentioned – usually in a bar full of aging male retirees reminiscing about the good ol' days – he is automatically associated with that of the popular, long-running '50s television series Sky King. A musical prodigy in his youth, Grant eked out an existence as a leading man in B-movies for more prominent studios in Hollywood, wherein he starred in seven budget westerns for Universal. His new star status caught the eye of those fellows on Poverty Row, and Monogram Pictures soon signed the performer to head a series of ten Northern adventures based on the novels of James Oliver Curwood.
Of course, no such family-friendly fare could exist onscreen without the saving grace of a trained canine companion – and, seemingly out of the blue, a German Shepherd by the name of Chinook was brought in. And, while Chinook was no Rin Tin Tin by comparison, the doggy surely delighted all the kiddies during many a bijou matinee presentation on the weekends from 1949 to 1954. Two years back, the Warner Archive Collection unveiled a home video release containing a threesome of these quickie motion pictures. Oddly enough, though the films were sequential, the initial set did not bring us the first installments of these features.
And, in the case of Kirby Grant and Chinook Adventure Triple Feature, Volume 2, we once again are sans the very first Grant/Chinook flick – wherein Grant's character bore a different name than he did in eight of the other films. Instead, this one-disc set presents viewers with the second through fourth features in this mini-franchise, beginning with 1949's The Wolf Hunters. Here, in an adaptation of Mr. Curwood's story which had been filmed twice already before in the '20s and '30s, RCMP Corporal Rod Webb (Grant) is hot on the trail of a group of murderers who have been slaughtering fur trappers (and their families) and absconded with their goods.
The next film (both in the series and on the disc) is 1950's Snow Dog, which is notable for being the only other feature in the legacy of these Poverty Row adventures wherein Grant does not star as Corporal Webb. Instead, Grant portrays RCMP Corporal Bob McDonald, who is so similar to Webb that it's practically impossible to distinguish either character unless someone mentions them by name. McDonald also cavorts about the wilderness of the Great White North with Chinook in tow – and, just like his counterpart, is the epitome of wholesome pure goodness. Snow Dog's plot finds our man/canine pairing on the trail of a killer doggie in the area – who is practically impossible to distinguish from Chinook except when he snarls, bites, and kills folk. Of course, bad doggy isn't doing this on his own accord; there are some just-as-bad men behind the dastardly goings-on – with the much cavorted mineral pitchblende at stake.
Lastly in the trio is Call of the Klondike (also from 1950), where Grant once again assumes (for the duration of the series) the identity of Rod Webb (Chinook is still the same, kids). With killer wolves and fur trapper thieves out of the picture, Monogram's writers here cue up one of Curwood's darker tales – that of a pair of siblings who are responsible for the deadly disappearances of several locals near Healy's Crossing. Unlike the previous film, wherein murders are committed to prevent anyone discovering a mine containing a much cavorted mineral such as pitchblende, the formula is drastically changed here, so that the demise of many innocents are carried out to prevent people discovering a mine containing gold.
As with most of their releases, the Warner Archive Collection brings us these nearly lost gems in the best possible quality available. Frankly, these three forgotten features look pretty darn good on DVD, and each is presented in its original Academy aspect ratio with mono English audio. While there are no special features are included with this release per se, having three Monogram Northerns together in one lot is enough for me to joyously add this set to my collection.