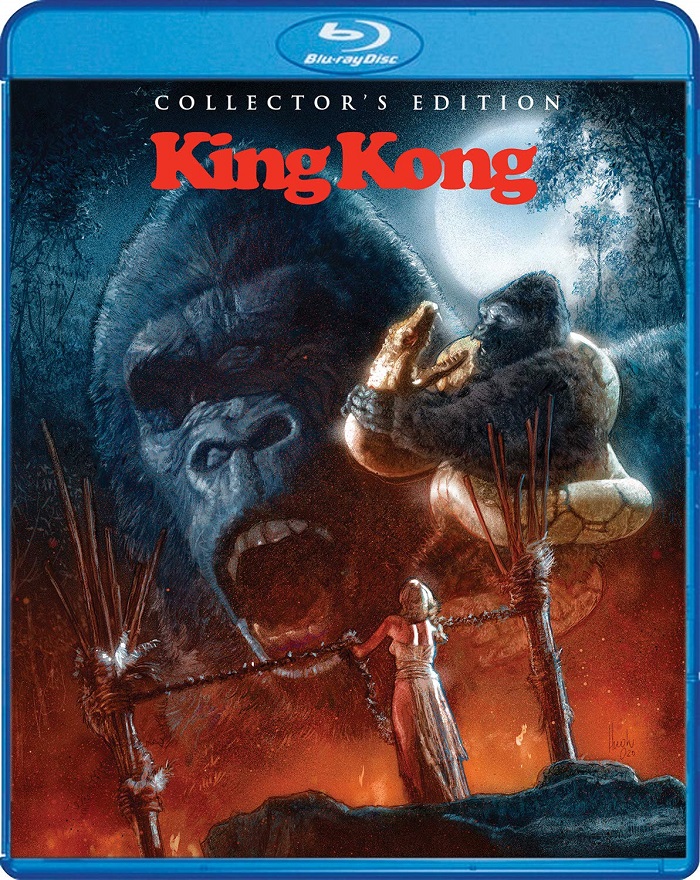 After appearing in two Toho Studios-produced films during the 1960s, the character of King Kong returned to the silver screen in a 1976 remake of the original 1933 film. The Dino De Laurentiis production updated the film to the era in which director John Guillermin shot it. While not as good as the original, this Kong was also a special effects marvel of its day thanks to the work of Rick Baker, Carlo Rambaldi, and their teams.
Screenwriter Lorenzo Semple Jr. changed the reason for the voyage to Skull Island from a film production to an oil expedition led by Petrox Oil's Fred Wilson (Charles Grodin). Considering the world had been dealing with an energy crisis during the '70s, this plot change brought a realism to the story. Princeton paleontology professor Jack Prescott (Jeff Bridges) stows away for a trip to the mythic island and gets a job as a photographer to document Fred's achievement. The beauty to Kong's beast is Dwan (Jessica Lange in her first role). Why Semple made her name needlessly difficult is anybody's guess. She is found unconscious in a raft wearing a cocktail dress. She's an actress who had been aboard a yacht before it exploded, a backstory that sounds like it's from another movie.
Once on the island, the Petrox team encounter a tribe that later kidnaps Dwan to sacrifice her to Kong. The giant ape takes her deep into the island's jungles. (Seeing the damage caused by Kong's escape with Dwan, there's a funny meta joke as Jack asks the disbelieving Fred, "Who the hell do you think went through there? Some guy in an ape suit?" That guy was Baker, who not only wore but designed the ape suit. Rambaldi augmented the mask to create facial expressions.) It's not clear how the female sacrifice is supposed to proceed or what it is to accomplish, but Dwan captivates Kong. He ogles her and in one scene tries to rub her clothes off, which is rather odd. The sexual subtext some see in the original is text in this movie, but the logistics of a sexual attraction for Kong doesn't make any sense. Jack leads a team of the ship's crew to rescue Dwan, giving the filmmakers a chance to recreate the log-rolling scene where Kong shakes them into a crevasse.
After discovering there's no usable oil on the island, Fred figures he can recoup the expedition expense by bringing Kong to the U.S. He puts on a media spectacle to present the ape, but when Kong sees Dwan in distress from reporters, he breaks free of his "unbreakable" chains. Mayhem commences and Fred pays for his hubris. Jack and Dwan escape to Manhattan. Somehow Kong finds her and takes her to the top of the World Trade Center. However, it's not beauty that kills the beast, but military helicopters, which do some surprisingly bloody damage,
While the cast do their best with material that is simultaneously silly and earnest so it's hard to make sense of, Kong is the star. The special effects teams along with the editors do a great job creating a believable creature as the cast interacts with parts of his body, such as his arm, or through composite shots where they appear on screen together. There are rare occasions where the high-def transfer diminishes the illusion.
The video has been given a 1080p AVC/MPEG-4 encoded transfer displayed at 2.35:1. Colorful hues bring the movie to life. Blacks are inky and solid shadow delineation comes through in the nighttime exteriors. Film grain is apparent. There is one shot of Jack setting up a camera as night that is out of focus. Texture and depth come through quite well. A vertical scratch occurs as Kong rolling the seamen off the log bridge.
The audio is available in 5.1 and 2.0 DTS-HD MA. On the former, dialogue is clear. John Barry's score swells in the surrounds as does mild atmosphere effects. Other than supporting the music, the subwoofer doesn't get as much of a workout as modern monster movies deliver. There was an elevated bass sound of Kong's beating heart as it slowed.
The Special Features that accompany the Theatrical Cut are one commentary by Ray Morton, author of King Kong: The History of a Movie Icon from Fay Wray to Peter Jackson, and another by Rick Baker. There are a number of interviews about the making of the movie. The subjects, presented in HD, are production manager Brian Frankish and assistant director David McGiffert(12 min); messengers Jeffrey Chernov and Scott Thaler (14 min); sculptor Steve Varner (6 min); Jack O'Halloran(6 min); photographic effects assistant Barry Nolan (6 min); and second unit director Bill Kronick (7 min). Promotional material, such as Theatrical Trailer (SD, 5 min); TV Spots (HD, 12 min); Radio Spots (HD, 12 min); and Image Galleries (HD, 12 min).
The TV Cut disc is available as a whole or divided into two episodes as it debuted on television. It runs 48 minutes longer. As explained on screen, the editor reused shots which were fine when displayed in a 1.33 aspect ratio but now in 2.35:1, characters speak where there is no dialogue and other scenes have loose audio sync.
The lone special feature is King Kong Panel Discussion from the Aero Theater (69 min). Recorded in Santa Monica on 12/10/16 at an odd angle from the right side of the stage, Morton moderated the panel which contained O'Halloran, director of photography Richard H. Kline, Baker, Dino's wife Martha De Laurentis, and Richard Kraft, who worked with John Barry.
While difficult to compete with a landmark in cinema history, this remake has a place beside other blockbusters of the '70s disaster genre thanks to special effects that were so noteworthy it was given a Special Achievement Academy Award for Best Visual Effects. King Kong (1976) might not make one a fan of the character, but those who are already fans of the movie will appreciate the high-def presentation and the special features from Shout Factory/Scream Factory.