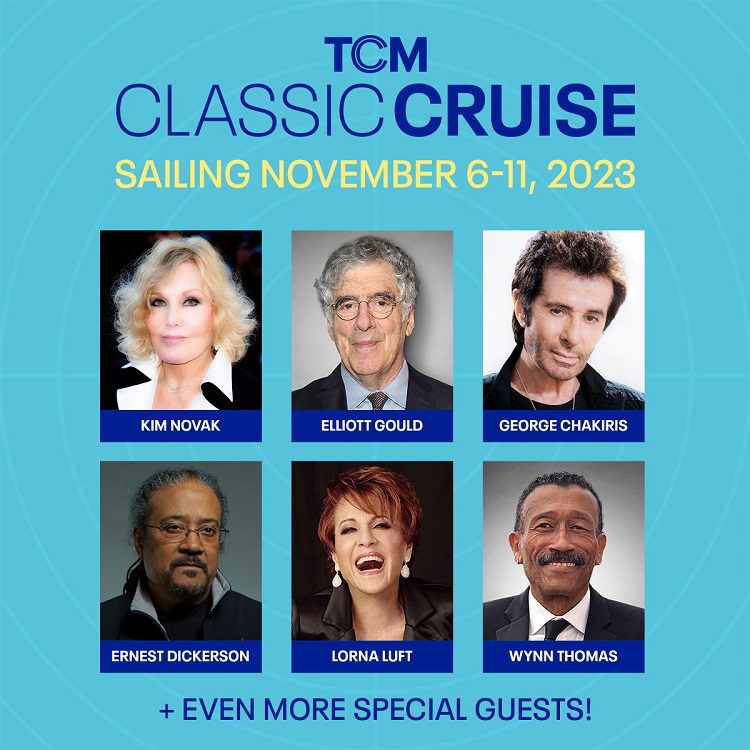 Turner Classic Movies (TCM) today announced iconic screen star Kim Novak, acclaimed actor and producer Elliott Gould, and stage and screen legend George Chakiris are set to attend the TCM Classic Cruise, sailing November 6-11, 2023, from San Diego to Cabo San Lucas and Ensenada on the Disney Magic. In addition, filmmaker Ernest Dickerson, actress and singer Lorna Luft, production designer Wynn Thomas, author and grandson of Groucho Marx and Gus Kahn, Andy Marx, and fan-favorite and founder of Rialto Pictures and Founding Repertory Artistic Director of New York's Film Forum cinema Bruce Goldstein will join TCM hosts Ben Mankiewicz, Alicia Malone, Dave Karger, Eddie Muller, and Jacqueline Stewart, for film screenings, special fan events and in-depth interviews aboard this unforgettable classic movie experience at sea.
KIM NOVAK
One of the most glamourous leading actresses of her generation, Kim Novak was a top box office draw throughout the 1950s and early 1960s – including being the biggest box office star in the world for three consecutive years– working with some of the most celebrated directors and leading men of the era. Her legendary body of work has stood the test of time in acclaimed films such as Picnic (1955), The Man with the Golden Arm (1955), Pal Joey (1957), Vertigo (1958), Bell, Book and Candle (1958), Strangers When We Meet (1960), Kiss Me, Stupid (1964) and many others. Despite her world-wide success, she preferred to leave Hollywood at the peak of her career to freely express herself through painting and writing. Her paintings have been exhibited at museums in San Francisco, Prague, and The Butler Museum of American Art.
ELLIOTT GOULD
Elliott Gould is a prolific American actor and producer. He earned an Oscar nomination for his performance in Bob & Carol & Ted & Alice (1969) quickly followed by his iconic portrayal of Trapper John in Robert Altman's feature film M*A*S*H (1970). Other memorable film credits include Ingmar Bergman's The Touch (1971), The Long Goodbye (1973), Capricorn One (1977), Bugsy (1991), Contagion (2011) and his portrayal of Reuben Tishkoff in Steven Soderbergh's popular trilogy Ocean's Eleven (2001), Ocean's Twelve (2004) and Ocean's Thirteen (2007). On television, a new generation became enthusiastic fans when he appeared as Jack Geller, Ross and Monica's father, on the wildly popular sitcom Friends. His other TV work includes Ray Donovan, the sitcom Mulaney, Doubt, 9 JKL, Grace and Frankie, The Kominsky Method and The Lincoln Lawyer. He is part of an elite club having the distinction of having hosted Saturday Night Live six times. Gould has produced several films including Woody Allen's, Everything You've Always Wanted To Know About Sex But Were Afraid To Ask (1972) and Jules Feiffer's Little Murders (1971).
GEORGE CHAKIRIS
George Chakiris took the entertainment world by storm with his smoldering, Academy Award-winning performance as Bernardo in 1961's big screen adaptation of the acclaimed Broadway musical West Side Story, but he was far from an overnight sensation. Chakiris made his big screen debut in 1947 singing in the chorus of MGM's Song Of Love and can be seen singing and dancing in such classic musicals as White Christmas (1954), Brigadoon (1954) and as one of the wealthy suitors to Marilyn Monroe in the iconic "Diamonds Are A Girl's Best Friend" number in Fox's Gentlemen Prefer Blondes (1953).  Since taking home the Oscar, Chakiris has enjoyed a decades long career on the big screen, on television, in the theatre, in the recording studio, and as a jewelry artist. In 2022, George released his best-selling memoirs "My West Side Story."
ERNEST DICKERSON
An Emmy, Peabody, and two-time Image Award-winning film and television veteran, Ernest Dickerson's signature brand of visual storytelling has been entertaining movie and TV fans for more than thirty years.  While attending New York University's Tisch School of the Arts, he met filmmaker Spike Lee and the two became collaborators with Dickerson as Director of Photography on such classic films as She's Gotta Have It (1986), School Daze (1988), Do the Right Thing (1989), Mo' Better Blues (1990), and Malcolm X (1992). Dickerson's 1992 feature directorial debut, which he also cowrote, was Juice followed by other big-screen credits, including Surviving the Game (1994), Tales from the Crypt: Demon Knight (1995), Bones (2001), and Never Die Alone (2004). His visionary work has also been showcased in some of the most influential television series such as The Wire, The Walking Dead, Treme, Dexter, House of Cards, Bosch, The Man in High Castle, and many others.
LORNA LUFT
Born to the legendary Judy Garland and producer Sid Luft, Lorna began her career on her mother's TV show at the age of eleven.  She went on to perform on Broadway in Promises, Promises; Snoopy, the Musical; and Extremities.  She has performed in domestic and international productions of They're Playing Our Song; Guys and Dolls; Grease; The Wizard of Oz; Holiday Inn; and White Christmas. She appeared on film and TV in Grease 2 (1982), Where the Boys Are (1984); and Trapper John, M.D.  Lorna co-produced Life with Judy Garland, the Emmy-winning miniseries based on her memoir Me and My Shadows.  Her latest book, A Star Is Born: Judy Garland and the Film that Got Away was released to rave reviews.  She also celebrates her mother's songbook in a one-woman show and CD, Songs My Mother Taught Me.
WYNN THOMAS
Award-winning production designer Wynn Thomas has worked with some of the most important filmmakers of the late 20th century. Wynn designed both A Beautiful Mind (2001) and Cinderella Man (2005) directed by Ron Howard, A Bronx Tale (1993) directed by Robert DeNiro, Wag The Dog (1997) directed by Barry Levinson, and Analyze This (1999) and Analyze That (2002) directed by Harold Ramis. Wynn also has a long-term collaborative relationship with filmmaker Spike Lee, starting with She's Gotta Have It (1986), followed by School Daze (1998), Do The Right Thing (1989), Mo Better Blues (1990), Jungle Fever (1991), Malcolm X (1992), Crooklyn (1994), He Got Game (1998), The Original Kings Of Comedy (2000), Inside Man (2006) and most recently, Da 5 Bloods (2020). His many other credits include the comedy 80 For Brady (2023), the award-winning drama Hidden Figures (2016), the action film remake of Shaft (2019) and the drag queen road movie To Wong Foo, Thanks For Everything, Julie Newmar (1995). Wynn is the first African-American production designer to become a member of the Art Director's Guild in Los Angeles and he is the first African-American nominated for the Art Director's Guild award for his design work on Tim Burton's Mars Attacks! (1996).
ANDY MARX
Andy Marx is an award-winning photographer, writer, and musician, whose work has appeared in The New York Times, The Los Angeles Times, Variety, The Hollywood Reporter, and Entertainment Weekly, among others. In 2020, Marx's first novel, "Royalties," was published to enthusiastic reviews. The multi-generational, historical romance is based on the lives of his paternal grandfather, the legendary comedian, Groucho Marx, and his maternal grandfather, the renowned songwriter, Gus Kahn, whose hits include "It Had to Be You," "Makin' Whoopee," and "Dream a Little Dream." He is currently recording an album of many of his grandfather's most famous songs. The first single, "Ukulele Lady," was recently released. He also co-founded the popular comedy website, Hollywood & Swine, known for its lampooning of Hollywood.
BRUCE GOLDSTEIN
Bruce Goldstein is the award-winning founder and co-president of Rialto Pictures and Founding Repertory Artistic Director of New York's Film Forum cinema. He's also the director of acclaimed short films including Uncovering the Naked City, In the Footsteps of Speedy, and TCM's Pelham One Two Three: NYC Underground.   Goldstein has been a popular guest at every TCM Classic Film Festival and Classic Cruise, with his fun-filled quiz So You Think You Know Movies a particular fan favorite. Earlier this year, he was honored at New York's Museum of Modern Art with a 25th anniversary tribute to Rialto.
Fans can join the waiting list for staterooms at tcmcruise.com.