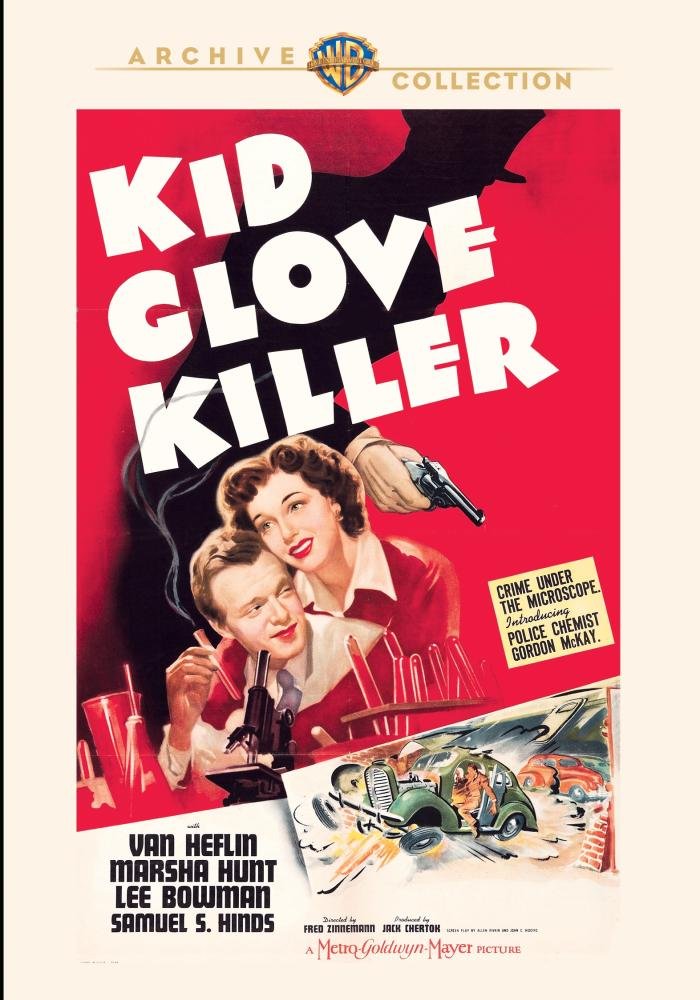 Since the mid 1990s, American television airwaves (where applicable) have been periodically tuning audiences into two tremendously popular forms of drama: that of the political corruption story, and the umpteen bajillion different forensic investigation shows that have filled out a weekly broadcast schedule since 2001 alone. Prior to those years, however, we only ever saw the occasional unscrupulous administrative yarn in theaters (almost all of which starred Al Pacino, for some unknown reason); the complex science of crime solving being reserved primarily for pulp fiction books, as cinema (and later, television) patrons apparently found them to be complex, or perhaps – as a certain Grand Theft Auto radio commercial put it – "forensically boring".
But that doesn't mean they didn't try. In fact, 1942's excellent B movie outing Kid Glove Killer finds MGM delivering a story that is both! Here we witness the simultaneous plights of big city police forensics hero Gordon McKay (the great Van Heflin, in a part that could kick William Petersen's Gil Grissom any day) and his best buddy, newly-appointed District Attorney Gerald I. "Jerry" Ladimer (Lee Bowman). Though partners in fighting the many crimes of the (nameless) big city, Ladimer is responsible for making just as big of a mess as he brags about cleaning up every week on his highly-rated newscast, wherein he assures the public the streets are safe from corruption – even as protection racketeers are cleaning out the cash drawers of honest hamburger chef Eddie Wright (Eddie Quillen).
Ladimer's recent rise to the top is both thanks to local crime boss Matty (John Litel), who throws a few freebies his way to keep up the image, and the newly-elected Mayor Daniels (Samuel S. Hinds). Mayor Daniels is as honest as they come; a guy so swell, you know he will wind up paying for that dearly, especially once he gets wind his right-hand man has quite a bit of cash to invest into Canadian life insurance policies. Meanwhile, Gordon – the forensics specialist extraordinaire (this being back when such people were merely known as "the lab boys") – is busy wowing his fellow brass buttoned comrades (yes, he's actually a cop) by figuring out whodunit with little more a microscope. Of course, Gordon's lab has a lot more to offer a red-blooded male Ladimer, such as his gorgeous lab assistant Jane Mitchell (Marsha Hunt), who is not only employed, but has gone to college!
Enter the love triangle. Gordon habitually ignores Miss Mitchell's doe-eyed advances, choosing instead to steal her cigarettes and ask her to "match" him in as enviable of a 1940s chauvinistically playful manner as possible. Once Ladimer takes note of the beauty, even his well-hidden dark side starts to turn sunny, but ol' Gordon continues to play it cool – by getting drunk and delivering a wonderful pantomime routine about cooking fish with ketchup one has ever seen. Speaking of wonderful bits, Kid Glove Killer is full of 'em – ranging from the aforementioned concurring cigarette gag, Gordon's repeated failure to throw a dart under the table to a silhouette on the door, which only ever hits the right arm, and some of the funniest romantic dialogue ever.
"Just bury me with one of your swell hamburgers on my chest," says Mr. Quillen to his on-screen wife Cathy Lewis, as he prepares to head out into an uncertain fate when he can no longer take the harassment of the protection racket goons. Teary-eyed, she inquires "With onions?" His reply? A gentle, soothing "You oughta know by now." What a guy!
OK, so it might not sound like much to you, but it's still a better love story than Fifty Shades of Grey in my eyes.
Truly, it's surprising that Gordon McKay and Miss Mitchell never returned to solve another crime. The chemistry (ha-ha, because they both have degrees in chemistry and work with chemicals) between the two leads is perfect, while Van Heflin practically shapes the very mold for film noir protagonists in the years to follow single-handedly. Thankfully, the creator of the original story – John C. Higgins (no relation to Steve or David, I'm sure), who also brought us several Crime Does Not Pay shorts as well as the sci-fi classic Robinson Crusoe on Mars – co-wrote the screenplay, along with seasoned crime dramaticist (and future WGA co-founder) Allen Rivkin. A smashing feature-length directorial debut by Fred Zinnermann (Oklahoma!, The Day of the Jackal) makes this one all the more Killer.
The Warner Archive Collection releases this charming little political corruption/forensic investigation/romantic comedy/film noir classic to DVD-R as part of its Manufactured-on-Demand line. Kid Glove Killer looks pretty darn great for the most part [insert some bad joke about it being handled with kid gloves here], with a few minor instances of age showing up about halfway into the picture. The movie is presented in its original Academy aspect ratio (1.37:1) and the monaural English audio soundtrack is as clear as whodunit (this is more of a howcatchem, by the way). The included theatrical trailer almost promotes it as the beginning of a series that never materialized, presumably because moviegoers found it to be too forensically boring even back then.
If only they had waited a few years to bring Gordon McKay to life. But I'm glad they didn't in a way, because Kid Glove Killer's 1940s innocence is pure perfection as far as I'm concerned.
Highly recommended.