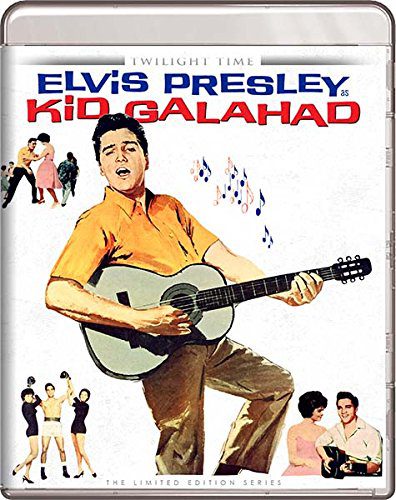 Despite having appeared in several dozen movies, there are relatively few things you can actually see Elvis do on-screen. One of them is actually get a chance to act. The other is something even more amazing: Elvis Presley training under Charles Bronson. And that right there is good enough reason for me to recommend Twilight Time's new Blu-ray offering of Kid Galahad. A musical remake of the 1937 original starring Edward G. Robinson, Bette Davis, and Humphrey Bogart, this 1962 color dramedy finds The King himself as a young lad fresh who journeys to the remote countryside community he was born in following his discharge from the U.S. Army.
An avid automobile enthusiast, Elvis is ready to settle down and open up a repair shop. Alas, Cream Valley only seems to be churning out boxers from a nearby inn, which is run by shifty Gig Young. When our desperate-for-work hero agrees to be young Michael Dante's sparring partner, Gig and top-trainer Charles Bronson discover the wannabe mechanic literally packs quite a punch. Seizing the opportunity to launch his accidental discovery to stardom, Gig rechristens Elvis as Kid Galahad, complete with a pre-fabricated history of victories in the ring. Unfortunately, this calls forth the unwanted attention of some big city gangsters who aren't Gig Young's biggest fans.
Naturally, you can't have an Elvis flick without a few songs and a little lovin', and Kid Galahad delivers on both fronts. In addition to a good half-dozen tunes written by the likes of Hal David and Ed Wood's ex (!) Dolores (Dee) Fuller, Phil Karlson's charmingly harmless venture into a world of contact sports and contract players also pairs Elvis with beautiful Joan Blackman (in her second and final pairing with Presley after Blue Hawaii the year before). Meanwhile, Peter Gunn's Lola Albright (no stranger to boxing features, having appeared in Champion with Kirk Douglas in '49) suffers as Young's off-and-on mistress (he may not be much, but he's the only Gig in town.)
Also featured here are David Lewis, George Mitchell, Roger Corman regular Richard Devon, and the amusing coupling of Liam Redmond as the local Catholic priest and Ned Glass as the only Jewish fellow in town. A heap of familiar faces from the illustrious department of "uncredited" lines the background here, including Edward Asner, Bert Remsen, Gil Perkins, and Kip King. Former cliffhanger serial heavy George J. Lewis and veteran B-movie great Frank Gerstle are also visible during the climactic boxing match, which also features one of the most jaw-droppingly weird composite shots ever. Elvis' one-time backup group, The Jordanaires, also appear.
An early effort from The Mirisch Company, Kid Galahad arrives on Blu-ray for the very first time from Twilight Time. Presented in its original widescreen 1.85:1 aspect ratio, the High-Definition print on loan from MGM is encoded in 1080p MPEG-4 AVC, and looks quite nice throughout. An excellent DTS-HD MA 1.0 Mono soundtrack is accompanied by optional English (SDH) subtitles, an isolated score/effects track in DTS-HD MA 2.0, and the original theatrical trailer (which was missing on the old MGM DVD) in SD. An essay on the feature by Julie Kirgo in the enclosed collectible booklet concludes this Limited Edition release, of which there will only be 3,000 copies made.
Even as a non-Elvis fan, I had a fun time watching Kid Galahad. Everyone ‒ from The King right down to the lowliest commoner co-star ‒ all appear to be having a good time here. The moments with Charles Bronson and Presley are surprisingly tender and effective, to the point where even a great stone face like Chuck's lights up as he sits behind a croonin' King. It's the sort of thing you can commit to memory whenever you need a perk-me-up, as is Kid Galahad in general. Plus, any movie that features a Catholic priest and a Jew getting along is A-OK in my book, so I truly have no choice but to sit there and let Kid Galahad knock me out. Recommended.