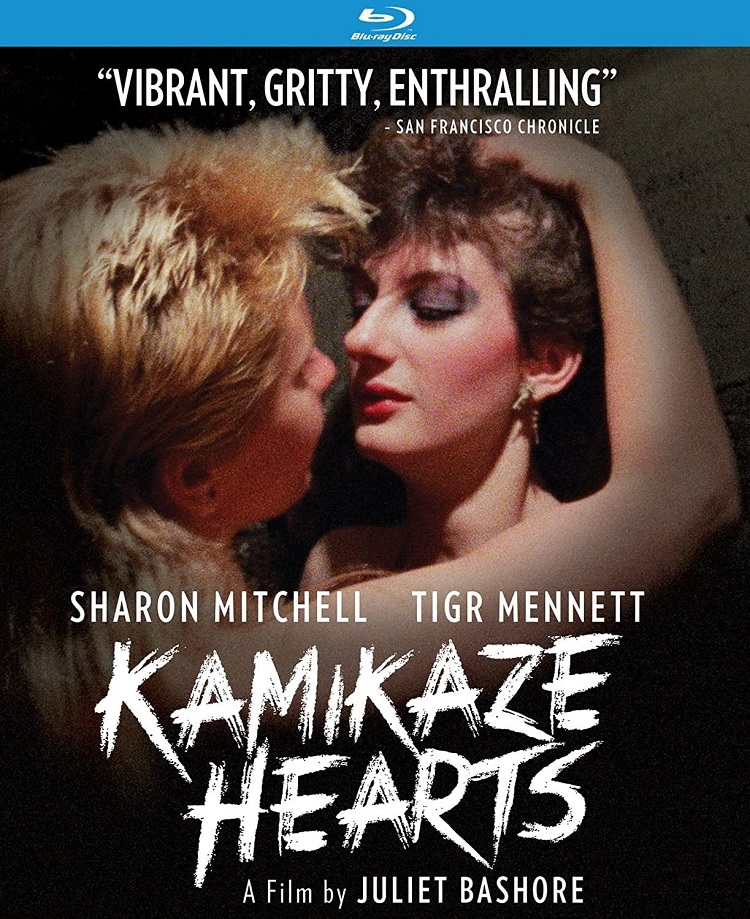 There are so many facets to the queer film, not just a showcase of bodies. Most people (definitely conservatives) think that LGBTQ films are just an excuse for explicit sex and nothing much else. They fail to see the heart, soul, and actual detail that's put into them. Filmmaker Juliet Bashore's 1986 unsettling semi-documentary Kamikaze Hearts, is an unabashed highlight and one of the more interesting gems of the 1980s.
Taking a gritty deep dive into the porn industry, Bashore bravely exposes the warts and all this often degrading (but unexpectedly familial) territory of cinema, and how it affects one major couple: charismatic porn veteran Sharon Mitchell and her naive (but aware) partner/co-worker Tigr Mennett. Mitchell has lots of magnetism and loves what she does, but she seem to notice how harsh the business can actually be. Tigr, on the other hand, starts to know all too well that 'Mitch' (Sharon's nickname) may get herself in too deeply.
You don't just get porn life from both Mitch and Tigr viewpoints, but also from their friends/co-workers. They've seen what it's like to work in a business where the women are the most vulnerable. They point out the misogyny, sleaziness, and expected (and unexpected) corruption of the body. You get the sense that some of them have reached their tolerance, but they can't do anything about it. It pays for their livelihood, so they're content with it.
If you're uncomfortable with nudity, then don't see this film. There is a high level of breasts and bushes (it is porn after all). It does become tiresome after awhile, but Bashore refuses to downgrade it. She is showing porn in all its harsh realism and showcases not just female bodies, but also the often slobbering male gaze. In this case, everyone gets displayed one way or another (whether inner or outer).
It is obviously not a portrait for everyone. But if your curiosity gets the better of you, then you're bound to notice some intelligent and frank aspects of the porn world. It's also a great feminist piece and a study of how women have so many stories to tell. We just have to be willing to watch and learn.
Special features include interviews with Bashore, Mitchell, actors Howie Gordon, author and critic Susie Bright, sexologist Annie Sprinkle, and artist Beth Stephens; audio commentary by Bashore, Mitchell, Gordon, actor Jon Martin, and performance artist Shelly Mars; Crash, a 1990 short film by Bashore; and original and re-release trailers.