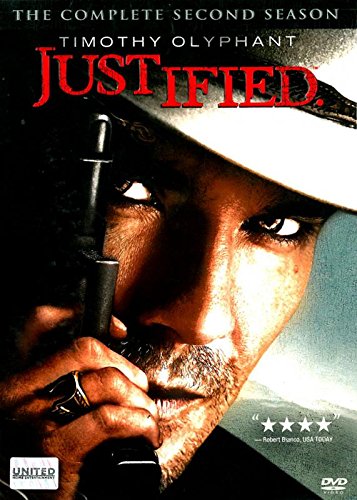 This first week of January has already picked up some steam from the dismal choices we had in the last week. There are a few fairly interesting releases to choose from, though I wouldn't quite call anything an absolute must-have.
Timothy Olyphant's choice of movies to act in has never quite been my cup of tea and as such as an actor he's never really become someone that I seek out. In the realm of television though he was quite memorable as Seth Bullock in the outstanding Deadwood. Based on that information plus it being produced by Elmore Leonard I was intrigued by Justified.
Olyphant plays Raylan Givens a no-nonsense U.S. Marhsall with a penchant for shooting bad guys dead and finding ways to justify his actions later. Its a good show with some great acting and interesting storytelling, but it isn't without its flaws. For example in nearly every episode Raylan finds himself in Harlan County dealing with the same cast of characters. This would be fine if he was a local sherrif or someone assigned to that particular area, but as a Marshall one would think he had other things to do and other places to go. I get why they do it – as audience members we have started relating to those characters and that place and enjoy seeing them time and time again, but it often places the show outside the realm of believability and pushes it towards cliche.
Overall its a very enjoyable show and that's why I'm making Justified: The Complete Second Season my pick of the week. The DVD release comes with every episode from the season plus two features and a set of outtakes.
Also out this week that sounds interesting:
Mildred Pierce (2011): I'm a huge fan of the James M. Cain novel on which this is based and the 1945 film starring Joan Crawford. It seems strange to me that HBO would want to make a mini-series on it, but it got good reviews and looks interesting enough to make me want to see it.
Pearl Jam 20: I'm not the band's number one fan, but Pearl Jam were a huge influence on me as a teenager and they are undeniably a rare rock group that's kept both their musical chops and their integrity over the last 20 years. Cameron Crowe directed this documentary that celebrates their 20th with lots of live footage from their early days.