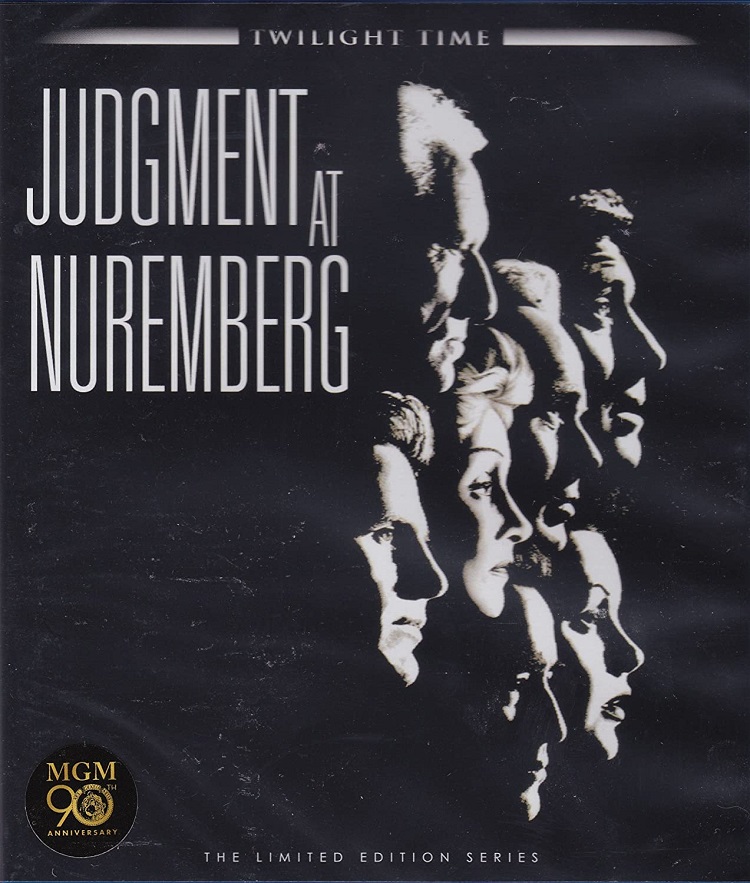 We've all heard the saying "War is Hell" a million times over. Hell, there are probably over a million films that have been manufactured from all corners of the world throughout the last millennia or so that have done their very best to convey this message unto viewers. Sometimes, these stories serve as clever warning devices to remind mankind of its own mortality (and immaturity, despite its age). Other times, you just wind up with a great big mess of a cheap exploitation flick on your hands. And then there are those rare, infrequently-made movies that look past the conflicts that make for seemingly-annual Academy Award contenders and instead focus on the aftermath of war; that inevitable phase wherein those left behind, whether guilty or not, must pick up the pieces.
But when it comes to picking up the pieces left behind by the global chaos ignited by Hitler's Nazi regime in World War II, well brother, have you got a great big mess of another kind on your hands there! Fortunately, Stanley Kramer had already established himself as a filmmaker capable of tackling such normally taboo subjects as racism (The Defiant Ones) and warfare (On the Beach) before he stepped behind the camera for 1961's Judgment at Nuremberg, wherein the late visionary served as both producer and director of a big screen adaptation of a 1959 episode of Playhouse 90 by writer Abby Mann (yes, the same fellow who later created Kojak; look, I know you knew that, OK?).
Here, the always magnificent Spencer Tracy delivers one of his finest (and final) roles as Judge Dan Haywood: a humble New England magistrate brought to what remains of Nuremberg, Germany after the fall of the Third Reich to oversee the military tribunal for four German judges and their alleged crimes against humanity. It's that cleanup job nobody wants. Alas, Haywood is there just the same, pondering whether or not the loyalty of these four courtroom servants was brought on by "peer pressure" (to put it mildly), their own inner (and possibly unrealized) corruption thanks to the greatly unbalanced system of Hitler's Germany, or if they truly were oblivious to what was really going on with the higher echelon whose orders these jurists were blindly carrying out.
The great Burt Lancaster co-stars as Ernst Janning, one of the accused. Once seen as a well-respected, well-educated, and well-published jurist and scholar, Janning now refuses to acknowledge the apparently farcical ceremony or to even speak on his own behalf, staring icily at the floor for the most part (though look out when he finally does speak up!). Naturally, the prosecution, represented by the US Army's Colonel Lawson (good ol' Richard Widmark), would just as soon shoot all of the Nazi bastards and get it over with. Fortunately for the sake of some good old fashioned motion picture drama, the defense has the young, virile, and handsome talents of Maximilian Schell on its side, recreating his role from the Playhouse 90 version, and going on to win a well-deserved Oscar in the process.
Outside of the courtroom, the elderly widower Judge Haywood is anxious to learn about the German people and their (mostly unexpressed) feelings towards the war. A brief exploration of the city's (actual) ruins and its equally damaged population ends with a lovely-looking, poor young woman whispering "Goodbye, grandpa…" to him in her native tongue after she stares at him for an extended period of time. A heart to heart with the housekeepers of the mansion Haywood is staying in, itself formerly occupied by a Nazi general, introduces the judge to the late general's aristocratic widow (the wonderful Marlene Dietrich). Haywood is not about to condemn or acquit as easily as his American magistrate colleagues, who almost seem to regard the whole tribunal thing as a vacation.
A young William Shatner, who would later have his own courtroom playhouse to play in on Boston Legal, makes his film debut as an army captain who serves as Tracy's assistant. Also on hand here in this three-hour epic is Werner Klemperer, who was an actual Jewish refugee from Nazi Germany, and who would later become one of television's crown prince of buffoonery as Colonel Klink on Hogan's Heroes. But despite all of the amount of affection many TV viewers may have for them, these two don't stand a snowball's chance in Hell when it comes to Judgment at Nuremberg's tear-jerking, scene-stealing guest stars, Judy Garland and Montgomery Clift.
Is it because both doomed stars (who would both leave this Earth before the decade was over with) – who portray victims of the Nazi judicial system – were in fact in the midst of battling their own personal demons? Possibly. It certainly adds to the emotional aspect of their roles. Ms. Garland (a few years down the line after her Hollywood comeback in her Oscar-snubbed lead in A Star is Born, and whose album Judy at Carnegie Hall went gold earlier that year) appears here as a horrified woman unjustly accused of, convicted for, and subsequently disgraced by the act of "blood treason" (having relations with a non-Aryan). Called in as a surprise witness by the prosecution, the iconic singer/actress provides a powerful performance of fear that earned her a nomination for both the Oscars and the Golden Globes.
And then there's Montgomery Clift, who delivers what is without a shred of reasonable doubt the finest 12-minute role in the entire history of motion pictures. Clift, who was himself amidst what has gone down to be known as "the longest suicide in Hollywood history" – the result of a downward spiral physically, emotionally, and mentally after a car accident in 1956 – takes the stand as a intellectually-diminished witness who was forcefully sterilized by the courts due to his mental capacity. Due to his own diminished capacity from his indulgently self-destructive behavior, Clift himself struggled to remember his lines, to wit director Stanley Kramer – after multiple takes – finally asked the tortured actor to fill in the blanks with his own words. It's a thoroughly moving moment that makes you wonder exactly how much of it was actually Clift trying to reach out from within.
Whereas, dissimilarly, Spencer Tracy – who also found himself battling his inner demons (which in this instance, was alcohol) – nailed his final 11-minute closing speech in one take.
Since its release in 1961 – coincidentally around the same time the entire world awaited the verdict of Adolf Eichmann (whom Werner Klemperer played the same year in the B picture Operation Eichmann) – Judgment at Nuremberg has gone down in history as a genuine dramatic classic. It's a game-changing entry for movie buffs and film students alike; a film so deadly serious that one wonders if Kramer followed it up with It's a Mad, Mad, Mad, Mad World because there is nary a laugh to be found here. And now, thanks to a new 1080p/AVC transfer from MGM, Judgment at Nuremberg has received yet another chance to reach audiences from the folks at Twilight Time.
The movie is shows in its original 1.66:1 aspect ratio, and is a major improvement over the old non-anamorphic DVD MGM put out ten years ago. The image displays the occasional tiny flaw, which is to be expected, and which thankfully hasn't been digitally scrubbed down (like some distributors foolishly have a habit of doing). The feature presentation is offered up with a DTS-HD MA 2.0 audio option as well as a DTS-HD MA 5.1 remix (which is really well done, especially with all of Kramer's camera movements), and an option to view the entire film with its overture, intermission, and exit music is also available (with the DTS-HD MA 5.1 audio option only).
Several (SD) special features focus on the film's story, its message, and the director that brought it to unflinching life. The late Abby Mann shows up in all three featurettes, as does Stanley Kramer's widow, Karen Sharpe, and Maximilian Schell. (Mann and Schell have since passed on, leaving William Shatner the only surviving actor from the production.) The movie's original theatrical trailer is also on-hand in HD, and an alternate DTS-HD MA 2.0 track presents Ernest Gold's music score in isolated form. Liner notes by film critic/historian Julie Kirgo also accompany this addition to Twilight Time's Limited Edition Series of titles; this one being restricted to only 3,000 units.
Highly recommended. Just be sure to follow this one up with It's a Mad, Mad, Mad, Mad World so you can pick up the pieces yourself by turning those tears into laughter.