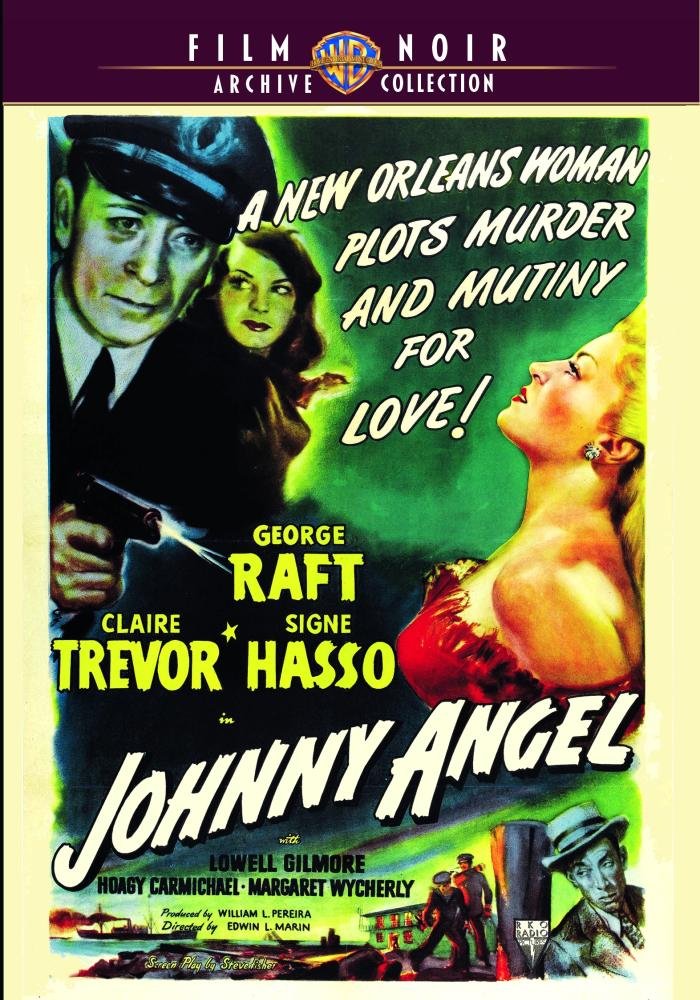 Every film buff has that one particular genre that – though they may not consider it to be their favorite – will almost always be game for viewing at the drop of a hat. Especially when said item of men's apparel happens to be found on an abandoned cargo vessel adrift at sea, or is preceded by the man wearing it after both were pushed out of a moving plane. And with this duo of recent Warner Archive releases, we get just that: plus the fun little mysteries that follow. Part of a five title wave also including Two O'Clock Courage, Criminal Court, and The Clay Pigeon, these films all hail from the darkened corners of the RKO Radio Pictures vault.
1945's Johnny Angel starts out in as murky of an enshroudment as can be: the foggy sea. Here, in an opening eerily reminiscent of the Mary Celeste, Nosferatu, and even the beginning of Luigi Cozzi's 1980 guilty pleasure Alien ripoff Contamination (so much so, that I actually had to write Signori Cozzi to ask if it was a coincidence or not), Captain Johnny Angel (George Raft, one of black and white Hollywood's quintessential tough guys) discovers an unmanned merchant ship drifting silently near the harbor of New Orleans. It is as eerie of a setting as possible; the entire crew having appeared to have vanished without much more than the occasional trace of blood. Alas, the captain of the abandoned ship just happens to be Capt. Angel's father – which begins the younger Angel's journey into discovering just what had happened.
After discovering there was an unlisted passenger on his father's doomed final journey and a delightful montage (which receives its own credit) into '40s-era New Orleans courtesy Harold Palmer – who also provided a similar filmic assembly for another George Raft film noir, 1947's Nocturne – Mr. Raft finds his man. Well, actually, it's a dame: Swedish-born actress Signe Hasso, as a young French beauty with a lot of thoughts rolling around in her head, and a number of other men ready to unroll their revolvers on out in the street. Claire Trevor is a femme fatale here, voiceover actor Marvin Miller is her cuckold shipping magnate hubby, Lowell Gilmore is a local baddie, and the great Hoagy Carmichael (who also shares a tune with us) turns in a fine supporting part as a slick cab driver named Celestial who spends a lot of time making hui sticks .
Edwin L. Marin (who also directed Mr. Raft in Nocturne, which – interestingly enough – featured hui sticks) brings this one-time hit Charles G. Booth adaptation to life with a good deal of gusto. A large cast of small part players includes Don Brodie, Mack Gray (hey, he was in Nocturne, too!), Virginia Belmont, Sam Flint, former Miss Catalina/Miss North America/Miss California/Miss America (!) winner Rosemary La Planche, Jack Perrin, Bryant Washburn, Leyland Hodgson, and the elder Jason Robards (that is to say, "Sr."). Speaking of elders, old timer J. Farrell MacDonald plays the fatherly Angel in flashbacks. Harry J. Wild provides the photography here, while noted songwriter/composer Leigh Harline fills in the aural background.
Would it surprise any of you at this point to learn both Mr. Wild and Mr. Harline worked on Nocturne, too? Didn't think so. But that's just the way it is with B pictures. Why, even in the case of our next feature, Riff-Raff (released the same year as Nocturne), also addressed as Riffraff contains a number of connections. Though, in this case, they are probably not intended to be so noticeable (or even connectable), such as the fact there's a character named Hasso. Or that our protagonist has a cab driver for a sidekick. Little things like that. Plus, Riff-Raff has a cameo by the great Bobby Barber as a customs agent in Panama, where our sordid tale of greed begins following a marvelously moody, virtually verbal-less opening at a rainy airport in Peru.
It is there, in Peru, that two tiny men embark on a plane ride with a cargo full of poultry. One only man – a feller named Charles Hasso (Marc Krah) – makes it all the way to Panama, however, after his fellow voyager "accidentally" leaves the plane mid-air. After being briefly interrogated by local police official Major Rues (George Givot), Hasso promptly enlists the assistance of a subtly named local private dick named Dan Hammer (Pat O'Brien, long past his glory days at Warner Bros.) to protect him. Mr. Hammer is then engaged by oil company representative Walter Gredson (Jerome Cowan, in what is quite possibly one of the forgotten character actor's meatiest roles) to find Hasso and a missing oil field map the mysterious Mr. Hasso may conveniently have inherited from his late air-faring colleague.
Naturally, the good Mr. Hammer – whom everyone in town goes to whenever they need anything that is even slightly questionably legal – milks the oil men for a cool five grand in order to find their "missing" man, having just dropped him off at a hotel only moments before. Sadly, when Hammer returns to get the lowdown from Hasso, he finds a fully-clothed Hasso drowned in a bathtub full of water. But he makes up for the loss of that bad man with the addition of another: a fellow named Molinar (Walter Slezak) is also after the map, and will stop at nothing to get it in this beautifully photographer, atmospheric gem from acclaimed cinematographer-turned-director Ted Tetzlaff (I Married a Witch). Anne Jeffreys is the proverbial lady of the photoplay, Percy "Pa Kettle" Kilbride is the cool-as-ice cabbie Pop, and Jason Robards, Sr. has a part in this one, too.
The Warner Archive Collection unleashes these two hard-hitting flicks from the 1940s to DVD for this first time. Both films are presented in their original Academy aspect ratios (1.37:1) with mono English audio, and there are the occasional, expected traces of age and wear from the prints these two unveilings were mastered from. Neither title comes with a supplement of any nature – presumably, the original theatrical trailers were left on an abandoned merchant vessel or tossed out of an airplane somewhere – but that shouldn't (and most likely won't) deter any film noir aficionado from seeking out these rarities.
Recommended. All of 'em.