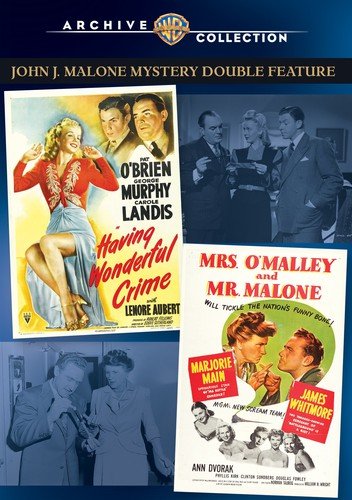 The list of female mystery writers in history isn't a terribly long one. Even today, the only mysteries set in the literary world as written by women are the unexplained successes of poorly-worded tripe such as Twilight and Fifty Shades of Grey. No, that's not my chauvinistic side poking out of my trousers. That's something anyone with even a little common sense (or taste!) can attest to. Of course, the relatively short list of lady crime writers can mostly be blamed on good ol' fashioned chauvinism itself – as it wasn't until the last century that women finally began to demand that men take them seriously (undoubtedly threatening to publish poorly-worded tripe such as Twilight and Fifty Shades of Grey if they didn't!).
Prior to this slightly more civilized era, female writers would regularly appear in print under either a genderly indeterminate or obviously male-sounding alias. And it is the creationary offspring of one such author – Georgiana Ann Randolph Craig, better known to readers of the past as Craig Rice – that we owe this John J. Malone Mystery Double Feature to. Though the character has appeared in over a dozen publications (some released after Ms. Rice's untimely death, others presumably ghostwritten by other, uncredited authors), John J. Malone hasn't exactly gone down in the Literary Land as one of its greats, and the fictional Mr. Malone's career in the respective mediums of film and television was even shorter.
In the case of 1945's Having Wonderful Crime, they couldn't even get the character's name right. Carrying the rebranded first name of Michael now for some reason, Pat O'Brien was the first performer to take on the part in a photoplay, less than a year before its creator would become the first female mystery writer to be featured on the cover of Time Magazine. And he does so quite admirably, presenting Mr. Malone as a skirt-chasing shyster lawyer who is always getting into mayhem courtesy his two bestest friends, the newly-married Jake and Helene Justus (George Murphy and Carole Landis), the latter of whom is more apt to stir up the waters of disorder due to her less-than-adept powers of reasoning (read: she's a woman of the 1940s).
If fact, the opening of the picture displays Helene's skill. Though she has successfully captured a felon and presently holds him at gunpoint, it will result in the police – annoyed with Malone's unending interference into their affairs – opting not to rush to apprehend the suspect, and poor Mr. Malone will lose a noticeable chunk from the shoulder of his sports jacket on account of Helene's haphazardly firing a bullet in his direction once said hoodlum tries to take the proverbial run-out powder. This leads to our less-than-heroic trio fleeing from the cops, only to wind up rushing into a packed theater, where a magician named The Great Movel (an almost unrecognizable George Zucco) concludes his act with a less-than-successful finale: he disappears. Completely.
So, once more, Malone and the Justus pairing make way for higher ground – this time retreating to a well-to-do resort in the country, where they, naturally, meet up with the vanished magician's assistant/lover, played by Lenore Aubert, whom most audiences will remember as the beautiful antagonist from several of Abbott and Costello "horror" comedies at Universal (wherein Mr. Zucco appeared as a villain in several installments of The Mummy series). From there, it's a goofy, madcap, screwball game of cat and mouse with a disappearing/reappearing corpse, suspects up the wazoo, and a memorable beauty contest moment wherein co-star Carole Landis gets a chance to show off her gorgeous figure – much to her onscreen hubby's shock and chagrin.
Gloria Holden co-stars as a champion swimmer the dubious Mr. Malone consistently picks up and has to abandon once his friends come-a-calling. Ms. Holden represents another graduate of the Universal Classic Horror School, as she portrayed Dracula's Daughter nearly a decade prior to Having Wonderful Crime. In keeping up with the odd little connections to horror and comedy classics, Vernon Dent – a very familiar foe to another legendary comedy act, that of The Three Stooges – has a small cameo as a resort guest who grows somewhat disgruntled with the antics of the top-billed cast. Richard Martin, best known to B movie lovers as the co-star of many a Tim Holt oater, has a largely forgettable part as Ms. Aubert's boy toy.
Although Mr. Malone popped up in a couple of other adaptations of Ms. Rice's work over the next couple of years (one on film, the other a short-lived television series) this dual-layer DVD-R overlooks the next couple of the character's screen appearances (most likely due to copyright and availability) and jumps to 1950's Mrs. O'Malley and Mr. Malone. Here, the ever able James Whitmore takes on the part of John J. Malone (they got the name right this time), and presents him as an even more nefarious fellow, waking up in the morgue (where he adjourned to sleep off one really tough case of gin) once his lovely, frustrated secretary (Phyllis Kirk) manages to track him down after one too many bills – including her backpay – pile up.
Meanwhile, in Montana, a hardened, post-ironic, backwoods widow by the name of Mrs. O'Malley (Marjorie Main, of the Ma and Pa Kettle series, in a part rewritten in order to replace the original story's female lead, New York City school teacher/sleuth Hildegarde Withers) wins a radio station contest from the Big Apple, which sets her on a $50,000 trip across the country on a train. Inevitably, the rundown alcoholic attorney and the witty widow of newly-gotten gains meet. Mrs. O'Malley has a soft spot for the amateur detective, having been delighted by his publications in seedy crime magazines. Mr. Malone, on the other hand, has a hard spot for Mrs. O'Malley's young niece, and immediately regrets sending a love letter to the wrong stateroom.
Despite their differences, the pair make for quite the team once the first body – that of B moviedom's inimitable Douglas Fowley (whom I have always attested is the quintessential film noir baddie) – begins popping in and out of the train's cabins in his undies. This leads to some very unconventional methods of disposing of a corpse, including dressing poor dead Douglas in drag! Ann Dvorak co-stars as Fowley's estranged wife, whom Mr. Malone tries to lay down his patented moves on when he isn't trying to get her to pick up the check. Fred Clark is the angry inspector on-board the train who gets one of film's longest lawyer speeches ever. Dorothy Malone and Don Porter round out the cast, with Frank Cady and Mae Clark even squeezing small parts in as well.
If it wasn't for the Warner Archive Collection combining these two similar-but-altogether-different movies, one would hardly even make the connection that they are in fact supposed to be adventures of the same character. They created by different studios (Having Wonderful Crime being An RKO Radio Picture, Mrs. O'Malley and Mr. Malone – which was supposed to have been the first of a series that didn't materialize – hailing from MGM) several years apart with an entirely different cast and crew, and O'Brien's Malone almost seems light years away from Whitmore's depiction of him. I'm not complaining, though: both movies are a lot of fun to watch, and show what happens when different filmmakers tackle the same subject.
The latter feature gets the John J. Malone Mystery Double Feature's sole extra: a theatrical trailer. It's a pretty generic preview (for the time), and relies too much on the movie's silly theme song (what is this, a Mitch Miller sing-along?) to properly sell the goods (which may explain why the theatrical series never fully came to realization). But it's fun to have it included in this equally enjoyable double-bill. Both films are presented in their original 1.37:1 aspect ratios and look quite nice overall. Likewise, the mono English audio tracks deliver all that they were intended to, and the Manufactured-on-Demand disc's cover art uses the original poster artwork for each movie (which are also two entirely different affairs).
Recommended.