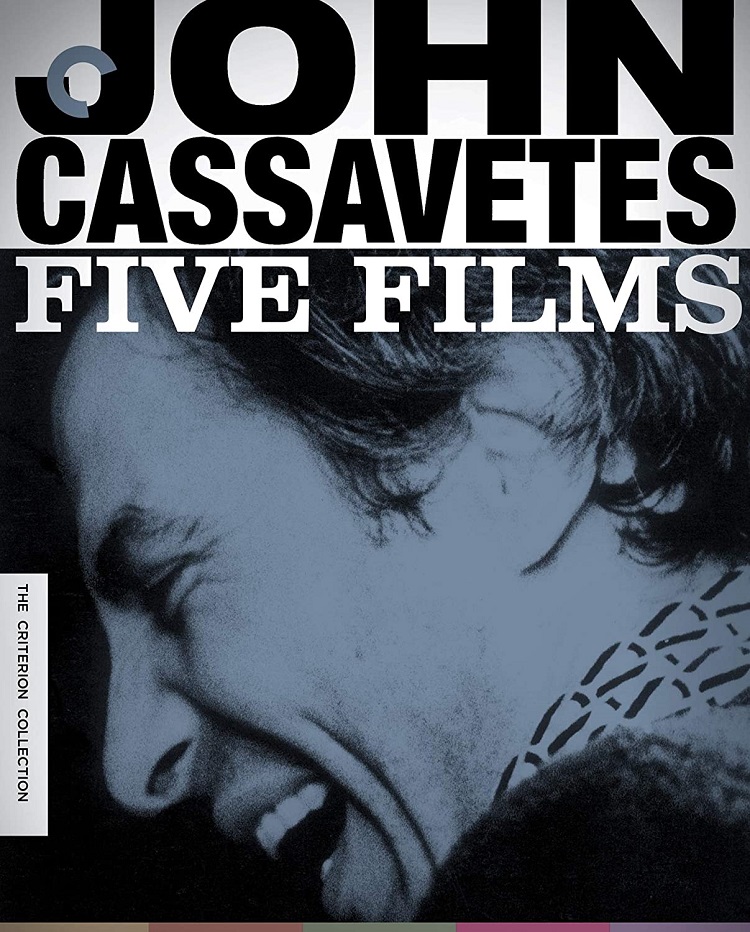 Whether or not you enjoy the directorial efforts of John Cassavetes, it's impossible to overlook his contribution to the rise of American independent film. In an era when it was virtually unheard of to operate outside of the studio system, Cassavetes did so multiple times, and to wide acclaim, virtually crafting the blueprint for all manner of scruffy auteurs who followed in his wake. Thanks to Criterion's Blu-ray release of this essential box set, five of his strongest works are now available for viewing in high definition, and they're well worth your time.
Cassavetes operated on both sides of the camera, first gaining fame and financial stability as an actor before diving into his debut independently financed directorial effort, Shadows. The film functions more as a document of a specific time and place than a narrative achievement, with its denizens of 1950s New York City clubs offering more value as time capsule curiosities than plot drivers. Filmed in black and white and with mostly non-professional actors, the film feels like a blast of jazz from the clubs it documents: free-spirited, unpredictable, and ultimately fairly inconsequential.
After nearly a decade away, Cassavetes returned to independent directing with Faces, a searing look at a disintegrating marriage. Also in black and white, the film features moving performances from John Marley as a rich and aging executive named Richard, as well as Lynn Carlin as his long-suffering wife Maria. When Richard returns home one night and bluntly informs his wife he wants a divorce, they're both unprepared for the results. Richard has a younger woman on the side, but finds that she's not about to step right in as a replacement wife. Maria finds temporary solace in the arms of a younger man before also experiencing some difficulty. The film has much to say about long-term fidelity, the folly of mature adults trying to recapture youth through immature partners, and shifting attitudes that come with age, making this the most insightful and powerful film of the set.
With his next effort, A Woman Under the Influence, Cassavetes made the switch to color and directed his wife, Gena Rowlands, to an Oscar nomination. Rowlands plays a suburban housewife named Mabel with deep psychological issues that make her a danger to herself. She's supported by her loving husband Nick (Peter Falk), her champion and protector who is constantly worried about her when he's away from home for work. The movie is completely established within the first half hour, with Mabel having various mental episodes, then Nick responding and either stopping her in time or dealing with the aftermath of her actions. Unfortunately, that's really all there is to the film, leaving the balance largely repetitive and unsatisfying.
The Killing of a Chinese Bookie is presented here in two versions: the original 2 ¼ hour 1976 cut which was reportedly rushed in post-production, along with a 1978 re-release trimmed by a half hour by Cassavetes. Yes, the director's cut is shorter than the original release, and with good reason. The film features a strip-club owner named Cosmo (Ben Gazzara) who runs up a huge gambling debt that can only be repaid if he successfully murders the titular Chinese bookie. Unfortunately, the "strip-club owner" portion of that description proves to be the downfall of the original cut, as large swathes of the film are spent on worthless performance footage of the club's rarely nude vaudeville-style entertainers, doing absolutely nothing to move the story forward. On the upside, the film gave me new appreciation for Gazzara as the deeply proud and protective club owner. The shorter cut brings sharper focus to the central story, making it the superior release.
Opening Night is one of those story-within-a-story attempts, in this case actors in Broadway play rehearsing large portions of their show onscreen while also dealing with personal issues. Just like Chinese Bookie, the film suffers from the performance footage, especially because much of it is improvisational, out of context, and weightless. Cassavetes is a featured star in that footage though, adding some interest to see him in front of the camera. Unlike Chinese Bookie, the main plot isn't very interesting either, with the play's aging star Myrtle (Rowlands again) coming to terms with being a woman of a certain age in the entertainment industry, while also grappling with her guilt over the accidental death of a young fan shortly after their meeting.
While I really only enjoyed two of the films, I appreciated all of them, recognizing the immense tribulations Cassavetes experienced to bring them to fruition outside the studio system, as well as his extreme care in making them solely his vision, from writing the scripts to frequently operating the camera himself. That appreciation was only furthered by the extensive bonus features included in the box set, as well as the superb Blu-ray image quality of the restored films. The black and white films are grainy, with Shadows in particular being cobbled together from multiple sources of various quality, but as the restoration folks explain in a demonstration feature, they actually left the print not quite as burnished as they could have made it to support the jazzy, experimental nature of the project. The color films are all fantastic, with virtually no grain or defects and rock-solid color consistency. Sound is uniformly passable but unimpressive in all films.
The bonus features are the same as the original 2004 DVD box set release, highlighted by 2004 interview footage with surviving stars including Rowlands, Gazzara, and longtime Cassavetes compatriot Seymour Cassel. Elsewhere, there's an intriguing 18-minute alternate opening for Faces, audio interviews with Cassavetes from the 1970s, and a massive 3 ½ hour documentary about the life and art of Cassavetes.