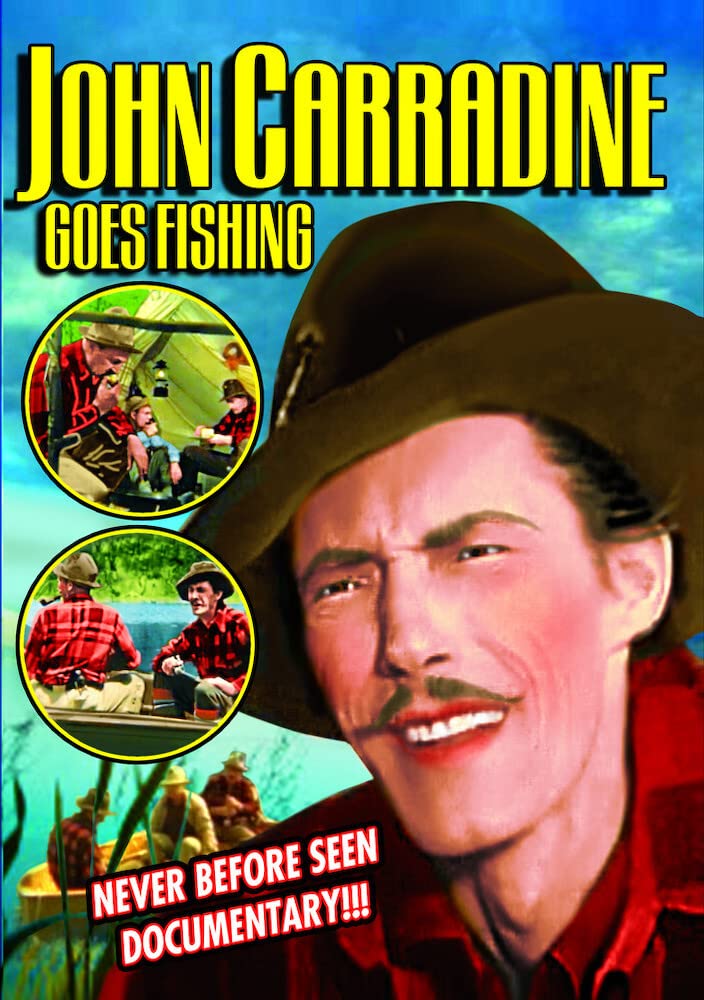 By the time Fish Story had been shot, scored, and pasted together for its (presumably very limited) theatrical debut in 1947, the recently-added category for Best Documentary in the Oscars was only five years old. And, upon even the most casual, non-committed viewing of Fish Story ‒ which has recently been rediscovered after nearly 70 years of obscurity and released on DVD-R via budget label Alpha Video under the more "marketable" moniker of John Carradine Goes Fishing ‒ it's easy to see why this documentary never found its way to the Academy for award-worthy approval. Granted, a good part of that is due to the fact even a "casual, non-committed viewing" of Fish Story can result in massive cerebral hemorrhaging and an 89% chance of death.
The bizarre watery grave for all who enter, as constructed by almost legendary former lightweight indie filmmaker F. Herrick Herrick (you're really going to need to know your lost horror movie history for that name to have any relevance whatsoever), was filmed on location in a mosquito-laden haven of isolated bayou hell somewhere in the midwest (which I am sure has not changed much since). Essentially, this is the "spawning" of the godawful boring fishing shows local television stations used to broadcast on Sunday afternoons just so us kids would go to church (or find something that was actually interesting to do). And I say that with all due respect, of which there is none.
Shot in early Kodacolor with live sound, the long-forgotten travelogue is about what you'd expect it to be in terms of professional filmmaking: grossly amateurish and unforgivably incompetent. Between the muddled sound the low resolution transfer (Alpha Video is a budget label ‒ remember that, kiddies!), the whole murky affair ‒ which is just a few minutes shy of being a whole hour-long, though it drains a good six years off of your life-cycle to just sit through the tedious opening credits ‒ finds the future exploitation/horror movie marquee name hamming it up in the wild with a two fishin' pros of the era, newspaper sports columnist Lowell "Tubby" Toms and expert castman "Stu" Pritchard.
The jestful retorts between this trio of newfound friends ‒ what you can actually decipher of it, that is, since a good half of the motionless picture sounds like low bitrate audio outtakes from a Robert Altman movie captured by a second-hand magnetic wire recording in someone's submerged wooden chest ‒ ranges from head-shaking to cringeworthy at best (especially when John gets "cutesy" in one particularly disturbing scene from which Alpha's cover art hails). The breathtaking underwater photography (which is "breathtaking" in a less-traditional, smothering, suffocating sense) seems to have been filmed in an algae-filled coy pond somewhere, with half (or maybe entirely) dead fish in (in)action. But at least they're much more lively than the film's human stars!
Put simply, Fish Story aka John Carradine Goes Fishing is a painful, hilariously hideous trip for all. It is just the sort of thing that, were it about 1/3 of its runtime, would make for an ideal short subject on Mystery Science Theater 3000 (although, with the forthcoming new series on the way, MST3K creator Joel Hodgson should probably place this one on his radar). Speaking of MST3K, the first of an unholy trinity of deep sea/fishing shorts Battling Silver Kings (1931) ‒ included here along with the 1944 short Demons of the Deep and the 1953 yawnfest Deep Sea Adventure ‒ will painfully remind MiSTies of an infamous "sporting" short Catching Trouble.
For you see, in Battling Silver Kings ‒ and I should preface that these brave, stalwart examples of fearless sportsmen never actually battle any of the titular tarpon the short starts off centering around ‒ a group of total pricks get upset when a hungry tiger shark bites one of seven-hundred tarpon they catch in two. And so, they declare war on the big fish, hunt it down, and fucking kill it. (At least the stars of Fish Story were conservative enough to toss a few of the doomed gilled creatures back in the water!) The final supplemental short subject ‒ "Spare the Rod" ‒ is actually an episode from the short-lived Crunch and Des series (1955-1956) starring Forrest Tucker, which has also been buried away by the sands of tides.
Recommended for cinemasochists only ‒ and anyone who actually enjoys watching fishing shows, of course, which I suppose are one and the same.