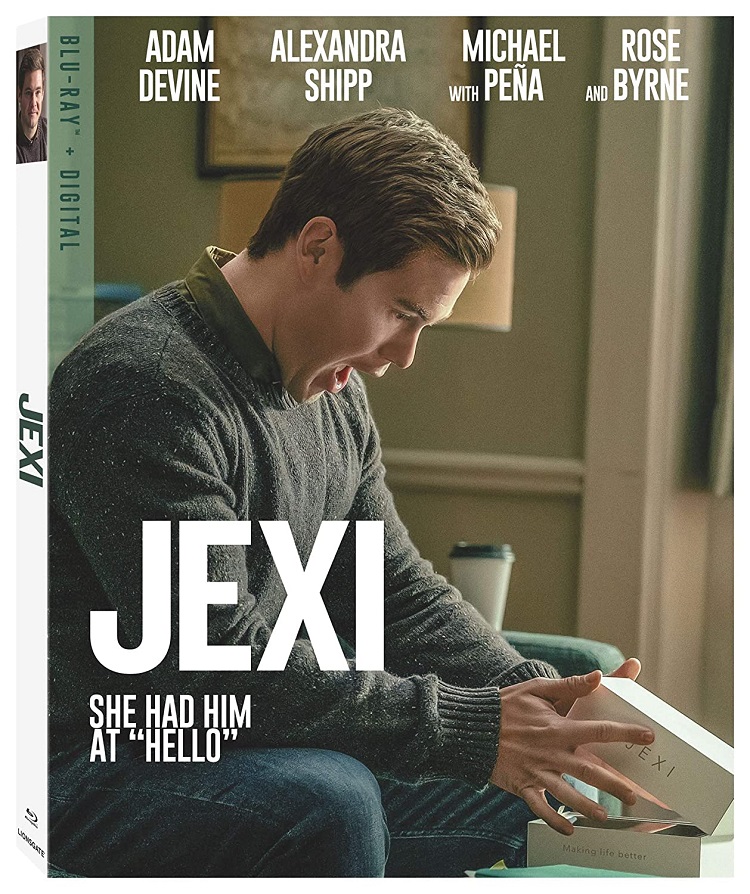 Phil (Adam Devine) has led a lone and solitary life. He has no real friends, spends the majority of his time at home, and is completely obsessed with his cellphone. So much so, that his two co-workers, Craig (Ron Funches) and Elaine (Charlyne Yi), who have sat next to him at work for the last three years don't even know one another's names. Even though Phil aspires to be a real journalist, his social anxiety keeps him from reaching that goal and instead, his job consists of him writing top-ten lists that usually includes cute animals with the sole purpose of becoming viral hits.
But all of that is about to change when he runs into bicycle shop owner, Cate (Alexandra Shipp), who he is immediately attracted to. But it's not Cate who is going to change him and bring him out of his shell. Instead, it's Jexi (voiced by Rose Byrne), the Artificial Intelligence (AI) built into the new cellphone he purchases after his broke during the literal run in with Cate. But Jexi isn't your normal AI and has her own mind and personality. The company motto is "Making Life Better" and she's going to do that for Phil no matter what it takes. Immediately taking all his bank accounts and personal data hostage, she begins to bully him into trying new and different things. Resisting at first, Phil finds that Jexi controls all aspects of his life and isn't afraid to tie up his assets, abuse him with profanity, and send naked pictures of him to everyone in the office.
With no other options and a lot of badgering from Lexi, Phil finds himself hanging out with his co-workers, making friends, and even going out on a date with Cate. But as he spends more and more time with real people, he begins to move away from his devices and after intentionally leaving his phone home one evening, his relationship with Jexi takes an ugly turn from friendship to jealousy and all hell breaks loose between the two. Phil must figure out on his own how to keep both Cate and the AI happy or if it is even possible to have them both.
The Blu-ray is presented in 1080p High Definition 16×9 at an aspect ratio of 2.39:1 with a 5.1 DTS-HD Master Audio. The video quality was crisp and clear and was of good quality. However, I was more surprised with the audio soundtrack, which was well used in the film. Considering that it was a simple comedy it would be easy for them to have used a basic track, but it was nice hearing the different voices of characters and particularly Jexi's voice coming from different areas of the room. A couple of times I thought sounds were coming from outside and I even thought one of my own devices was talking to me at different times during the film.
The Blu-ray contains five Special Features:
"Jexi: Making Life Better" is the main feature where writers/producers Jon Lucas and Scott Moore discuss their ideas for the film and their overall opinion on movie making.
"Unboxing Jexi" – When one of your main characters is a cellphone not any old stand-in will do. See what methods they used to create a new brand and even a box that would be both original but believable. Also hear from voice artist Laurie Burke who provided Jexi's lines to Devine during the filming as well as stories from Byrne who added her voice for the final production.
"Filming in Fog City" – The cast and crew talk about the importance of filming in San Francisco as well as the different challenges the city presented.
"Tech Bros" – Learn the definition of what Tech Bros are and hear how Michael Peña was a perfect fit for his role as Kal, Phil's boss.
"Phone Fixation" – The cast learns how to use the settings on their real phones to find out how much time they spend on their device doing different tasks and are surprised at how much time the spend on social media.
Lucas and Moore both admit that their movies aren't made to teach you a lesson or be overly preachy. Their movies are simply to have fun. And even with the basic message that people need to live their lives and stop being so overdependent on electronic devices, the film never come across as lecturing. It really is a fun movie that embraces its silliness and has a sense of probability. With Artificial Intelligence becoming so widely used, it's not that farfetched to believe having a cellphone with its own personality is not that far away.
If you're looking for some mindless entertainment, then this is exactly what you are looking for. Most of the cast are stand-up comedians that have been given great leeway to come up with adlibs, which gives it a sense that everyone is having fun and comes through in their performances. Wanda Sykes' role as Denise the employee at the cellphone store who berates Phil whenever he comes in is simply priceless. Overall, the movie is fun and enjoyable. The only critique I had was that it could have been a little longer. With a running time of 84 minutes, the story jumped around quickly from Jexi busting Phil's balls, to them becoming best friends, to Jexi going on the warpath, and then back to resolving their issues. It felt a little rushed and with all the amazing comedians involved in the filming it wouldn't have been that difficult to have added a few more outrageous scenes.