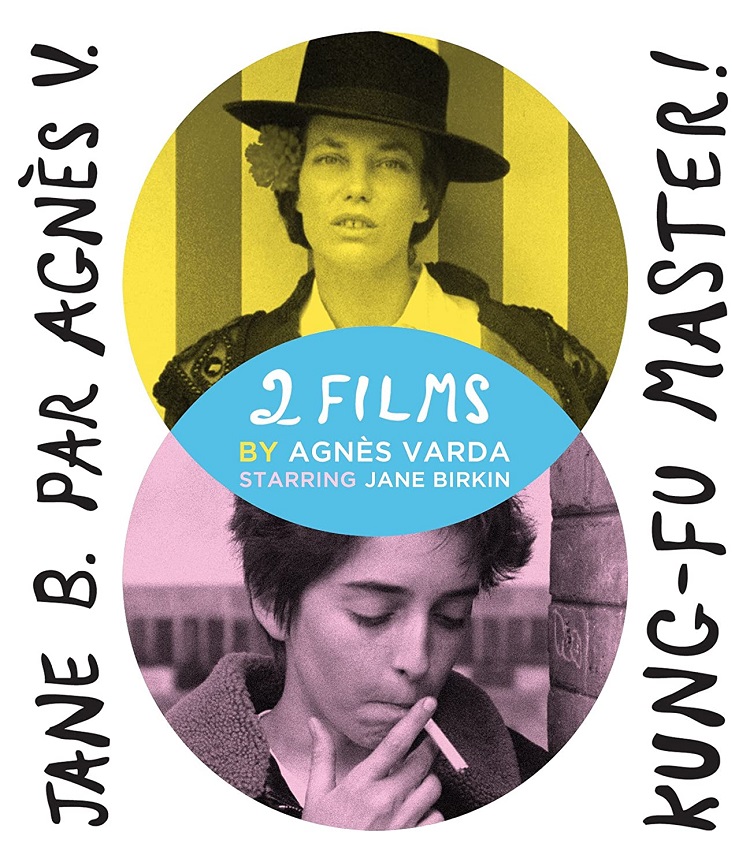 As everyone, or at least film buffs, know by now that famous filmmaker Agnes Varda is the most influential female director of the French New Wave, making such classics as Cleo from 5 to 7, Le Bonheur, and Vagabond. She is one of the greatest directors of women, filming their lives and situations with not just feminist interpretations, but also a surreal reality that can hypnotize even the most hardened film-goer. And they come no more radical and beautifully histrionic than the two films she made with famed singer/actress/fashion icon Jane Birkin: Jane B. Par Agnes V. & Kung-Fu Master. These are two of their not-well-known films, but they have a expressionistic quality that is impossible to ignore.
In Jane B. Par Agnes V. (Jane B for Agnes V.), Varga turns the camera on Birkin, capturing the eccentricity on perhaps her greatest muse. It is not your average bio-pic, since it goes back and forth between real-life and fantasy, where Birkin unleashes her deepest fears, desires, and insecurities. In each scenario, she portrays a new character with difference wigs and costumes, as she plays against Varda to see who's really the artist and the muse. It sort of unfolds as a feminist thriller where everything blends in to the point where you have no idea what's real, or what's make-believe.
In Kung-Fu Master, a more conventional but grounded companion piece, Birkin gives a marvelous performance as a lonely, middle-aged woman who finds herself falling in love with a 14-year-old videogame whiz that destroys the most forbidden of taboos. In my opinion, it is the most daring of the two, because you as the viewer have to wonder is the relationship a real romance, or is it the woman's attempt to recapture her lost youth. I see this one as an inspiration for 2004's Birth with Nicole Kidman, and 2005's Hard Candy with Ellen Page and Patrick Wilson, since they depict dangerous relationships between older and younger people. However, the film is more bittersweet and poignant, instead of creepy and cold.
To be honest, I am familiar and attracted to Varda's work, but I have never heard of these two particular films, until now. I wish I had before, because they seem to be films that defy any genre, where they challenge and engage the viewer to find hidden meanings in their plots. I admit that they will frustrate most viewers that are used to more mainstream cliches and common elements, but I think that they are missing out on hypnotic stories that don't rely on special effects and explosions, but deal with people connecting with cinema and other people.
The special features consist of only video interviews for both films with Varda, but when they're so enlightening and informative as these, you tend not to care, since Varda is so smart and forthcoming in revealing information on making the films and working with the actors. Rounding out the release is a booklet with a new essay by film professor Sandy Flitterman-Lewis and an interview with Varda by actress/artist Miranda July.
These two films by Varda will obviously divide people, but for most art-house and foreign-film lovers, they will love these works and talk about them for years to come. If cinema can do that, then we've come long way in film history and analysis.